How do your earnings compare to the governor's? A cardiologist's? The guy releasing your car from the impound lot? We asked the nosy questions (or looked them up, in the case of salaries that are publicly available) so you wouldn't have to. Then we probed a little more and asked Minnesotans how they feel about what they earn, as well as how they spend and save.
2014 Minnesota Monthly Salary Survey
GOVERNMENT

Mark Dayton
Governor
$119,850

Betsy Hodges
Mayor
Minneapolis
$108,207

Chris Coleman
Mayor
St. Paul
$111,635

Janee Harteau
Chief of Police
Minneapolis
$126,155

Amy Klobuchar
U.S. Senator
$174,000

Dean Christiansen
Police Lieutenant,
1st Precinct
Minneapolis
$112,262

Barb Goodwin
State Senator
$31,140

Bob Hume
Deputy Chief of Staff to Governor Dayton
$107,388

Tim Giles
Director of Employee Services
Minneapolis
$147,608

Scott Williams
Director of Emergency Communications
Ramsey County
$131,770

Larry Wuollet
Attendant
Minneapolis Impound Lot
$45,662

Ramona Dohman
Commissioner of Public Safety
State of MN
$107,973

Steve Darwitz
Street Services Worker
City of St. Paul
$48,137

Jim Germain
Workers' Comp Claims Supervisor
State of MN
$70,957

Brian Lamb
General Manager
Metro Transit
$155,780

Gregory Bothwell
Bus Operator
Metro Transit
$80,530 (includes overtime)

BUSINESS/LABOR

James Cracchiolo
CEO
Ameriprise Financial
$46.3 million

Gregg Steinhafel
CEO
Target Corporation
$23.5 million

Cashier
Target Store in MN
$8.16/hour

Receptionist
Wayzata Nissan
$12/hour

Boutique Sales Associate
Allure Intimate Apparel,
The Galleria in Edina
$11-$14/hour

Sally Smith
CEO
Buffalo Wild Wings
$3.5 million

Ken Powell
CEO
General Mills
$7.2 million

Mike Tattersfield
CEO
Caribou Coffee
$10.1 million

Michael Klootwyk
Vice President
Blaine Teamsters Local 120
$113,719

Assembly-Line Warehouse Production Worker
$10/hour

ARTS & CULTURE

Joe Dowling
Artistic Director
Guthrie Theater
$701,743

Michelle Hensley
Artistic Director
Ten Thousand Things Theater
$51,086

Jeanne Calvit
Artistic/Executive Director
Interact Center for Visual and Performing Arts
$65,000

Theresa Sweetland
Executive Director
Intermedia Arts
$64,117

D. Stephen Elliott
Director and CEO
MN Historical Society
$273,963

Melissa Lindsay
Executive Director
MN Zoo
$109,088

Patrick Dewane
VP of Advancement
MN Opera
$125,721

President
MN Children's Museum
$172,234

Olga Viso
Director
Walker Art Center
$404,794

Darsie Alexander
Chief Curator
Walker Art Center
$151,024

Eike Schmidt
Curator of Decorative Arts & Sculpture
Minneapolis Institute of Arts
$146,224

Jocelyn Hale
Executive Director
Loft Literary Center
$84,322

Eric Jolly
President
Science Museum of MN
$515,331

Lise Houlton
Artistic Director
MN Dance Theatre
$78,000

Patricia Mitchell
President
Ordway Center for the Performing Arts
$253,691

Stanley Hill
Artistic Director
Twin Cities Gay Men's Chorus
$58,385

Steven Copes
Concertmaster
St. Paul Chamber Orchestra
$157,489

Union Actor
Guthrie Theater
$882/week (weekly minimum wage)

Non-union Voice-over Actor
Regional Commercial Radio Spots
$300/hour

HEALTH & MEDICINE

Direct Caregiver
Group Home for Adults With Developmental Disabilities
$10.50/hour

Stephen Hemsley
CEO
UnitedHealth Group
$34.7 million

Omar Ishrak
CEO
Medtronic
$6.3 million

Daniel Starks
CEO
St. Jude Medical
$2.9 million

Michael King
President/CEO
Volunteers of America
$358,464

Gregory Helmer, MD
Cardiologist
U of M Physicians
$700,748

Rev. Richard Scherber
Executive Director/President
MN Teen Challenge
$108,163

Registered Nurse (w/ Masters of Science in Nursing)
Twin Cities hospital
$65,000

Beth Monsrud
CFO
UCare
$346,629

Ed Eide
Executive Director
Mental Health Association of MN
$73,500

April Todd-Malmlov
Executive Director
MNsure
$110,747
(resigned 12/2013)

Mark Mishek
CEO
Hazelden
$598,982

PUBLIC SERVICE & NONPROFIT

Case Manager
Housing service for the homeless
$34,000

Joshua Winters
Executive Director
Minnesota Public Interest Research Group
$47,343

Laura Wang
Executive Director
League of Women Voters
$62,000

Monica Meyer
Executive Director
OutFront MN
$59,427

Tim Marx
CEO
Catholic Charities
$152,333

Linda Keene
CEO
Girl Scouts of MN and WI River Valleys
$182,294

Joyce Norals
Chief Human Resources Officer
Lutheran Social Service of MN
$144,048

Mary Mason
Executive Director
MN Adoption Resource Network
$75,617

William Collins Jr.
CEO
YWCA of St. Paul
$115,124

Gloria Lewis
President and CEO
Big Brothers/Big Sisters of the Greater Twin Cities
$137,320

Sarah Caruso
President and CEO
Greater Twin Cities United Way
$244,122

SERVICE SECTOR

Barista
Caribou Coffee
$8.14/hour plus tips

Barista
Dunn Bros Coffee
$7.56/hour plus tips

Line Cook
Applebee's
$10.60/hour

Server
Crave
$7.25/hour plus tips ($20,000-$25,000 annually for 30 hours/week)

Dry-Cleaning Attendant
Mystic Lake
Casino Hotel
$10.77/hour

Independent House Cleaner (30 Years Experience)
$25/hour

Assistant Manager
Kwik Trip, Shakopee
$32,000-$38,000

Room Service Delivery Person
Hotel in Bloomington, MN
$7.25/hour

Car Salesman
Dealership in Western Twin Cities Suburb
$14-15/hour

MEDIA

Jon McTaggart
CEO
American Public Media Group
$470,067

Janis Lane-Ewart
Executive Director
Fresh Air, Inc. KFAI
$63,398

Blogger
City Pages the Hot Dish Food Blog
$30/post

Fiona McCrae
Executive Director
Graywolf Press
$108,133

Jim Pagliarini
President and CEO
Twin Cities Public Television
$313,037

Allen Giles
Sr. Vice President and General Counsel
Twin Cities Public Television
$156,101

Alisa Miller
President and CEO
Public Radio International
$245,488

Chris Fischbach
Publisher
Coffee House Press
$53,646

Eric Lorberer
Executive Director and Editor
Rain Taxi
$22,000

Mike Heuberger
General Manager
MN Christian Broadcasters
$62,555

EDUCATION

Eric Kaler
President
University of Minnesota
$588,884.65

Tutor
Minnesota Math Corps, Elementary Schools Across MN
$484 biweekly living allowance, plus $5,550 voucher toward tuition or student loans upon completion of yearlong service

Dennis Peterson
Superintendent
Minnetonka Public School District
$203,940

Steven J. Rosenstone
Chancellor
MN State Colleges and Universities
$320,000

Selwyn Vickers
(former) Jay Phillips Professor and Chair of the Department of Surgery
University of MN Medical School
$543,109

Junior-High English Teacher (18 years experience and Master's Degree)
St. Cloud Area Schools
$68,749

Bryn Roberts
Head of School
St. Paul Academy and Summit School
$319,151

Early Childhood Special Education Teacher
Meeker and Wright Special Education cooperative
$37,227

Speech-Language Pathologist
Eden Prairie Schools
$34,911

Principal (11 Years Experience)
Minneapolis Public Schools
$114,043

School Nurse (20 Years Experience)
St. Paul Public Schools
$47,537

Food-Service Assistant
Minneapolis Public Schools Nutrition Center
$12.67/hour

Cafeteria Attendant
St. Paul Public Schools
$9.50/hour

SPORTS

Adrian Peterson
Running Back
Minnesota Vikings
$11.75 million

Blair Walsh
Placekicker
Minnesota Vikings
$570,000

Joe Mauer
Catcher
Minnesota Twins
$23 million

Sarah Kiptoo and Bazu Worku
Winners, Grandma's Marathon
$10,000 each

Adult Recreational Soccer Referee
$60/game

Shannon Miller
Women's Hockey Coach
University of Minnesota-Duluth
$218,760

High-School Coach (5 Years Experience)
Eden Prairie Schools
Additional 5 percent of base teaching salary

Sundance Dog Team Halftime Show
Gophers Basketball Games
$2,500/show plus hotel and airfare

Jerry Kill
Football Coach
University of Minnesota
$1.2 million

Lindsay Whalen
Point Guard
Minnesota Lynx
$107,000 (WNBA maximum for player with four-year-plus tenure)

Ricky Rubio
Guard
Minnesota Timberwolves
$3.48 million

Don Lucia
Men's Hockey Coach
University of Minnesota
$301,405

LAW

Lorie Skjerven Gildea
Chief Justice
MN Supreme Court
$161,000

Rex Tucker
Chief Public Defender
Seventh Judicial District, St. Cloud
$122,450

Lori Swanson
Attorney General
State of MN
$118,238

Director, Law Library
Anoka County
$85,838

Forensic Psychologist
MN judicial district
$99,288

Court Reporter
District 10
Sherburne county
$74,344.85

Public Defense Investigator
Sixth Judicial District
$66,333.60

David Wippman
Dean of Law School
University of Minnesota
$396,246.96

Family Law Attorney
Southern Minnesota Regional Legal Services
$43,000

Staff Attorney
William Mitchell Law School
$58,000-62,000

In-House Attorney
Large Local Corporation
$180,000

Paralegal (10 years experience)
Large Local Firm
$55,000

Legal Secretary (10 Years Experience)
Large Local Firm
$50,000
Working for Love vs. Money
Mostly for Love: ♥
Photo by TJ Turner
Mathew Janczewski
I've always been a big dreamer.
I founded Arena Dances in 1994 after graduating from the University of Minnesota with a BFA in dance, with a vision of becoming a household name in the world of modern dance. Inspired by choreographers and dancers like Doug Varone and Bill T. Jones, I wanted to spend my life creating art for my own touring company.
For years, I was either in the studio or trying to make a buck. I've done everything from organizing materials and inventory for a furniture representative to being a gofer for an architect to teaching and working as a caterer. If there was a gig, I would grab it. I remember rushing across a crosswalk in those early years, pieces of my life spilling from the duffle bag I was constantly carrying from work to one rehearsal and then the next.
Around the time I founded my company, I was given a diagnosis that I thought was life or death. It solidified for me that whatever time I have been given on this planet needs to be spent creating dance. I've always had these thoughts of movement that I want to get out. I still have journals full of ideas that I haven't gotten to yet. Getting to play with dancers in the studio, that sharing and collaboration, is what drives me. These days, I take in about $1,500 a month as artistic director of Arena, but I still supplement it by working as a server at Wise Acre Eatery and cleaning the building where I live. I feel lucky to be in a place where I make most of my living doing what I love. The journey hasn't been easy, but nothing could have swayed me, and I'm not slowing down yet. Arena's next production, The Main Street Project, which focuses on how technology is changing the way people interact, will premiere this spring at the College of St. Benedict.
Mostly for Money: $
Anonymous
There's nothing objectionable about making more money than you're used to, and my previous job came with a salary that was by far the most I'd ever brought in. But employers want to get what they pay for, and it came with massive amounts of pressure, stress, and the expectation that I was available around the clock, seven days a week, on top of often spending 50-plus hours on the job. Pretty soon you're spending just to compensate for how miserable you are, and that's a ridiculous downward spiral.
I had financial obligations related to family life and really came to believe that everything would fall apart if I lost this job that I increasingly hated. That's an awful and unique feeling—the definition of golden handcuffs. Eventually it all became too much, and I felt I was shouldering burdens in the organization that no one could solve, no matter how much money they made or how seriously they took it all. I left and found another job more in line with my philosophies and talents and, although it entailed accepting a very significant pay cut and a fair amount of reordering my financial life, I'm now happier, calmer, and more balanced than I could possibly have dreamed of being before. Money is great. It's also not worth being miserable for.
Financial Habits: How We Budget, Spend, & Save
Manager of Retail Store in Uptown
30s, single
Salary: $31,000 per year
Housing (rent/mortgage): $820 rent/month
Food budget and where you shop: about $200 a month for groceries; primarily shopping at Rainbow but occasionally Lunds for something specific
Loan payments: $100/month
Credit-card bill: $50/month
Savings and where it's stashed (IRA, investments): "Ha. Right. I had nothing for savings. By the end of last year, what savings I had was gone, and I had stopped contributing to any retirement, trying to keep up with bills and any unexpected expenses, like a car repair."
Health-insurance payment: "At the beginning of 2013, about $180 per month (yes, that's ridiculous for one person). By the end of the year I had cancelled my insurance because I just couldn't afford it and was uninsured."
Most expensive meal you ate at a restaurant last month: $30
One thing you would never scrimp on: food
An indulgence you do not feel guilty about: planning a vacation (which never happened due to lack of money)
An indulgence you do feel guilty about: going out drinking on the weekends
What's the biggest planned expense and/or what are you are saving up for in 2014? A new computer and most likely a new car will be necessary next year
Amount you spent on holiday gifts in 2013: about $150, not including all the travel expenses to visit relatives
In what ways, if any, did you cut back during the recession? Are you still cutting back? "In many ways, and yes! I would say mostly on savings and personal items, like clothing or taking a holiday or things like that."
Baseline salary you would need to feel comfortable: "To feel secure, I would need to be in the low- to mid-40s per year."
Retiree
72, married, two grown children
Salary: $85,000 per year
Housing: owns home
Food budget and where you shop: $300/month; Lunds
Loan payments: none
Credit-card bill: $2,000-$4,000/month (no balance)
Savings and where it's stashed: don't add to savings anymore; use IRA withdrawals and investment income to live on
Health-insurance payment: Medicare, plus $120/month for supplemental insurance
Most expensive meal you ate at a restaurant last month? $80 at 112 Eatery
One thing you would never scrimp on: woodshop tools
An indulgence you do not feel guilty about: buying shoes at Nordstrom
An indulgence you do feel guilty about: ice cream
What's the biggest planned expense and/or what are you are saving up for in 2014? boat repair
Amount you spent on holiday gifts in 2013: $1,500
In what ways, if any, did you cut back during the recession? Are you still cutting back? none, no
Baseline salary you would need to feel comfortable: $70,000
Public School District Employee
27, single
Salary: about $49,000
Housing: about $600/month
Food budget and where you shop: provided by family I live with
Loan payments: paid off $8,000 in student loans last year
Credit-card bill: none
Savings and where it's stashed: a couple thousand on a check card
Health-insurance payment: $50/month
Most expensive meal you ate at a restaurant last month? $26
One thing you would never scrimp on: gas
An indulgence you do not feel guilty about: eating out on weekends
An indulgence you do feel guilty about: buying clothes
What's the biggest planned expense and/or what are you are saving up for in 2014? master's degree and wedding
Amount you spent on holiday gifts this year: "I don't celebrate the Western holidays. Instead, I send money to my relatives in Somalia. Or give cash to those I feel are in need—it could be a friend in Minnesota or a family member who's struggling to make ends meet. On average, it's possible that I spend $1,500 annually on what I feel is charity."
In what ways, if any, did you cut back during the recession? Are you still cutting back? "I was in college then. I lived simply: less driving, less eating out, didn't contribute to my family."
Baseline salary you would need to feel comfortable: "They say the more you get, the more you want. But I'd say about $100,000 to live a comfortable life."
Judicial Law Clerk
28, single
Salary: $45,178
Housing: $710 rent/month
Food budget and where you shop: $400/month (includes groceries and eating out); Cub Foods, The Wedge
Loan payments: $355 in student loans. "This is based on my current income as income-based repayment. If my salary increases, so does this payment."
Credit-card bill: $160/month
Savings and where it's stashed: $174/month to PERA (Public Employee Retirement Association). "This is mandatory, you don't have a choice."
Health-insurance payment: $5/month dental. Employer pays for health insurance
Most expensive meal you ate at a restaurant last month? $45, dinner plus alcohol
One thing you would never scrimp on: happy hours with friends
An indulgence you do not feel guilty about: a nice dinner out
An indulgence you do feel guilty about: cable TV
What's the biggest planned expense and/or what are you are saving up for in 2014? "A trip to Italy and Spain with my mom."
Amount you spent on holiday gifts this year: around $200
In what ways, if any, did you cut back during the recession? are you still cutting back? "I was in law school and working part-time during the recession, so I was already careful with my spending. Now, I am still careful with my monthly spending, but I don't feel like I had to cut back because I have never had more money to spend."
Baseline salary you would need to feel comfortable: $55,000
Nanny/Student
24, single
Salary: usually $2,000/month
Rent: $740/month plus utilities
Food budget: $100/month in summer (farmer's market, mother's garden), $150-200 in winter (co-op, Target, Rainbow)
Loan payments: "I pay my mom $300/month, which includes insurance, phone, and a loan she gave me."
Credit card bill: $100/month
Savings and where it's stashed: 10 percent of income—"so if I'm lucky, about $200 a month"—in a savings account and cash
Health insurance: covered through mother's employer until age 26
Most expensive restaurant meal last month: $100. "Last month I went to Nightingale with my mother. Most of our bill included a few snazzy cocktails—wayyyy too much money!"
One thing you would never scrimp on: "I ALWAYS buy quality food. I, of course, shop for the best deals, but when it comes to meat, dairy, and produce, I buy as much organic and local as I can."
An indulgence you do not feel guilty about: "Candy—I love that stuff. On a more serious note, my yoga classes are a little out of my budget."
An indulgence you do feel guilty about: "Bull Run Coffee. I have been cutting back, but it is so delicious."
What's the biggest planned expense and/or what are you are saving up for in 2014? a wedding
Amount you spent on holiday gifts: $150. "I collect gifts throughout the year and am doing a lot of homemade gifts as well."
In what ways, if any, did you cut back during the recession? Are you still cutting back? "My mother taught me how to save money from day one, so generally I am not a big spender. However, after living on my own for a year, I realized how much money I spend on utilities and electricity. So, I cut back on my electric bill. I unplug things after I use them. Even my TV and radio are unplugged unless I am using them. I take shorter showers and try to conserve water. I also stopped buying shoes."
Baseline salary you would need to feel comfortable: "I would like to make a little more than I make now so that I can save for more things in the future. My rent takes a huge portion of my income, and I would like to see that change. In 2014, I won't pay as much in rent, but I will have more bills to pay. However, I will have a second income to help manage. My mother always says to 'live below your means.' Don't spend money just because you have it."
IT Professional for a Large Corporation
30s, married, one child
Salary: $130,000 a year in salary and bonus
Housing: $1,800 monthly mortgage payment
Food budget and where you shop: about $150/week; Mississippi Market
Loan payments: $700 car payment, $500 student loans
Credit-card bill: no balance
Savings and where it's stashed: about $100,000 in a 401k, $40,000 in savingsCDs
Child care: $250 a month for post-kindergarten care
Health-insurance payment: fully provided by employer
Most expensive meal you ate at a restaurant last month? $100 at Union Seafood Market for two
One thing you would never scrimp on: electronics such as computers abletsphones. "My job is predicated around technology, so I find that very important."
An indulgence you do not feel guilty about: season tickets to the Vikings
An indulgence you do feel guilty about: cable television
What's the biggest planned expense and/or what are you are saving up for in 2014? new deck, saving for a big trip to Europe in 2017
Amount you spent on holiday gifts this year: $300-400 across the family
In what ways, if any, did you cut back during the recession? Are you still cutting back? "My income was substantially less during the recession. We drove older cars, didn't take vacations. We don't cut back anymore."
Baseline salary you would need to feel comfortable: "I'm comfortable where I'm at, though I would like to put more into retirement. That's really more of adjusting priorities rather than making more money—though I would always take more money."
What salary would you guess would make most Americans say would make them happy? "I think six figures and up for a family is about right. That should afford a decent house and the comforts that go with it."
How to Make $50
We shadowed five Minnesotans in various occupations to see how each earned a Ulysses
Photo by TJ Turner
Job: Tattoo Artist
Time it takes to make $50: 30 minutes
Adam is stretched out on his side at Guns n' Needles Tattoo in Uptown Minneapolis. He's getting work done on his fourth tattoo: a skull doubling as a soup pot full of lobster, steak, and onions covering his right forearm. "It's an homage to my past," he explains. "I used to be a chef."
Tattoo artist Roger "Uncle Rog" Kane coolly grabs a folded cloth from the stack by his side and wipes away a smear of blood and ink from Adam's arm. They're about 20 minutes into this session, the third of five total. How long will this session last? "Until I can't take it anymore," says Adam. "The endorphins usually wear off after three or four hours," Kane says. "Then people want me to stop poking at 'em."
Adam is clearly an old pro at being "poked at," but that's not always the case. "I've had people screaming, crying, and squirming," says Kane. "And it's not always who you'd expect. The smallest little girl can get tattooed in the most painful spot, and she's perfectly fine, and the biggest, toughest dude will ask for a smoke break every three minutes and his girlfriend's standing there petting his hair while he cries. I've had people puke and pass out before I even touch 'em. It's usually more anxiety than real pain."
The shop is set up like a salon, with beds in place of swivel chairs and adjustable fluorescent lights at each station. Across the divide, Kane's colleague Brian is working on the left pec of a shirtless, grimacing man. "How does that feel?" Brian asks. The newly inked man grunts his response: "Feels like you're gettin' in there, man."
Job: Executive for a Major Nonprofit
Time it takes to make $50: 50 minutes
On a Thursday morning, the director of standards and policy for a major nonprofit human-services organization arrives at her suburban office, settles in at her paper-strewn desk, and picks up the task list for the monster project of the moment. For the past year, preparations have been underway for moving 81 seniors from an existing nursing home to a brand-new, state-of-the-art care center. Moving day is scheduled for Tuesday, and teams of people have been strategizing for almost a year about the logistics of transporting dozens of seniors, many of whom are non-ambulatory and in various states of mental and physical health, from the home they have come to know and trust to one they've never seen before.
The logistics of the move have been planned down to the tiniest detail, but one huge hurdle remains. The Health Department, which issues the license needed to operate a nursing facility, still hasn't committed to a time for its inspection. The director composes an artful message to her only contact at the department and finally elicits a desperately needed appointment—three days before the bus of seniors is due to arrive at the door of the new facility. If they find anything that needs attention and the license isn't issued, all bets are off. Do the nurse call lights work in all of the rooms? Does the facility-management team have a thorough grasp of all the policies? Can they all detail the procedure for handling contaminated linens? A sea of preparations stretches before the director, but she takes a moment to pick up the project list again and place a big, satisfying X next to two screaming words: "Schedule inspection."
Job: Trial Story Specialist/Presentation Consultant
Time it takes to make $50: 15 minutes
The trial story specialist enters a conference room at the downtown Minneapolis Hilton Garden Inn and greets his client—an East Coast lawyer representing a woman whose husband died as a result of the negligence of a large hospital. The lawyer had seen the specialist teach a continuing legal education course that focused on courtroom delivery and storytelling. Knowing that his case against a big institution with formidable representation depended on a strong opening statement that grabbed the jury with a powerful emotional hook, he flew to Minneapolis to work with the specialist on constructing a statement that would tell the tragic story of one man's unnecessary death.
After a day of intensive writing and rewriting, the final draft is in hand, and it's time to get the lawyer on his feet. He stands rigidly, fixed to the carpet, and recites the statement. The specialist coaches the lawyer on how to embody the narrative, having him move to three different spots along an imaginary line as the story unfolds to physicalize how the patient was supposed to move through three stages of the hospital to get the care he needed, and how he was prevented from reaching the final destination where he could have been saved.
"We need the listener to be able to see the story in their minds," he explains. "You know the technical detail and legal jargon, but the jury needs to be able to visualize the story in order to engage with it. By seeing the story, people are able to empathize." The lawyer's eyes light up: He gets it. "Great," says the specialist. "Now let's run it again."
Job: Actor in a Murder-Mystery Dinner-Theater Show
Photo by TJ Turner
Time it takes to make $50: 60 minutes
On an icy Friday evening, Ann Milligan Lees makes her way toward the Wisconsin border to perform a four-act murder-mystery dinner show for a corporate holiday party in a hotel banquet room. Unlike traditional theater, in which the actors arrive at the same location to do the same show each night, each one of these gigs is unique. "Sometimes you apply your character makeup in a hotel room with catered coffee and pastries; sometimes it's a cramped storage closet in a bar and grill," she says. "I love the element of surprise and novelty. No two shows are ever the same. Plus, Mystery Cafe is one of the most lucrative live-performance gigs out there for a Twin Cities actor."
On this night, Lees gets into costume in a conference room adjoining the ballroom where the show and meal will take place. She disrobes in the corner while the other (coed) actors do the same, draping costume pieces over the backs of chairs, finding outlets for curling irons, and running their lines in various states of undress. "You lose any sense of shyness pretty quickly in this line of work," she says. "I don't know many other professions that require you to take your clothes off with your coworkers in a conference room on a regular basis." The stage manager pokes his head into the room and gives the "places" call. The actress grabs a couple rubber chickens, cracks her neck, and heads to the ballroom to show some tipsy business folk a good time.
Job: Substitute teacher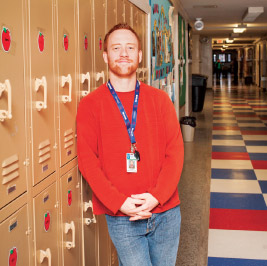 Photo by TJ Turner
Time it takes to make $50: 3 hours
Dylan Dagen's day at a St. Paul middle school starts with a seemingly innocuous task: taking attendance. But before he makes it through the Cs, a student throws a muffin at an adult visitor. Dagen is a substitute teacher, hoping to land a job as a P.E. teacher—preferably in his specialty area of developmental adapted physical education. But turnover among P.E. teachers is notoriously low, so Dagen takes as many substitute jobs as he can, earning $115 per school day.
A few minutes later, the boy who threw the muffin is hurling his backpack across the gym. "Please don't do that," Dagen says. The boy continues throwing until he makes a basket with the backpack. Still, "this is a good class," Dagen insists. And when the muffin-and-backpack thrower apologizes to the visitor and eventually lies down on the floor with his phone, the class gets into a groove playing handball, girls on one side of the gym, boys on the other, enjoying themselves and generally following the rules. "This is awesome," Dagen says. In third period, however, one handball game completely devolves while a girl swears at Dagen and refuses to go see a behavioral specialist. The other game gets rowdy, with kids whipping their pinneys at each other. One boy simply sits on the floor and reads for the entire period. Dagen remains collected (he says he's used to it), although he says the lack of respect is challenging to overcome—especially as a substitute.
After class, a girl who had spent the period goofing off with her friends hands Dagen a note, saying "You need to sign this." It's a form for a behavior plan, asking each teacher to rate her behavior in areas such as "talked only when appropriate" and "followed teacher's directions." Dagen engages her in conversation, asking how she felt about her behavior. The girl who earlier refused to go to the behavior specialist pops her head between them and says, "Oh my God, just sign it already—DAMN." Midway through fourth period, in which a couple of girls hide in the locker room and a couple of boys spend their warm-up throwing paper at each other, Dagen will have earned $50.
How to Make More
Three experts offer tips on negotiating a raise
Kim Bartels
Executive and Career Coach
Genuine Impact Consulting
Specialty: Women
Know your value
Start by keeping track of your accomplishments, Bartels says. "You have to sell yourself to yourself first," she notes. Bartels adds that women often find this more challenging than men, therefore developing self-confidence is especially crucial for them. "Once you own it, you can negotiate accordingly."
Gather endorsements
References often win candidates new jobs; you can use them in a similar fashion to win a raise. Ask a project manager, a former boss, or a colleague to write an email endorsing your skills or recent work that you can forward to your boss.
Do your homework
Online tools such as salary.com can give you an idea of salary ranges in your field, and sometimes it pays off to hire a compensation consultant—Bartels herself has done it.
Be confident
Being direct and patient will go further than an attitude of entitlement. "Start on a positive note about what you enjoy and appreciate about the job," Bartels says. "State your case, and then pause and listen to what your boss has to say. Give him or her time to look into it and get back to you."
Amy Lindgren
President
Prototype Career Service
Specialty: Holistic career conversations
Consider it a conversation
A salary negotiation doesn't have to be one big scary meeting, Lindgren says. Think of it as an ongoing conversation with your boss that's part of the bigger picture of your career: "Where am I headed in this job, this company, this industry?" A raise is simply one stepping stone along that journey.
And a two-way street
Your relationship with your boss should be more of a partnership than a rigid hierarchy, Lindgren says. Conversations about salary help establish the employee as someone who values fair treatment. But she advises to talk about more than money: "There should be a sense of, now that I'm learning this, what else might I do for the boss or company?" she says.
Nail the timing
Don't be locked into thinking that salary negotiations have to take place during a performance review at the end of the year, Lindgren says. Better to wait until there's a good cash flow in your unit. "It's just like a kid asking for more allowance when Mom and Dad have a lot of dollars in their pockets," she says. Pay attention to budget planning cycles, too, so you can get in on next year's stash before the numbers are locked in.
Consider the source
If you work for a small company, the money you're asking for could be coming from the owner's wallet, so make sure your gratitude for working for the company is especially evident, Lindgren advises.
Teresa Rothausen-Vange
Heckler Endowed Chair in Business Administration
University of St. Thomas
Specialty: Management/leadership development
Spin your value
"A good strategy is to demonstrate how you contributed to an organizational objective recently, preferably more than one objective, and preferably in a way that you can translate into a dollar amount," Rothausen-Vange says. "For example, if you can show that you brought in an additional $250,000 that year, or saved the company $100,000, you can ask that a portion of that ongoing revenue or cost savings be added to your salary."
Go drastic
If your boss's eyes glaze over when you show him or her comparable salaries, you may want to force the issue. "Unfortunately, in some industries and jobs the best way to get a pay raise is to have a job offer from another organization, which proves your worth and forces your organization to counter or let you go," Rothausen-Vange says.
Invoke your inner New Yorker
"Minnesota culture is more indirect than on the coasts, and in some ways has more in common with Japanese or Chinese cultures, which value modesty and humility more than 'tooting your horn,'" Rothausen-Vange says. Don't be afraid to be assertive: If you know your value, you'll likely gain respect
by expecting to be fairly compensated for
it, she notes.
Photo by TJ Turner
Wage Changes Since 2008: 15 Jobs That Gained & Lost Most
The Happiness Salary
When surveyed, Americans on average cite an annual income of $75,000 as the threshold for material happiness. Do Minnesotans who make that much agree?
Pricing analyst married to small-business owner
"We have both traveled the world, and I think doing that made us re-evaluate where we want to spend 40 hours of our week and what we want to do in our lifetimes. I've traveled to Africa, South America, and Southeast Asia and saw people happier than I was, living on much less. My wife left her job this past summer and we started our photography business; I'm still working my corporate day job. We're having to be more conscious of where we're spending our money. We cut back on things like cable, but now I'm spending more time with family and I'm more fulfilled. I'm happier now, but also hungrier because I actually know what I want to do for a living and I can see it, but it's not in my hands. I'm amazed at how many of my coworkers or friends just don't like what they're doing, but they keep at it for the money."
Craig Johnson, site manager of the James J. Hill House and actor/director
"I'm not sure 'happiness' is the right word, but I feel safe, secure, and content financially. I sometimes consider what would happen in the worst-case scenario, and I think, 'Ok, I'm 53, and even if I lost my job, I wouldn't be destitute.' Because I'm pretty financially conservative, I have to keep reminding myself, 'You have enough! You don't need to worry!' I don't know what it's like [to earn a lot more], but it's such an American myth that more is more. People think that they'll be happier with more money, but I know instinctively that that's a fallacy. My needs are taken care of and my wants are fairly simple. I don't want to be that guy with a second house and a yacht. Theater work is my calling and my passion, so for many, many years I thought of my historical society job as my day job, and I kept them separate. But for goodness' sake, I work at the James J. Hill house, where the stress is, 'Oh, there's so much to do for the Victorian Christmas!' C'mon—how hard is that? I get to see people enjoy that Charles Dickens moment. I get to create art and opportunities for people to come together. The downside is that I quite often work at least 60 and up to 80 hours a week because I do six to eight shows a year."
Senior administrative assistant married to semi-truck driver, one child
"We're living proof that [an income of $75,000] equals happiness. My husband got a new job as a full-time semi-truck driver, and now he comes home every night and is earning income. Oh man, I tell ya, the extra income is really helping—and seeing him every weekend is awesome. Now we can finally do things that are fun as a family, like going to the Como Zoo and going outside and hiking. At one point he was working two jobs to make half of what he's making now, so it was really hard to do those things. The extra income makes you feel more at ease; it's more fun to be around here now."
Job Perks
Salaries are important, but envy-worthy perks can go a long way toward increasing a job's cachet:
Pioneer Press restaurant critic Jess Fleming says she eats out two to five times a week on the publication's dime—and that includes paying for a guest or two who can help sample a variety of dishes on the menu. The paper also springs for ingredients a few times a month to test new recipes.
photo Courtesy of Delta Airlines
Working at Delta Airlines can take you places, literally. After 30 days on the job, employees can travel anywhere Delta flies free of charge, as can their parents, significant other, and underage kids (passengers are subject to any government or airport fees). The downside to this perk is that employees fly standby—paying
customers go first.
Being a Minnesota Vikings cheerleader isn't a rent-paying gig, but it does have some glamorous perks. Each cheerleader receives two season tickets, free hair cuts and coloring, brow waxing, tanning, gym membership, and makeup kits to make them look their best at games and photo shoots. The purple-and-gold gals also get free travel for appearances and tours.
Dairy Queen's Edina headquarters keeps a stash of their signature Dilly Bars on hand for guests to munch on and gives each employee an allotment of credit to spend
at DQ shops.
Minnesota Women & the Wage Gap: The Differences are Still Startling
In 2013, the average full-time salary for a woman in Minnesota was $40,416. The average full-time salary for a Minnesotan man was $50,580.
(National Partnership for Women & Families)
The highest paid female in Minnesota is Gail Boudreaux, executive vice president of UnitedHealth Group. In 2012, she earned $20.7 million. The highest paid male in Minnesota is James Cracchiolo, CEO of Ameriprise Financial. In 2012, he earned $46.3 million, more than twice as much as Boudreaux.
(Star Tribune)
80% of women with children in Minnesota work, and 51% of Minnesota's working mothers are the primary breadwinners for their families. 80% of Native American and African American working mothers in Minnesota earn the majority of their familes' income. White, African American, and Latina women earn $.80, $.64, and $.56 on the dollar, respectively, compared to white men.
(Minnesota Council on Foundations)
On average, women in Minnesota are paid $.80 for every dollar paid to men.
(National Partnership for Women & Families)
Of the 100 highest paid CEOs in Minnesota, five are women. The highest paid female CEO is Sally Smith of Buffalo Wild Wings, who earned $3.5 million in 2012, placing her 30th on the list.
(Star Tribune)
The starting salary for new female physicians right out of medical school is $16,000 less than that for their male counterparts. In 2010, the average starting salary for female Bachelor of Arts degree holders across the United States was 17% lower than the average starting salary for male BA holders.
(Minnesota Council on Foundations)
Facebook Comments