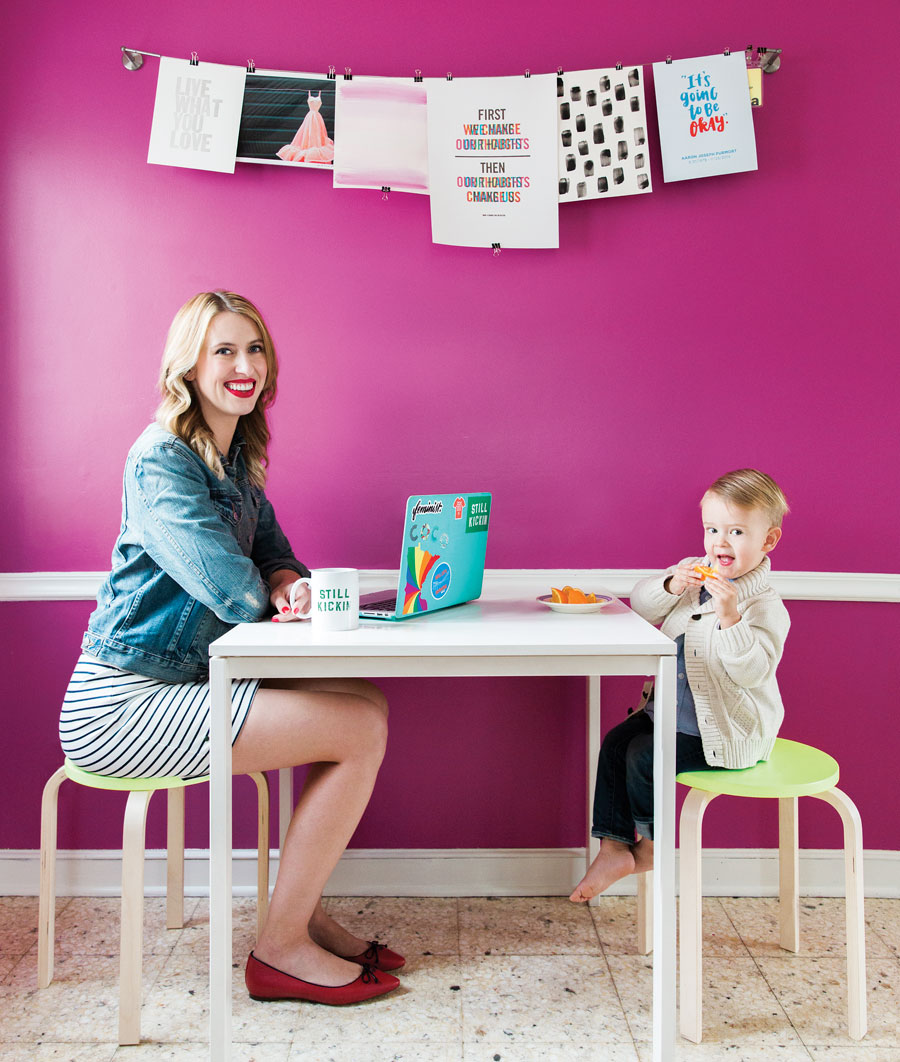 The Look: Barbour dress, $99, and Henry & Belle jean jacket, $198, both @ Melly, Galleria, Edina, 952-929-9252; Coach flats, $135 @ Macy's, various locations. Photos by Erin Smith, Hair and Makeup by Alice Berman.
In 2011, Nora McInerny Purmort was living the life she'd always wanted. She had a successful career in advertising, and an amazing boyfriend, Aaron, who she'd been dating for a year. Then the unthinkable happened: He was diagnosed with stage IV brain cancer. In spite of his prognosis, the pair decided to get married and have a child together. To cope with Aaron's illness, Purmort started a blog called My Husband's Tumor, which quickly went viral. Now, a year and a half after Aaron's passing, her book about the experience is due out next month. It's Okay to Laugh (Crying Is Cool Too) showcases Purmort's disarmingly frank and funny voice in the face of tragedy, which brought so many readers to her blog. It's an antithesis to the oft-sentimental tone inherent in many books on death and dying. 
"It happened in the best-worst way," Purmort says of the book. "I didn't know if everything was going to be okay—I wanted to write about it when it was happening in real-time because there isn't anything like that out there."
Purmort left the advertising industry to focus on writing, raising her three-year-old son, Ralph, and running the nonprofit she founded in Aaron's honor, Still Kickin. The organization raises money to provide financial assistance and support for a Still Kickin "hero" through sales of t-shirts and workout events around the country. "The most meaningful thing I can do is make these safety nets for people," she says. "It's about doing something small that can really mean something big to another person."

Nora McInerny's Home.
Her home is as charmingly down-to-earth as one might expect from the tone of her writing, from the toys strewn around the living room floor to her fuchsia kitchen. ("I've had a hot-pink wall in every space that's been mine since my first apartment," she says.) It's full of personal touches, such as a colorful throw pillow purchased during the couple's honeymoon in Belize, a Persian rug from her childhood home, custom artwork received as wedding gifts, and a wood coffee table made by one of Aaron's friends. Elsewhere, the home's mix of old and new is like a design geek's Pinterest board come-to-life: a gray sofa and Yves Klein–blue ottoman bought at the Blu Dot Outlet mixed with a robin's egg–blue vintage typewriter cart that doubles as side table, and a vintage Hudson Bay striped blanket she scored for $20 at a thrift store. 
"I love color," she says, "and I like things to not match and be a little off."

The Look: Ecru top, $164, Tory Burch cardigan, $225, and Henry & Belle jeans, $152, all @ Melly; Converse "Chuck Taylor All Star" sneakers, $50 @ Macy's; jewelry, Purmort's own
Her personal style is equally chic yet relatable. She pairs Breton stripes, chambray, crewnecks, and flats with her signature red lips and cat-like winged eyeliner. "I'm a tomboy who loves makeup," she says. And she never takes off her necklace bearing the letters "a&n" (for Aaron and Nora) or the Neal Jewelry ring that Aaron had promised to buy her before he died. 
"It's not just about death and dying," she says. "The book that I thought I'd write was The Year of Magical Thinking for the Emoji generation. But even though the last four years have been really hard and terrible at times, they were also funny, beautiful, and wonderful. I've had a very full life that I'm really, really thankful for." 
---
Nora McInerny Purmort's Style Crib Sheet
On her beauty routine
"I love beauty stuff," she says. "It's my favorite part of the day. I love the routine of makeup and skincare. I love, love, love putting a face on every day. I'm not particularly artful, but I use a BB (beauty balm) cream, powder, blush, liquid liner, mascara, primer, and Urban Decay's Naked Palettes for eye shadow." 
On her ever-changing hair color 
Purmort, a natural blonde, has colored her hair everything from teal to hot pink. "I always felt like my natural hair color should have been pink but I was too afraid to do it," she says. "Then I got pregnant and stopped caring what anyone thought"—except for Aaron. "He loved it."
On her everyday uniform
She usually opts for crewnecks, ballet flats, and jeans that toe the line between feminine and tomboyish. "And if I'm trying to look like a grown-up, a pencil skirt," she adds.
---
Facebook Comments