photos by Jonathan Chapman
---
Among the sea of woodwinds, brass, and percussion that make up a marching band, the valiant tuba may get the least amount of love.
It is both unwieldy and heavy: Imagine lugging around a tightly coiled, 18-foot brass pipe with a giant bell on the end that weighs as much as an average 3-year-old—much less simultaneously trying to play it. Even Kanye West or Justin Timberlake might struggle to look cool while carrying one. If the shiny trumpet is a BMW, the tuba is a station wagon—or a submarine. Musically, tubas are the James Earl Jones of the brass family, with a low sonorous pitch that can be dolorous, somber, commanding, or menacing; just recall the first few notes of the iconic theme to Jaws.
Yet these dozen kids holding 30-pound tubas above their heads as the unforgiving July sun pounds the Rosemount High School parking lot? They wield them with seemingly effortless grace. The only telltale sign of their physical labor is the uniformly steely look of Clint Eastwood–esque determination in each player's eyes, and the fact that everyone is sweating.
Welcome to band camp: living proof that teenagers might willingly spend a week of their summer vacation marching with ungainly instruments from 9 a.m. to 9 p.m. in weather that's pushing 90 degrees, all for the love of music. For incoming freshmen, band camp provides a crash course in learning how to march, how to line up into rank and file blocks for parades, how to seamlessly move into complex field-show formations, and how to do all of these things in step with 273 other people—all while playing their instruments (and somehow continuing to breathe). Like pre-season summer training for athletes, band camp allows for the intensive hours of practice that are logistically impossible once school swings into session.
It's just after lunchtime, and sectional practice is underway. Orderly regiments of baritones, percussion, and mellophones (the marching band substitute for French horns) are sequestered in small clusters. So far, the level of exertion seems more like boot camp than your classic summer camp with crafts and archery. Eyes are steady, limbs poised yet relaxed, suggesting what psychologists refer to as "flow state," or being intensely, yet happily, engaged in an activity.
They need to focus. On November 23, the band will march along the teeming streets of Midtown Manhattan, cheered on by more than 3 million onlookers—as well as the 50 million more who tune in to the Macy's Thanksgiving Day Parade across the globe. After their video audition beat out nearly 200 schools, Rosemount earned a coveted spot alongside six other high school bands in the legendary spectacle that's been staged annually since 1924.
At the helm of the group is its most senior director, Leon Sieve. While he's dressed in shorts and flip-flops—more like a beachgoer than a typical teacher—he looks nowhere near relaxed as he scans the musicians on the field with the intense gaze of a football coach. In 2014, Sieve and three co-directors led the band to Pasadena's Rose Parade; along with Macy's, it makes up the Holy Grail of parades for school bands. There's extra artistic pressure this year, Sieve explains, because the Macy's committee requires bands to present music and choreography for the televised portion of the show that they have never publicly performed. The other challenge remains the sheer duration: Macy's is a three-mile parade. Unlike the Rose Parade, during which Sieve employed an A/B playing format so his musicians could alternate rest periods, the plan is to have all 274 kids play the entire 45 minutes of their Macy's show.
This parade will be the band's highest-stakes performance yet, and everything in Sieve's career seems to have led him to this point. When he was growing up on a dairy farm in Adrian, a town of 1,200 in southwestern Minnesota, playing the saxophone provided welcome respite from milking cows. For him and his siblings, band became "the thing to do in a small town," he recalls.
One of Sieve's first teaching jobs took him to Milaca, a town south of Lake Mille Lacs, where he directed the town's high school band program single-handedly for eight years. In that role, Sieve had to quickly master the administrative, artistic, and instructional challenges of running the entire instrumental music program for grades 9–12. "When you're the music man in town, you do it all," he explains.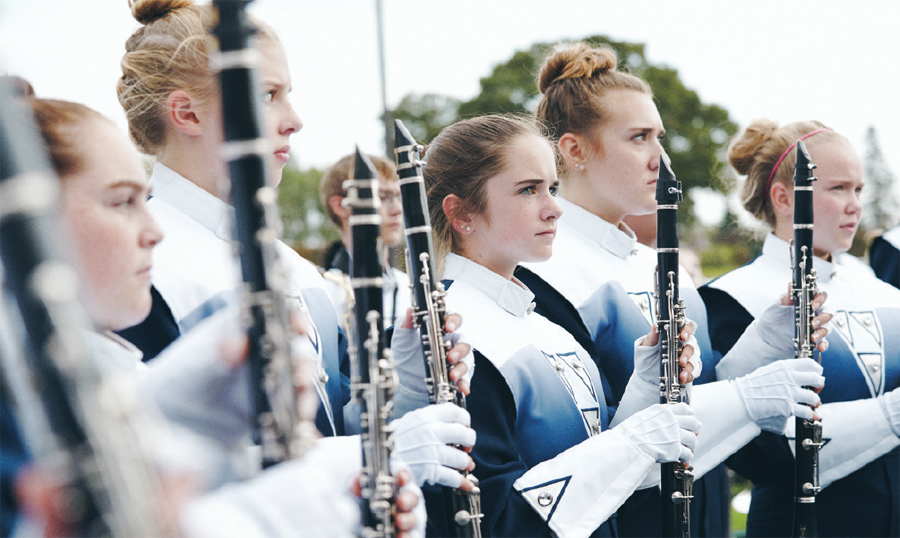 The 2017–18 school year marks Sieve's 16th year at Rosemount, which has the largest band program in the state. (Is directing a music program for 525 high school students essentially the equivalent of running a small nation? Sieve laughs at the question—but doesn't contradict the idea.) After a nine-year winning streak cinching the title of Minnesota's top marching band, Rosemount was knocked into second place by Eden Prairie in 2015. (Rosemount prides itself on its uniformity of movement and sound; even the 14-year-old freshman trombonist just learning to march must stay in synch with the 18-year-old first-chair senior.) Last year, they came back strong with a wildly inventive vampire love story–themed field show featuring music from Mozart and gothic rock band Evanescence, plus a solo flutist who emerged from a coffin.
•••
Before beginning to understand why the band is so good, and to get a sense of the dedication and fervor it inspires, Sieve suggests looking to its underlying support system: the parents. They're so devoted that they're actually here, out in the heat, sitting on camp chairs under a makeshift tent at the edge of the field, chatting amiably. Other than the conspicuous lack of beer, you might assume you'd happened upon a family reunion—one where everyone seems to actually like one another. If the band offers incoming freshmen a sense of belonging, to ground them through four notoriously stormy adolescent years, it seems to offer parents the chance to bond with other adults who share the perplexing task of guiding their children through the tempest. Band lasts nearly all year, with only a month-long break in summer, so the strong camaraderie here is forged over many months and years, rather than, say, a single sports season. That coffin from last year's vampiric spectacle? The band parents built it by hand.
Three years ago, many of the parents chartered a flight to Pasadena; 700 family and community members joined the band to celebrate at the Rose Bowl. This year, for the New York trip, they've planned a post-parade, seated Thanksgiving dinner in their hotel ballroom. Turkey, mashed potatoes, and pumpkin pie for hundreds of musicians and family members sounds wonderfully festive—but not cheap. (Initially, the band's GoFundMe page requested a whopping $600,000; that figure was later reduced to $25,000.) Who pays for the flights, the bus, the uniforms, the lodging, and the cranberry sauce?
All the parents chime in. There's the car wash at the local Goodyear station. Restaurants host community nights, giving the band a cut of the sales. During the March-A-Thon, the kids cheerfully solicit donations door to door around town. This past spring, their garage sale drew so many donations they needed two semis to store everything and netted $26,000. "The community here," Sieve smiles with something approaching wonder, "is over the top."
Usually, band camp takes place in the bucolic environs of St. John's University, near St. Cloud, where the kids bunk down in the dorms. It's a beloved tradition they forgo, for reasons of thrift, during years they're headed to a faraway event. (In past years, they've boarded airplanes to educational music exchanges as far-flung as China and Spain.)
In the process of watching her three kids go through the band, pediatrician Dina Westlund has become the de facto band physician. (The color guard, which visually interprets the music through synchronized dance, is particularly prone to minor accidents involving their heavy sabres, flags, and rifles, which they variously throw, twirl, and flip into the air.) "The discipline and the responsibility that they learn here—it stays with them," she says. "It helps them as individuals to be part of something much larger." The band's work ethic, Sieve adds, "comes from the culture that's been built."
Even when band camp stays local, it tends to be an all-hours affair. "My house is always packed during this week. I won't tell you what my grocery bill is," a friendly parent named Mereyle Strop confesses. "But that's a good problem to have."
This week, a group of kids, along with her son, Preston, have pitched a tent in her backyard. In the morning, they troop into the house for breakfast. Her role as volunteer hotel manager and chef is one that she, at least temporarily, appears to relish. "Because they're family on the field, they're family off the field," she says. Strop reflects that parents whose kids are seniors tend to approach graduation day with a twinge of melancholy. "Parents say, 'I'm going to miss band!'"
If that sense of loss persists, they can always join the Rosemount Community Band, full of both band parents and alumni devoted to the group and its music. "But we're not a cult," Sieve quips, as if they've been accused of exactly that. Everyone laughs.
•••
As she stands high on a metal platform under the late-afternoon sun, Colette Edgar's spotless white gloves and impeccable posture belie the fact that the humidity hovers near 80 percent. On the green field stretching out in front of her, Edgar's fellow trumpet players hold their invisible trumpets in the air. Sectional practice is over, and now it's time to reconvene as a whole band to walk the first part of the show without instruments.
The RHS drum majors confer before the band plays a football halftime show
Edgar is the senior returning drum major, a role that's elected based on musicianship, leadership, and conducting prowess. Being a drum major requires a kid to resist what our digital culture has been training them, practically since infancy, to master: dividing their focus. A good conductor must concentrate on the band as a single, living organism. The ability to listen, Edgar explains, is crucial: The drum major must carefully observe each section simultaneously, ensuring that the baritones aren't drowning out the bassoons and the flutes are crisp with their staccatos. The best don't just learn the music; they inhabit it. "If you're not listening and not prepared as a drum major, you could mess up the whole band," Edgar notes. "That attention—that focus—you wouldn't learn that by sitting at home multitasking on your phone."
As with many Rosemount families, band is a tradition in the Edgar home. Last year, her sister Isabel was a drum major. She gave Edgar pointers to break her in to the role.
As Edgar was last year, Caleb Maeda is the rookie drum major, a junior with two siblings who also march in the band. Maeda says he often second-guesses himself, due to the role's demands, but that controlling such a powerful sonic force can be a real thrill. "You're up there," he grins, "with all that sound in your face."

The Rosemount band—with tuba/football players among its members—prepares for a fall performance
At Rosemount, getting high on music isn't as geeky as American Pie made it seem in the 1990s. If your enduring vision of high school social life still aligns with, say, the nerd-jock-rebel hierarchy of The Breakfast Club, you'll be relieved to know that, as Sieve notes, band kids are the cool kids here. During the fall sports season, a few football players rip off their jerseys and slip into their marching band jackets for the halftime show. (You can spot them by their telltale football pants.)
As the metronome chimes and the drum majors conduct from their perches, it's suddenly apparent that something is missing from the scene of this afternoon's practice. There are 274 teenagers on this field, in the middle of summer, of their own free will, and yet there is not a single smartphone anywhere in sight. Nor a laptop or an iPad. Nobody is texting or sexting, Snapchatting or YouTubing, Googling or Instagramming. In fact, if you cropped the circa-2010s model cars out of view, this could be a scene straight from the 1980s, or maybe even the 1960s.
Marching bands have endured for more than a century (after evolving from military bands, the first marching band to perform a football halftime show took to the field in 1907) despite today's short attention spans and "I want it now" culture. Simply developing a proper embouchure—the way musicians contract their facial muscles and position their lips around a mouthpiece or reed to control volume, pitch, and quality—presents a serious stamina test for brass and woodwinds. An embouchure is a bit like a red Bordeaux wine: It's serviceable when it's young, but it can take decades to perfect.
With his players, Sieve refers to the proverbial iceberg, in which the performance is the tip poking out of the water—while all the preparation lies unseen. "We say the experience of band is front-end loaded," Sieve remarks. "No instant gratification, but all of the work."
Even in 2017, there's no app that has engineered a shortcut to mastering the clarinet: You spend the minutes and hours, day after day, practicing—something even the lowest-hovering helicopter parent can't do on a child's behalf.
At band camp, Thanksgiving is still four months away. The young musicians can only imagine marching past cheering crowds along Central Park and Radio City Music Hall, drum majors leading with batons held high. The color guard will toss their bright flags into the air. The drums and the tubas will bravely bring up the rear. Photos will be snapped, texted, uploaded, posted, and commented upon. But for now, these kids are here from morning to night, under rain-swollen clouds and relentless sun—amid smiles and laughter and good-natured wisecracks and the brass section's tendency to drop into spontaneous pushups as joyful penance for missing a cue—to practice. 
Facebook Comments