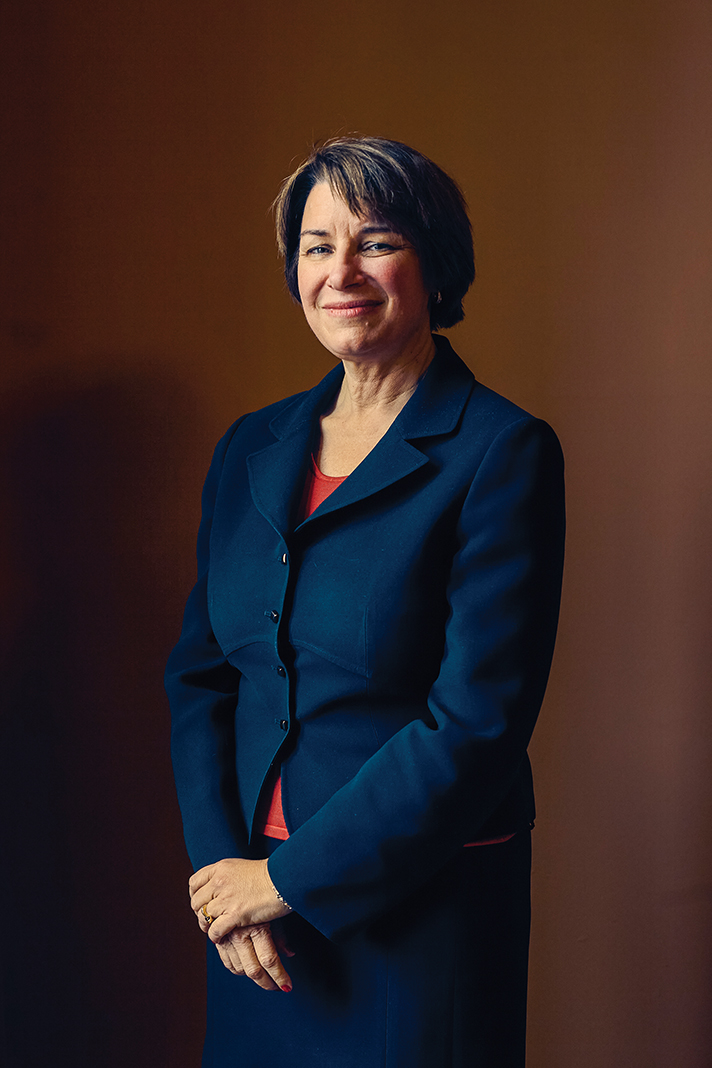 It's safe to say that most Americans didn't spend a whole lot of 2020 thinking about antitrust law. With the pandemic restructuring our lives and a fiery presidential election dominating the headlines, the federal regulation of monopolies might have seemed like an esoteric concern of distant judges and economists.
U.S. Senator Amy Klobuchar would like to change that. With her new book, Antitrust: Taking on Monopoly Power from the Gilded Age to the Digital Age (Knopf Doubleday), Klobuchar traces the rise of monopolies in the late 19th century. The book also details how popular resistance in the Midwest led to government action to protect workers, consumers, and small business.
But Antitrust isn't just a history book. Klobuchar is even more concerned with how the law failed to change over time to meet new challenges, and with what we can do today. She writes about how the new monopolists, tech and pharma giants, have abused their power, documenting the sometimes-overlooked effects on our everyday lives.
We spoke with the senator about her new book and what she hopes to accomplish on the issue.
Why did you want to make the subject of antitrust accessible to a broader audience?
It's a subject that used to be in the mainstream of our political discourse. There was a campaign song for Woodrow Wilson called "Bust the Trusts" literally playing at his presidential rallies. Teddy Roosevelt rode the horse of antitrust right into the White House. Now it has become the purview of judges and courts and economists, and I wanted to bring it back the other way.
And Minnesota was at the center of a lot of the early resistance to the big trusts, right?
Yes. James J. Hill was one of the original robber barons; his trust was the first one that Teddy Roosevelt actually took down. And the Granger movement, the organization of farmers that took on the trusts, began with a Minnesotan, Oliver Hudson Kelley. Hubert Humphrey was a big fan of antitrust. It's exciting when you read the history and you realize how much Midwestern influence there was in antitrust.
If breaking up monopolies was such a popular issue, why isn't it anymore?
The Bork theory, named after [U.S. Court of Appeals Judge Robert Bork], took over a lot of the courts during Ronald Reagan's time, and that made it harder for a lot of antitrust lawsuits to succeed, for people to rally around the cause of antitrust. You've seen the decline of political involvement in antitrust mirror an increase in consolidation and income inequality. We have the biggest companies the world has ever known, trillion-dollar companies. And the reason is, the courts squashed a lot of cases, interpreting the antitrust laws differently than they were intended by Congress.
And there were a lot of interests that didn't want us to do anything about the monopolies. People were enamored of tech, understandably. When the first gadgets came out, I was, too. And it was complicated, so people just let it go and believed these CEOs when they said, "Trust us." And the next thing you know there's an insurrection and people's data being thrown all around. And in the pharma area, you've got simple drugs like insulin and EpiPens going through the roof. So I guess it didn't really work to say, "Trust us."
Do you think Congress is finally ready to address antitrust?
Yes. I have several major bills that are bipartisan, including one with [U.S. Senator Chuck Grassley of Iowa] to inject much needed funds into FTC and Department of Justice antitrust enforcement. It's a popular bill; I predict it will pass, and that would give over $100 million to the agencies. I have another with [U.S. Senator John Kennedy of Louisiana] to allow newspapers and news organizations to coordinate in negotiating with the tech companies.
And monopolies are affecting everyone, whether it's pharma prices, whether it's online travel, where you think you're getting a deal but everything's owned by two companies. Whether it's cat food or app stores—all of this is affecting people's lives. The glaring example that jarred Washington was actually the insurrection, where a lot of this communication and lies about the election had been generated on social media over months and months and months.
You mentioned legislation with broad congressional support. What about the bigger changes that need to be made to antitrust?
My vision is, it's not that radical to change these bills slightly. You have to be as sophisticated as the companies you're dealing with. So what I propose is that on the big mega-mergers over $5 billion, changing the burden, so it's not the government that has to prove that it's bad for competition, it's the companies that have to prove that a merger doesn't hurt competition. Also, we need to rein in what's called exclusionary conduct. If you look at what happened with the app stores, Google and Apple tell businesses—including Spotify and all these big apps—that they can't tell people that they can get a better deal on their own website. That conduct, when they self-preference their own product over their competition's—that's exclusionary.
What got you personally interested in the subject of antitrust?
It really goes back to my grandpa working in iron ore mines. Growing up, my mom would take us down Summit Avenue to look at the James J. Hill House. That house was built the very same year my great-grandfather came over to work in the mines. So my relatives did the work for the monopolists, because those mines and the rail were owned by the robber barons of their time. And so when my dad was growing up, my grandma said, "We're done supporting these monopolists," and she was really intent on her kids developing their own careers. My dad went to a two-year college and ended up writing for the newspaper. So this was kind of part of my life growing up.
Then when I got to Congress, the pharma area is what really got me interested as a senator. I tell a story at the beginning of the book about those two drug companies that manufactured drugs for premature babies with heart valve defects. There is no doubt that they increased the prices because they owned the only other drug. And if they can do that to newborn babies with heart defects and their families, and I only found out about it because a Minneapolis children's pharmacist called me, there are just no limits.
Then I started getting involved in some more of the tech issues because of things like the political ads. I started to see how even a minor thing mattered, like requiring ads on social media platforms to have disclaimers and disclosures, like you see on TV, saying who paid for this ad. And they said things like, "Well, it's too hard for us to keep a catalog of these ads." And I said, "Wait a minute, my radio station in Thief River Falls, Minnesota, can do that. And you guys can't do that?" Even in the smallest thing, they were refusing to do it. And that's when I realized, that's what monopolies do.
Antitrust cries out for a champion. It's one of the reasons you see depressed wages, it's one of the reasons you see it's hard for woman- and minority-owned businesses to start up. All this follows when you allow monopolies to flourish. And that is what we've done in this century.
This interview has been edited for length and clarity.
Facebook Comments