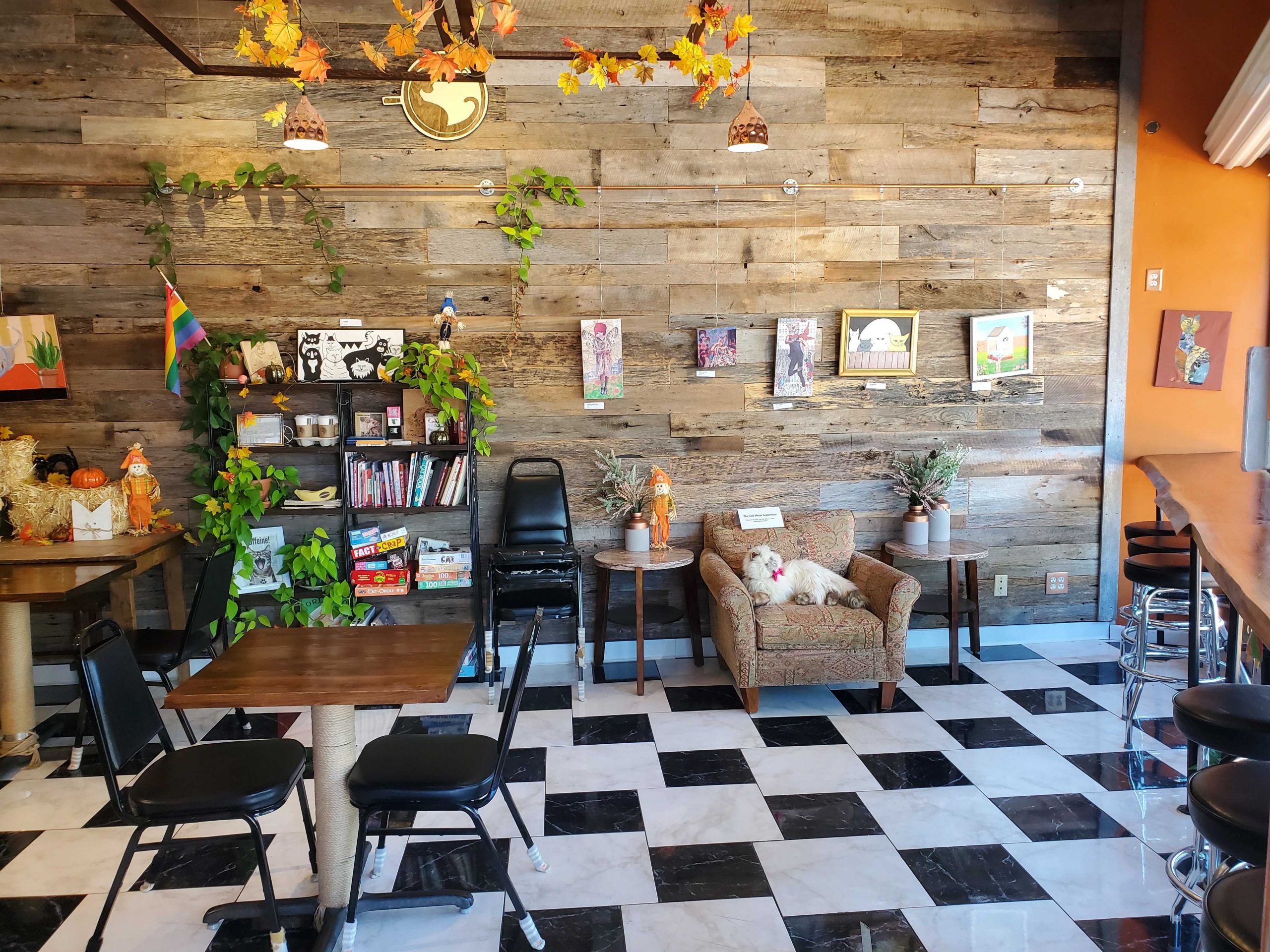 There is an incredible amount of coffee shops in the Twin Cities area, ranging from popular national chains to brand new local businesses. It would be difficult to include all the ones you should visit in this listing, so here are some that stand out. These are just eight of the independently owned coffee shops in the Twin Cities that are both unique for the customers and supportive of their community.
The Café Meow
Calling all cat lovers with a coffee addiction: there's a cat café in Minneapolis. The Café Meow has one room acting as a typical coffee shop right next to a room dedicated to cats. The cat lounge is host to anywhere between 10 to 20 cats at a time. When you finish your homework or book, sip your coffee with the sweet kitties up for adoption. The Café Meow works with a local rescue that has a no-kill policy. There's a cover fee prior to entering the cat lounge—$10.50 on weekdays and $15 on weekends—but it helps pay for food and other supplies necessary for housing the cats.
So far, the Café Meow has helped 404 cats get adopted since it opened in 2018. This coffee shop is dedicated to helping both the feline and human community by providing these cats with homes. Even if you have no intention of adopting, socializing with the cats helps them get acclimated to people and it gives you some relaxation.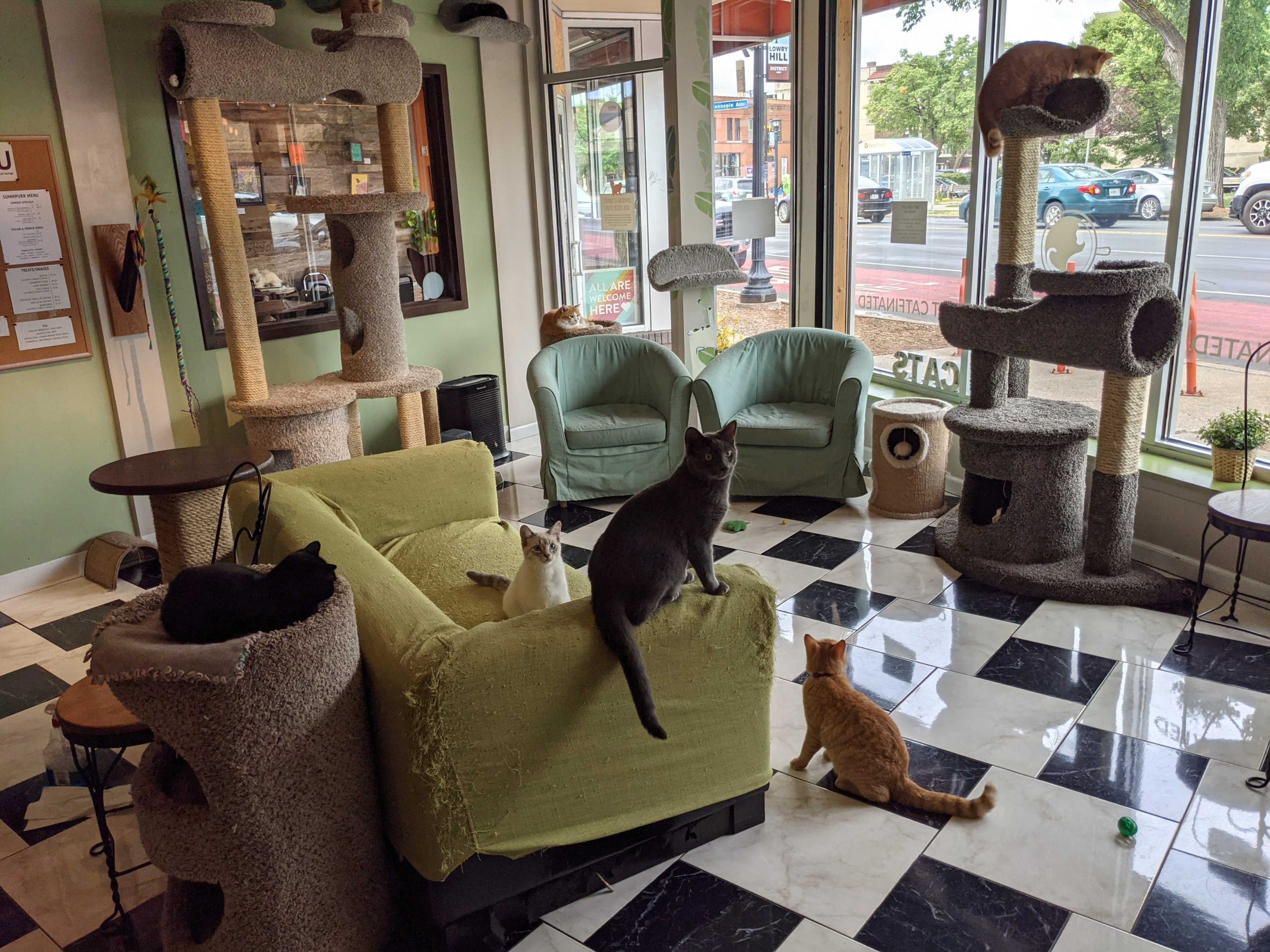 The Café Meow hosts monthly events you can join like Feline Fest 2022, their summer fundraiser to raise money for the rescue shelters No Kitten Left Behind—MN and Here to the Rescue. You could also opt in to Paint Your Cat on Canvas, where you submit a picture of your kitty in advance and come to the Café Meow where the photo will be sketched on a canvas for you. Paint among fellow pet lovers in this class led by Tom, a self-taught painter whose subjects are often cats. If that's not your style, then check out Yoga With Cats or Catgo (cat bingo).
The Café Meow recently opened a second location in New Hope, where it continues to take in local rescues and find them a new home. Stop by either location for some time with coffee and cats and check out the website for photos and stories of all the current cat staff.
Caffetto Café
Started in 1991, Caffetto Café is a proud supporter of the community. This coffee shop brings attention to small artists with impressive and beautiful pieces of work for sale. Local artists can contact Caffetto Café through email to have their art featured. The café only picks a few artists each month to decorate their walls.
In the warm and welcoming atmosphere, drink some coffee and spend some time with the folks around you. This is a place that encourages conversation and socializing. Make sure to take a break from the art perusing and friend making and visit the café's killer collection of old pinball machines in the basement.
It is also known to have local DJ nights in the basement among the retro games. Caffetto Café continues its effort to support the community by venturing out from the art world into the realm of music. Keep up with the Caffetto Café's Facebook page for updates on the featured art and upcoming events.
Caydence Records & Coffee
Vinyl records have resurfaced after roughly two decades of newer production styles—CD's, iTunes, Spotify—and the Twin Cities has supported the resurgence with eagerness. There are many record stores to browse, but none quite like Caydence Records & Coffee. With a menu as carefully curated as the vinyl collection it houses, Caydence is a hotspot for the St. Paul community.
Caydence Records & Coffee uses locally roasted coffee and blends from Bootstrap Coffee Roasters, forgoing shipments from foreign lands. The support for local coffee companies not only helps those independent businesses, but it also shows Caydence's compassion for the environment. Lessening carbon footprints and producing less waste is a huge benefit of sourcing locally.
The support for the St. Paul community doesn't end there. Caydence carries many local artists' creations, ranging from displayed art to crafted music. Recently, a mural was created by local artists on one of the walls outside. Many performances are happening at night in an intimate venue, which is perfect for those who want to fully connect with the music. Local musicians are filling the store's event calendar and are gathering crowds who are passionate about supporting the music. During the day, when there aren't any performances, tables fill the stage so you can study or read on that elevated space.
With an ever-changing catalog of records, it's difficult to stay away from Caydence Records & Coffee for too long. Check out the website for the menu and more information on their musical events.
The Get Down Coffee Company 
If you are seeking diverse specialty coffee, you don't need to look any further. The Get Down Coffee Co. is the creation of Houston White, founder of HWMR and the Houston White clothing brand, and Dan Anderson, owner of Dogwood Coffee Company. With a goal to create a welcoming and inclusive coffee brand, the black-owned and black-run company has succeeded. The Get Down prioritizes being a place where the community feels supported. Whether that's from the special events to the vibes exuded, The Get Down keeps finding ways to creatively represent Minneapolis. Roasting its own coffee in the Dogwood facility, the Get Down keeps it local.
The café, located in the Houston White Headquarters, is a small space with an 80s hip hop atmosphere. Graffiti covers the walls and DJs come in occasionally to elevate the experience. Burrito pop-ups occur during a couple of Saturdays when Quince's Farmers Market visits the patio and stimulates community building. If you're a fan of the coffee, you can buy it while visiting the café, the website, or even Target.
Mojo Coffee Gallery
Ceramic mugs and vessels fill this coffee shop to the brim. Over 50 local artists and artists from across the United States and Mexico hand craft these pieces. Hundreds of them are on display throughout the coffee shop, but it doesn't stop there. Mixed into the eclectic décor—accordions, model ships, mismatching chairs, and more—is a showcase of wall art. While waiting for your coffee and food, browse every inch of the coffee shop to see all the pieces for sale.
If you're wanting a breakfast joint, this is the place. Delicious food of all kinds are on the menu and the atmosphere is cozy and quirky. There is a dedicated space for live music, so you can be serenaded while you wake up. There is also a porch surrounded by flowers and trees for those who prefer the outdoors and the morning birds.
Mojo Coffee Gallery chooses to house local artists, giving them the opportunity for more buyers, more promotion, and more opportunities they might not have found elsewhere. Mojo is in Northeast Minneapolis and its website is here.
Sparrow Café
After a difficult experience during the pandemic, the Sparrow Café survived with the help of GoFundMe. This small neighborhood café near Lake Harriet is thankfully still making delicious coffee and still has an indoor mural by the astounding local duo Broken Crow.
The best thing about the Sparrow Café is that 100% of the coffee is Bird Friendly Certified (BFC). When the coffee is grown and sourced, it sustains a healthy environment for the birds to live safely. BFC coffee is currently only found in Central and South America and is typically grown in rainforests that are endangered. With BFC, the rainforests are guaranteed to be protected and no tree is in danger on that plantation. The coffee associated with Bird Friendly is grown in shade, with many layers of canopy looming over the plants. By doing so, it creates a bio-diverse landscape beneficial to all wildlife and crops. The diversity means that more nutrients are being produced, going into the crops, and creating a higher quality coffee bean. The only catch is the amount of time it takes to grow in shaded areas. Many coffee plantations are in direct sunlight, producing more crops in a shorter period. Deforestation comes in when producers want to expand and continue the quick sunlight method. When you choose BFC coffee, you support the preservation of the forests and its wildlife.
Sparrow Café is the only café in Minnesota that only serves and sells Bird Friendly Certified coffee—and it has since 2013. Learn more about BFC coffee and the Sparrow Café at the website.
Wildflyer Coffee
Wildflyer's mission is to create employment opportunities for the homeless youth in the Twin Cities. This isn't just any job, though. Wildflyer Coffee provides a program that focuses on work, mental health, financial literacy, and many more topics that are chosen to help the youth throughout their life. Soon, Wildflyer Coffee will be partnering with Starbucks to support youth after they graduate Wildflyer's six-month program.
Founded in 2017, Wildflyer Coffee has hosted a myriad of events dedicated to ending youth homelessness. The last fundraiser held, in June 2022, was an overwhelming success, raising $15,000. Wildflyer also hosts organizations that offer help with outreach services for the homeless. Outreach services include healthcare, housing, and other basic needs. Until October, a bus will come twice a month to Wildflyer, full of resources like hygiene products, clothing, food, etc. To keep updated on their events, check out the Facebook page.
On the website, you will see a blog full of employees' stories. Providing emotional and informational pieces help raise awareness and teach the public about the severity of youth homelessness. Located in the outskirts of Minneapolis, Wildflyer Coffee is successfully helping end youth homelessness in the Twin Cities. To support Wildflyer's mission, you can directly donate or shop for its coffee. Visit its website for more details.
Workhorse Coffee Bar 
Located on the outside of this coffee shop is St. Paul's smallest museum. A 3-foot by 2-foot micro museum is housed in a former fire hose cabinet and can be enjoyed by pedestrians, commuters, and customers. Artists and historians are invited to propose projects by the spring and fall deadlines. A panel of five carefully selected community members will choose which artist will fill the museum for each exhibition month. Some exhibits of the past include Lego mosaics, souvenir plates, and an exploration of the joys of Jell-O.
The founder of the Smallest Museum in St. Paul is also the co-owner of Workhorse Coffee Bar, a modern café that opened in 2015. This is a queer-owned business that makes a point in being a welcoming and inclusive space for all. Workhorse Coffee Bar supports the community in many ways, by also using locally roasted coffee from Up Coffee. While you drink Workhorse's coffee, enjoy a slice of quiche made from scratch. Check out its website for more.
Facebook Comments