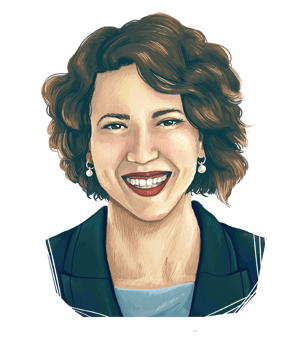 illustration by kelsey king
---
I grew up in a politically active home in St. Paul in the '70s. My dad, who worked in computers, and my mom, an educator and poet, protested Interstate 35E cutting through our neighborhood near Linwood Park. I marched in rallies when I only came up to people's waists, and we boycotted products—like Nesquik.
Since we didn't have a lot of money, we drank powdered milk. If you've ever had it, you know it's not great. So, we also got Nesquik, that chocolate mixing powder. My siblings and I loved it. But one day, when I was 5 or 6, I was helping my mom unpack groceries. "Where's the Nesquik?" I asked. "We decided not to buy that anymore," my mom said, explaining that Nestle encouraged women in developing countries to use its baby formula over breastfeeding.
At that age, I was upset. I wasn't thinking about our global impact, and I'm still not sure how effective that Larson family boycott really was. But I've come to learn how effective it was on me. I realized that dozens of times a day, we vote. In election years, we do this formally, but we vote with our money and time, too. Today, it's less about  boycotting and more about what I'm proactively doing. My husband and I buy our food from local farmers, and my kids know: Yes, some things are cheaper online, but supporting your neighbors means showing up to their businesses. We use our dollars, in person, to cast our ballots.
Facebook Comments