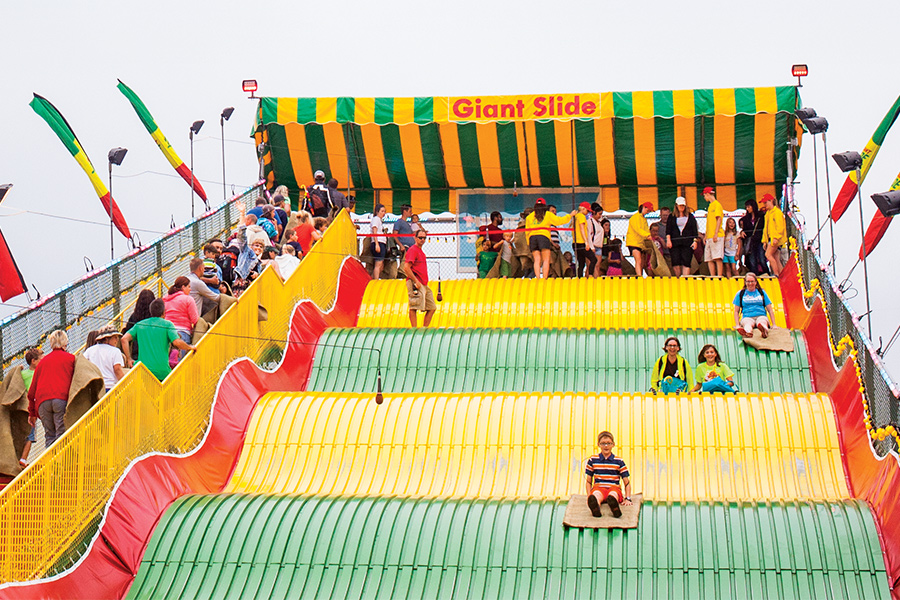 photo by tj turner
---
Humans are programmed to identify and maintain our routine zones of comfort. They're our homes, our families, our friends, our meals, our jobs, our devices, and our beliefs. And yet, nearly 2 million of us (mostly) willingly hit up the Minnesota State Fair each summer, which unceremoniously rips us out of said comfort zones.
We ditch the diet, the air conditioning, and shirts with sleeves—for the 12 days leading up to Labor Day, anyhow. Many fairgoers attend for the expressed purpose of tasting a Turducken Sausage or a General Tso's Chicken Taco for the first time. For others, it's to introduce their children to llamas (and the annual Llama Costume Contest), or butter masterpieces, or a community with more than 500 residents.
Attractions such as the Skyride, Space Tower, and Great Big Wheel provide towering vantage points that remind us of our relative smallness. As do the demographic-spanning masses. In actuality, the fair's highest single-day attendance is only equal to the combined populations of Rochester, Duluth, and St. Cloud, but it sure can feel like the whole state got crammed into the fairgrounds' 320 acres. And you couldn't possibly recreate that aroma in a lab. There's a very Minnesotan urge to use traditions to somehow instill order within the Great Minnesota Get-Together's yearly pandemonium. (I always stop at Sonny's in the Food Building for a gluten-free, beer-battered brat.) Holding tight to a familiar food on a stick won't stop the fair's free-for-all atmosphere from providing a needed system reboot. By the time we're reassembled, cleaned up, and back in our usual lanes in September, we're never quite the same and better for it.
Facebook Comments