Last weekend, the Twin Cities officially kicked off festival season with Spring Jam, the University of Minnesota's annual semester-ending outdoor music festival in the parking lot of the Mariucci Arena. Though geared toward college students, the fest is open to all—and this year's lineup was a hard one for a pop music lover of any age to pass up. The lineup included up-and-coming Def Jam rapper YG, MC trio Travis Porter, Canadian-born, Brooklyn-based pop singer Kiesza, Australian pop singer Betty Who, and Minneapolis' own rapper/songstress Lizzo. The night closed out with a dance-party set from Minnesota-born, L.A.-based techno producer Vaski.
Hot off a Late Show with David Letterman appearance and an opening tour slot for riot-grrrl legends Sleater-Kinney, Lizzo kicked things off with aplomb. Dressed in a leather track jacket, joggers, sneakers, visor, gold chain, and colorful bikini top worn over a tank top, she quickly won over the college-age crowd with her boundless energy, soulful vocals and sharp-as-a-tack raps, and dance moves (by local choreographer John Mark).
Up next, the platinum-coiffed Betty Who—last seen in the Twin Cities at last year's Pride in Concert festival—brought along a full band to insert some funk to her her bubbly pop songs, including "Somebody Loves You," "All of You," and "Heartbreak Dream." She lended some edge to a flippy LBD with a varsity-style jacket, red lips, and a ton of rings.
In only her second Twin Cities appearance after last December's KDWB Jingle Ball, Kiesza bounded onto the stage next, dressed in a skeleton cropped top, ripped black jeans, and knee-high combat booth, with her signature curly red hair pinned up the sides to create a chic mohawk-like effect. Backed by two backup dancers and a full band, the singer impressed with fully choreographed dances and live vocals—both of which evoking that of early '90s club music in the vein of C&C Music Factory and Technotronic—her energy never flagging. She performed much of the material off her 2014 debut album, Sound of a Woman—"Giant in My Heart," "Sound of a Woman," "Over Myself"—finishing things off with her huge club hit, "Hideaway." With her unique style, infectious songs, and impressive vocal range, here's hoping it's the second of many local performances to come.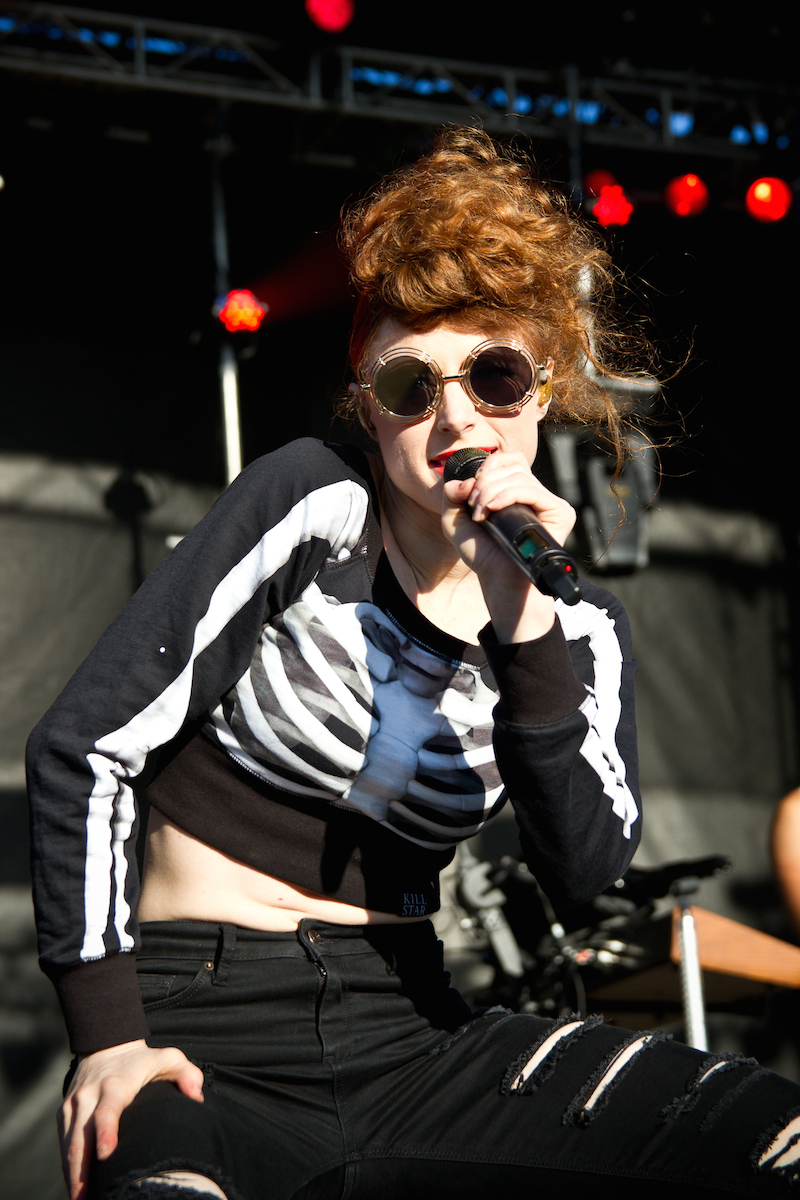 We captured some of the most stylish festival-wear in the crowd:
[All photos by Brent Nelson]
Facebook Comments