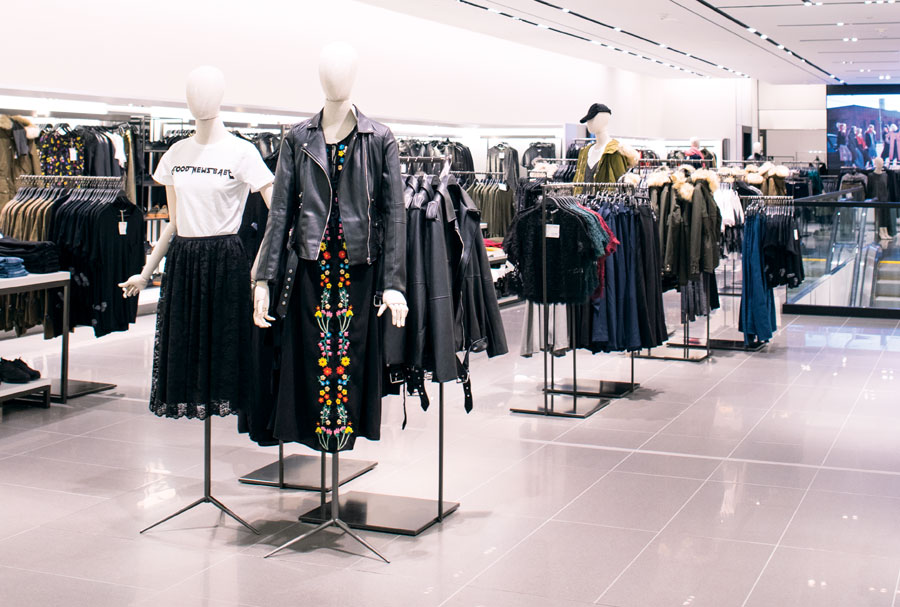 Zara at Mall of America
photo by tj turner
---
Fifteen years ago, Target introduced cheap-chic clothing to Minnesota by way of its collaboration with designer Isaac Mizrahi. In 2005, Swedish fast-fashion giant H&M opened its first Twin Cities store. Finally, one of the world's other most-loved fast-fashion retailers, Spain's iconic Zara, has opened its first regional location at Mall of America, where the two-level store anchors the mall's newly expanded north wing.  
While prices are slightly higher than H&M, Zara's selection for women, men, and children is more fashion-forward and of higher quality. And while the budget-conscious shopping experience often comes with poor service, big crowds, and piles of clothes, Zara stores tend to be neatly organized and well stocked, and its fitting rooms and checkout lines generally move more quickly. And because Zara manufactures many of its designs in-house, it's able to make hot new items available faster than its competitors.
Zara's entry into the local retail landscape is especially good news for stylish guys on a budget. Its menswear department has broad appeal for customers with a variety of tastes, offering classic suiting with modern tailoring to asymmetrical jackets, distressed denim, and joggers (a dressed-up twist on sweatpants). Zara's men's suits, in particular, are a great buy—a suit jacket and pants start at just $210, but look like they cost more (they also have pricier options that include more unique details).  
The brand's look ranges from fashion-forward menswear styles—such as slim-cut suiting and cropped pants—to easier-to-pull-off trends, such as camouflage patterns and military-inspired styles. Between its $30 print tees and $300 cashmere coats, Zara makes runway-inspired fashion accessible to the masses.
Facebook Comments