All photos by Lianna Matt
The first time jewelry maker Denise Houser visited the Lawa Thai Hill Tribe in April 2016, she thought they seemed a little wary of her idea to work with their silversmiths for her jewelry designs. They wanted to wait it out, according to Houser—to see if this visitor from abroad would actually create a partnership with them and stick around to see it through. In November of the same year, Houser and her team returned and were greeted with a welcoming party that offered beverages and, for Houser, a hand-woven traditional Lawa top made by the chief's wife. They knew she was really there to work with them.
"I wanted to do business in a different way," Houser says.
Since she began making scarves and jewelry in 2013, Houser has taken about five years to go from selling in boutiques like Grethen House and the soon-closing Key North to opening her own North Loop retail storefront and workshop space, called Houser. It has taken a little over two years to find and forge a business relationship with the Lawa. Dec. 6 is the store's grand opening event (come for great food and beverages, discounts, and complimentary valet parking), but doors are already open and—as one might expect from the rate at which Houser seems to do things—everything is already looking picturesque.
When I stopped by Houser, everything was so serendipitously charming, it was almost ridiculous. Someone was hanging light metallic ornaments in the windows, and the landlord had even delivered flowers. A white French bulldog in a green doggy jacket stopped on the sidewalk outside and, no joke, stared in awe at the brightly lit space through the glass until Houser called her shop dog, a 10-year-old poodle shih tzu named Rudy to the door to go say hello.
As Houser walks around the store, it's impossible not to notice the uncrowded jewelry displays, like the bright pearl necklace lounging on the white glittery coral antler or the gray beaded necklace lying on top of the polished wood cross section. However, Houser also draws attention to the other brands she hand-picked and personally tested. It's with sincere belief in their causes that she talks about the Bodewell candles and the Lalela scarves, which support jobs for adults with disabilities and after school programs for children in Africa, respectively. There's some laughter when she points to the Bitchstix display, which benefits survivors of domestic violence and sexual assault.
"I focus on silver, and jewelry, which is beauty on the outside, but the store is also about beauty on inside," Houser says, citing healing crystals, incense, and essential oils. "The third element is the idea of giving back."
This tenant of giving back is why she wanted to give her own jewelry a cause when she really started hitting her stride back in 2016, and with some chance connections–one of her business partners, Jeff Geoffrey Sass, knew someone who moved to Bangkok, who knew Ralf Oberg, the founder of Rain Tree Foundation–she got connected to the Lawa tribe.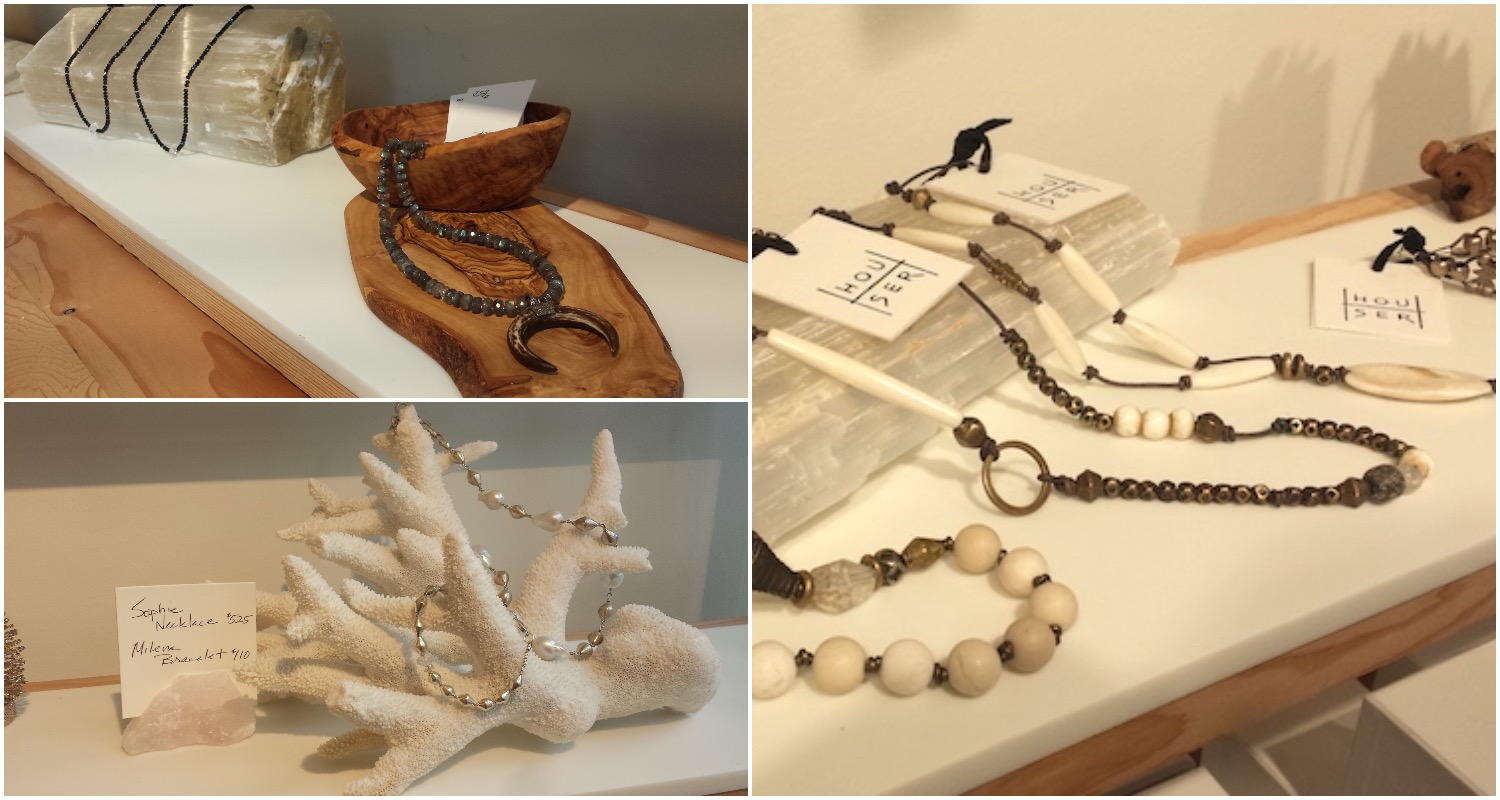 The tribe already had trained silversmiths, including the chief and his son, but there was no market for them to use their skills. While Houser was willing and has learned to work with the Lawa's cultural norms, like the rice crop schedule and the country's holidays, the one thing she did not bend on was that the tribe would have to be willing to learn new designs that she created instead of only relying on what they had made in the past. She appreciated the old designs, but she wanted to create pieces that fit her aesthetic and her brand. Now, they do all of the fine silver and brass in her jewelry, unless it's a vintage piece.
In Houser's mind, part of what makes her relationship with the Lawa work is that she isn't trying to make a product that people will buy because it touches their heart strings but will then be put in a drawer to never be taken out again. She's trying to make products that fit her brand, her style, and her audience's upscale style that also happen to support the Lawa tribe so they can keep their way of life.
During that second visit to Thailand, after the welcome party, Jit, the chief's son and one of the head silversmiths, sat with Houser and her team over lunch and told them a story.
"Before we came to his village, although he had training, there were no jobs in his village," Houser says, relating his tale. "He was taking care of the pigs, but he was going to have to leave the village and move to one of the cities like Bangkok or Chiang Mai. And that's troubling because … there's no support. He wouldn't have his family, and he wouldn't know almost anybody, even though he was in Chiang Mai for a bit when he was training. Since the collaboration, he has been able to stay in his village."
Event Info
What: Houser Grand Opening Event
When: Dec. 6 from 5-8 p.m.
Where: 212 N Second St., Suite 103, Minneapolis
RSVP: info@denisehouserdesign.com
Facebook Comments