Maria Vizuete outside the Ordway Center for the Performing Arts. With many of Vizuete's photos, the beauty comes from a mix of her fashion sense and poise, her husband's photography skills, and the Twin Cities downtown environment.
all photos courtesy Maria Vizuete
Twin Cities-based lifestyle blogger Maria Vizuete has definitely told her story more than once. When she spoke  to me, she had the timeline down pat of how she went from Wall Street to influencer (she has 640,000 followers on Instagram, but of course you can find her on all other social media, including YouTube, as well). Through her career, it is clear that the reason she can be a creative director, editor and writer, business manager, and fashion influencer all in one is her meticulous level to detail.
Since 2014, Vizuete has been the author of the blog Mia Mia Mine, which covers fashion, home decor, and lifestyle topics. Through the magic that occurs through insane, around-the-clock hours, she has become one of the top style influencers in the country. Vizuete's life is glamorous, but it's also crazy busy, enough so that she's quipping that only a life on Wall Street could have prepared her for the hours.
She wouldn't trade it for the world.
"In the beginning, it was all about my blog, which was really just a digital diary of daily outfits," Vizuete says. "The biggest thing for both of us [she and her husband, Phil, who in addition to being a professional pianist, takes much of Vizuete's photography] is to invest up front. The first thing I did—which most people wouldn't have done—was I paid a designer to build a website even though I really didn't have the following."
 
Getting the Look
If you go to her blog you'll see almost daily posts on wardrobe advice, seasonal thoughts, home renovations, and more, paired with commercial-worthy photos of her about town, home, and even some of her travels. As she puts it, she can have the best outfit in the world, but if the photographer can't capture what makes it beautiful, her followers won't be able to understand what makes it shine.
Her looks encompass streetwear at its chicest, holiday dress, and luxe pajamas, but her mantra across all of her platforms is that splurging on items that make up the backbone of your wardrobe is always worth it. Once you have the foundation in place, you can mix and match it with lower priced items. The example she gave is also an example of her personal style, which usually consists of mixing professional and casual looks: Go for the expensive blazer and mix it with Levi's jeans or an H&M shirt.
Beyond the outfit, though, Vizuete says that the Twin Cities setting also helps her photos stand out. Both she and her husband grew up in Woodbury, and after a couple years on the road and in L.A. (they still spend up to half the year there), they decided they wanted their home base to be where their roots were.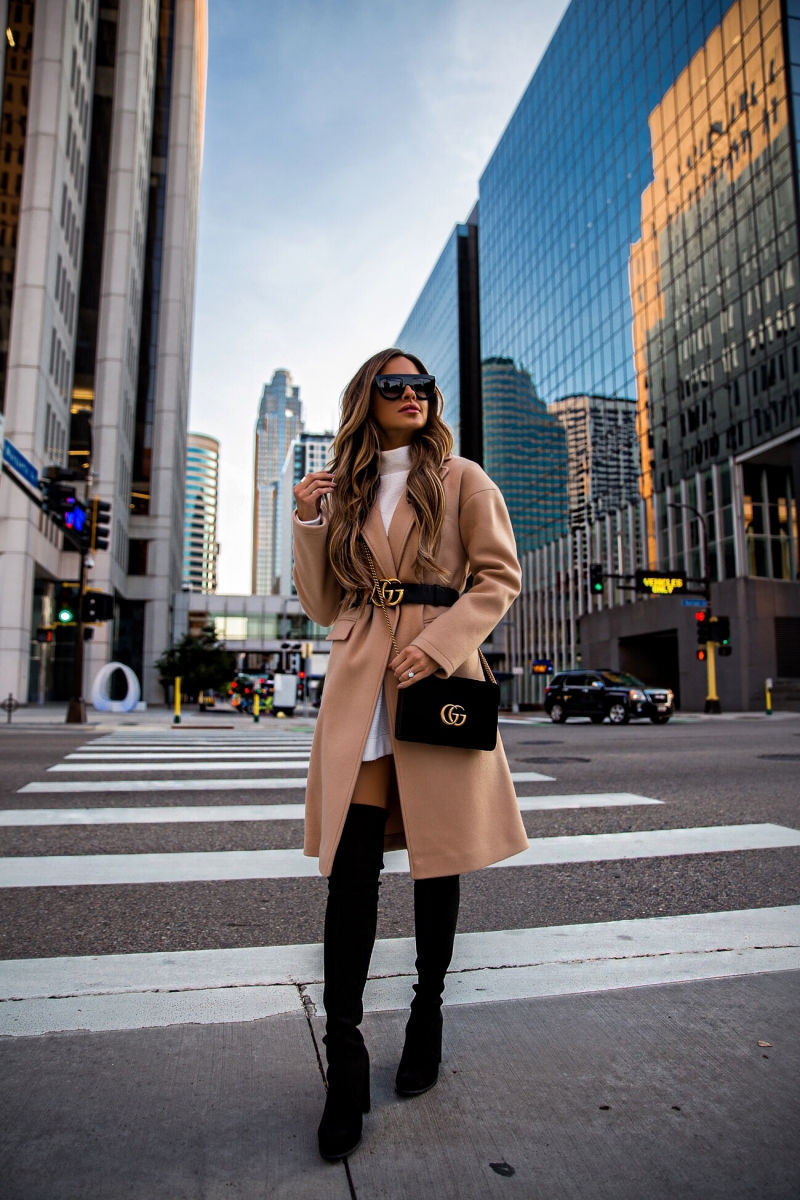 "The architecture is so beautiful and inspirational; people always think I'm in New York," Vizuette says. At the end of November 2018, Vizuete took over the inspired shopping app LiketoKnow.It's Instagram account and showcased what her Minnesota fall and winter holidays looked like with snippets of her (and sometimes her husband and their dogs) at the apple orchard, in the city, and in their house. "My whole thing was sharing Minnesota. … I wanted to show what's important to me, like, 'Hey, the people in the Midwest can be fashionable and shop, too.'"
 
Before the Blog
Although going from Wall Street to fashion has a more attention-grabbing ring to it, Vizuete has always loved style and beauty—it has just taken many different forms. First and foremost was her childhood dream of being a model, but as she says, at 5-foot-2, she never grew tall enough. When that reality sunk in, her dream evolved into becoming an actor, but her parents insisted she get a college degree before heading off to L.A. Vizuete sped up the process by attending the University of Minnesota as a 16-year-old in its PSEO program and got a four-year degree in finance, but it still ended up delaying her move because of one fateful informational meeting.
As part of an effort to help women visualize their potentials in the world of finance, a stock analyst from Piper Jaffray's Minneapolis location came in and talked about her career covering the fashion and home industries, discerning trends, going to fashion and trade shows, and showing the seams where the art of fashion becomes the numbers and logic of business.
"I had no exposure to stock markets or things like that. I just knew I wanted to work with her," Vizuete says.
After approximately half a year of emailing the woman for an internship spot, Vizuete got her opportunity and ran with it, turning it into a full-time career after graduation, first in the Twin Cities for a few years and then finally L.A. The West Coast was a mix of Wall Street-related work and small acting jobs, but Vizuete felt like she was missing a creative outlet. Thus, the beginning of Mia Mia Mine.
The business of blogging seems to have a natural progression, says Vizuete. Many influencers start out by using direct product links on their websites that give them a commission. It then slowly evolves into brand deals and social media campaigns and then into larger advertising campaigns, where Vizuete finds herself.  
Down the line, Vizuete hopes to get the brand support she needs to start a product line, but for now she's plenty busy and she sees the future of blogging as bright, not only for her, but for others. More people may be trying to get into the industry, but businesses are finally understanding their value and consumers are making them a greater part of their daily media intake. "The opportunities are endless," Vizuette says. "It's not going to be the same as what it is to today, of course—it will continue to evolve especially as digital media evolves as well."

Maria Vizuete poses with her two dogs in her home office.