They laid a fallen soldier to rest on that sun-drenched summer afternoon. They celebrated his life and mourned his death, and his best friend gave the eulogy. A six-man honor guard took the flag-draped casket out of the church, and the red, white, and blue flew at half-staff throughout Mankato. Hundreds of people lined the procession route with hands over their hearts, and they played "Taps" at the cemetery and ï¬red guns in salute. But before all that, the brothers brought the casket into the church—the four surviving Fasnacht boys of Janesville, separated by 13 years but bonded by grief. They helped carry the cofï¬n, bearing their brother from the silver hearse into the sanctuary.
Twenty-ï¬ve-year-old Michael John Fasnacht died where too many American soldiers die these days, in Iraq, on June 8, 2005, killed by a remote-controlled bomb. He was decorated: a Ranger, a basic-training honor graduate, ï¬rst in an ROTC platoon that included 44 cadets. He was a leader: a ï¬rst lieutenant in charge of more than 30 men in Iraq. And he was tough. But he didn't have a need to prove it, which somehow made him even tougher. Mike looked tough, too. His brown hair, worn in perpetual bed-head style during his days at Janesville-Waldorf-Pemberton (JWP) High School, had been shaved off. His muscles rippled under his black Army T-shirt. In Iraq, after his death, they even named a gym after him—the Iron Mike Fitness Center. He was a recruiter's fantasy, the epitome of a warrior.
Photo by Saverio Truglia
To Matt Fasnacht, though, he was just the kid brother. Matt and Mike—five years apart—had grown up together, wrestling and arguing, laughing and partying. Years later, they shared an apartment in Mankato, while Mike studied microbiology at Minnesota State University and Matt worked as a commercial artist. Matt had watched Mike turn from runt into Ranger, from boy into man.
But their paths diverged. One Fasnacht boy joined the military, armed with a gun, pledged himself to his country. The other went to seminary, took up a chalice, pledged himself to God. You follow your calling.
Still, being a man of God doesn't make the pain of death disappear. Yes, he believes in an afterlife. Yes, he believes Mike is in heaven. But Matt mourns like anyone else—like Mike's young wife, his parents, his five remaining siblings. Even the priest has to live the rest of his life with a gaping hole in his heart.
Matt is sitting in the spacious courtyard at St. Mary's Hospital in Rochester, where he serves as the chaplain intern. He's in his early thirties now. His black hair has a few wisps of gray, but he's nearly as fit as when he wrestled, at 152 pounds, in high school. Only the clothes—all black, except for a conspicuous white collar—hint at the path Matt's life has taken.
This is the guy who attended his first kegger in seventh grade. He hosted dozens of parties and was the life of countless more. He was the class clown—"Hero is Andrew Dice Clay, favorite pastime is traveling at night, plans to become a professional foosball player," he penned in his senior yearbook. He chased girls and alcohol with equal intensity. But when he was alone, away from the craziness, he couldn't find peace.
Now Matt is just months away from completing a six-year journey that has taken him from Janesville to Minneapolis, from Chicago to Rome. A ring adorns his right ring finger, symbolizing his marriage to the Catholic Church. Last year, he was ordained a deacon. This spring, Matt will be ordained a priest at the Cathedral of the Sacred Heart in Winona.
Matt Fasnacht will become Father Matt. People look up to priests, in good times and bad—but especially during the bad times. When tragedy strikes they turn to priests for guidance. They'll ask Father Matt how a good God could allow so much hurt. Matt will be expected to provide answers.
But now, as he sits on a bench in the St. Mary's courtyard, he doesn't have answers, just memories. Memories of Mike, the middle of seven children who idolized his older siblings and protected his younger ones.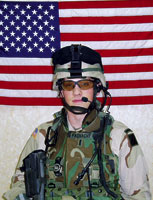 The kid was funny. Evidence: the old home movies Mike made with his buddies—including one they filmed on location in a hospital, where Mike pretended to be an out-of-control psychiatric patient held down by his friends. Or the one he made for a wildlife-management class: the teacher told students to research one of Minnesota's 10,000 lakes, so Mike focused his video on the real but unfortunately named Big Dick Lake.
The kid worked hard. At 15, he ran a roofing crew—a brutal job with long hours, short tempers, and dangers that included heights, slopes, and triple-digit temperatures. Mike barked orders to grown men, expecting them to do their job and chewing ass if they didn't.
The kid had courage. Matt remembers when Mike was 13 and the family's house started on fire when their parents were away. It began in the attic. Matt poked his head up into the room, seeing flames and smoke.
"Mike, you're small, get up there," he ordered.
Mike climbed into the attic. As Matt and the other siblings passed him ice-cream buckets filled with water, Mike put a wet rag over his mouth and worked until the fire trucks arrived.
The soldier and the priest. They seem like opposites. At the close of Mass, priests tell their congregation to "go in peace, to love and serve the Lord." Soldiers might bring peace to a region, but they don't go there in peace. But think about the similarities, too. Both must operate on a higher moral plane, whether on a battlefield or in a confessional.
Increasingly, young men shun both professions. In recent years, the Army has had trouble finding enough recruits, and the priesthood no longer attracts enough men to supply every parish with a full-time priest. The Winona diocese went four years without ordaining a priest, a streak that was broken in 2006 when two made their promises. This year, Matt will be the lone seminarian ordained there.
Mike and Matt grew up in the kind of home the phrase good Catholic family was invented for. In the living room, family portraits hang next to paintings of Jesus. Marny Fasnacht kept her seven children in clean clothes and fed them well. Ray Fasnacht worked at the Faribault post office.
The parents didn't push their kids toward the military or the church. Yet the seeds of Matt and Mike's future were planted early. Ray served in the Army during the Vietnam War. Grandpa had been in the Navy. One aunt was a nun, and two uncles did missionary work. Marny's parents had built a Christian retreat center near the family's home in the 1970s, right by Lake Elysian.
Every Sunday, the family went to church, always occupying one of the front pews. The songs and readings seemed meaningless to Matt. The white-haired priest's sermons dragged on. What did he know about life? What did he know about that one thing that really matters to a male teenager: sex?
No, no one pictured Matt as a priest. He didn't know what he wanted to be in life, but he definitely knew what he didn't want to be.
Before Mike was a soldier and Matt a seminarian, both were wrestlers. All five Fasnacht boys wrestled for JWP. Wrestling was just a continuation of the battles that took place at home. The boys upended furniture, dented doors, knocked holes in walls. They didn't have much use for sports involving catching or throwing. But wrestling—one-on-one combat for six grueling minutes—that was a real sport.
Coach Mike Niemczyk's practices were legendary. Basic training, Mike later said, was easy compared to those two-hour after-school sessions. The grapplers fought and clawed at each other. They took breaks only to run the school's halls and stairs. They'd sweat under layers of sweatpants, sweatshirts, and do whatever else they needed to make weight. Niemczyk's practices nearly broke them, taught them how to break others.
Mike lived for those practices. "Let's run another 10 miles!" he'd yell after a session. He and his friend Bob Beelow sometimes showed up at 5:30 a.m. to work out before classes. Mike never missed a practice his senior year, which ended with JWP finishing second at state. He earned a coveted spot on the team's Guts Club.
Mike wasn't the best wrestler in his family; his final season, he finished 19-16. But he had another gift: the power to lead. The team respected him. Mike brought people together.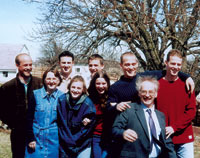 It was Matt who had natural ability, sharp moves, smart instincts, and mental toughness. He won 101 matches and placed fourth at state his senior year. He only endured practice, however, didn't enjoy it. He saw wrestling as an individual endeavor, didn't pay as much heed to the team's performance as Mike did.
Imagine the shock of a few of Matt's old high-school classmates at their 10-year reunion in 2003: Matt Fasnacht joined a seminary? Go figure. Some refused to believe it. Bob Beelow once told him, "It'll be easy to see you for confession. You've already done everything."
Matt wasn't the only Fasnacht with a reputation for partying. Mike had followed in his older brothers' footsteps, tearing around Waseca County with his buddies in a tiny hatchback dubbed the General Lee, after the souped-up vehicle that starred in The Dukes of Hazzard.
By the time they reached their twenties, though, both Mike and Matt had tired of the drinking and partying. They were searching for something different.
Mike signed up with the military in 2000. He had been attending Minnesota State University and living with Dean Farley, another Janesville native. Farley was in the Army Reserves, and it seemed like every time he came home from a weekend of drills, Mike wanted to know all about it. Farley finally said, "I'm going to call the recruiter and give him your name."
Mike didn't object, so Farley called the local office and explained the situation. The recruiter was skeptical, incredulous: the description of the candidate seemed too good to be true. "If this is bullshit," the man said, "I'm going to get ahold of your commander."
"It's no lie," Farley replied.
Mike seemed suited for Army life. The military made the most of his physical prowess, his work ethic, his natural toughness. Everything seemed to come together during his nine weeks at Ranger School, when he was pushed mentally and physically beyond anything he'd done before. At the end of one mission, as the exhausted soldiers were cleaning their equipment, one of them, Hasan Fersner, accidentally fired his weapon. To show how one individual's mistake can affect a unit, an instructor ordered Mike to carry his fellow soldier back to the helicopters that would fly them off the training island. Mike scooped up the 170-pounder, along with his own weapon and their gear, and slogged back across the sandy terrain.
Mike's growth as a soldier coincided with the start of his most important personal relationship. In 2001, while back in Mankato after basic training, Mike met Tresa Rongitsch, the younger sister of a buddy, Josh Rongitsch. For a while, that's how Mike saw Tresa, a Lindstrom native three years his junior: as Josh's little sister. It didn't take long for those feelings to change; the two married in December 2002. Recalls Farley, "Mike always said, 'When I find the right girl, I'm not going to hesitate.'"
Marny called Matt with the news at two in the morning on June 9, 2005. Matt was serving an internship at Queen of Angels church in Austin, about 70 miles from Janesville. He drove home immediately.
He couldn't believe it was true. He felt robbed, blind-sided. Mike was fighting in a war, but even when you know that you still never expect to get the call.
"You wake up and you're in hell," he says. "It's just complete hell."
Yet Matt insists he was not angry. Not at the government for sending Mike to Iraq. Not at the men who planted the bomb and set it off. And not even at the God he'd dedicated his life to.
"It strengthened my faith," Matt says. "When something that painful happens, you run from it or you deal with it. And you either deal with it on your own or you deal with it with God. You face that pain, but God is like a healing surgeon."
In other words, what's the point of faith, if you're only going to have it when life is good?
Some people can pinpoint the exact time and place where their life took a turn. Matt Fasnacht is one of them. April 2, 2000, at the Basilica of Saint Mary in Minneapolis.
He was 25 years old, living and working in Minneapolis, already on a new course. Partying, living for the weekend, had lost its appeal. He wanted to find a woman he could settle down with, a woman who shared his values. Church seemed the perfect place to meet a woman like that. He had stumbled across the Rock, a worship community that caters to the needs of singles, college students, and young couples. He'd attended a few times and found himself developing a greater interest in religious faith. But it was Catholicism, the church of his youth, that ultimately beckoned him. And so Matt found himself at the Basilica one Sunday morning.
He settled into the second pew. Fasnachts always sit in front. As the priest said the Mass—the same words Matt had heard hundreds, thousands of times in his life—Matt started crying. First a few tears, then a torrent. He wept like a child dropped off on the first day of school. The tears poured down his face for five minutes. "[Imagine] Christ himself comes walking through your door…and says, 'I want to reveal myself to you,'" Matt explains. "You'd be bawling." He felt physically altered, as if he were receiving body blows from a heavyweight boxer. He shielded his face from other parishioners.
"Are you okay?" a friend asked.
"I'm fine."
What he didn't tell his friend was that after years of searching for answers about his faith, he had found what he was looking for. "I wanted proof that Jesus was God, and I got it," he says. There was no vision, no booming voice. Just inner peace.
Feeling a need to tell someone what had taken place, Matt went to the priest. Matt stood in line with the other parishioners, finally getting his chance to approach.
"I had an experience where God came to me at Mass," Matt began, "and He wanted me to tell you."
The priest shook Matt's hand, all the while giving him one of those "Okay, great, thanks for the nice words" looks.
Matt talked about the experience with his parents, his grandparents, ex-girlfriends, and even priests, but he didn't abandon the ways of the world immediately. Finally, in September 2001, he yielded. He quit his job and entered seminary in Winona, finally convinced he had discovered what he was meant to do.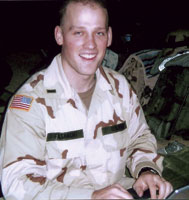 It's impossible not to think about the what-ifs. What if Mike would have returned from Iraq after a year? What if that was the end of things? As much as he loved being a soldier, Mike wasn't going to be a fighting man forever. He had considered going to medical school. What if he had become a doctor? What if he had never gone back to Iraq?
What if he had become a father? If he and Tresa had had kids—a bunch of little Mikes running around, just as smart, funny, and tough as their old man? What if he had had reached 30, or 40, or 50?
What if he had been able to attend his brother's ordination?
That's what can drive you insane about an untimely death. Not just the heartbreak of a life lost at 25, but all the what-ifs.
Mike died while on patrol. It had been a long day, and when the bomb went off, the platoon was already within view of its base.
He had deployed to Iraq in early 2005. Shortly before shipping out, Mike and Tresa returned to Minnesota from his base in Fort Benning, Georgia. While he was home, he paid a visit to Coach Niemczyk, told him he was trained and ready for whatever he might face.
It seemed the action got hotter the longer Mike was in Iraq. There were numerous close calls. One e-mail to Farley read, "Unfortunately we were in an IED [improvised explosive device] ambush." Mike didn't explain the incident much beyond those words, didn't have to. The reality was obvious.
Mike was less than a month away from a two-week leave when he was killed. He had planned to return to Minnesota in July to attend his sister Julie's wedding. All of the Fasnachts would have been together again. He had written about how much he was looking forward to seeing the family in an e-mail that Marny opened on June 8. Mike included a picture of himself with that letter: in full gear, weapon at the ready, focused, even solemn.
"I've never seen this look on his face," Marny thought. "So deadly serious."
Less than 12 hours later, officers from Fort Snelling arrived with the crushing news.
The community rallies, of course. The flags fly at half-staff and everyone salutes the fallen hero. The TV stations air their tributes and the newspapers write theirs. But as the days and weeks go by, they move on to other matters, while loved ones are left with photos, letters, and those memories playing in their heads.
The wake was held at St. Ann's in Janesville, eight days after Mike's death. More than a thousand people attended. The cars stretched for blocks. Friends came. Strangers came. Governor Pawlenty paid his respects. The funeral followed the next day, and Matt and his family watched as Mike's body was laid to rest at the Catholic cemetery.
Matt stayed home for three weeks or so, reluctant to leave the house that once echoed with the clamor of seven kids. When the family gathers now, the conversation often turns to memories of Mike. They remember his jokes. They recall his skills with a guitar, which he taught himself to play. Some members of the family talk easily, others keep their feelings inside. They talk about Mike being in heaven, watching them, still a part of the family.
But even with the comfort that provides, Matt admits, there's still a void. There are times when the sadness hits again and again. The merest memory can trigger deep pain. But one realization makes it easier for Matt, lightens the load a bit: knowing that Mike followed his calling, and knowing that he is following his. "Only when you sacrifice," Matt says, "when you give yourself to others or to God, only then do you really start to live."
Shawn Fury, formerly of Janesville, is a freelance writer based in New York.