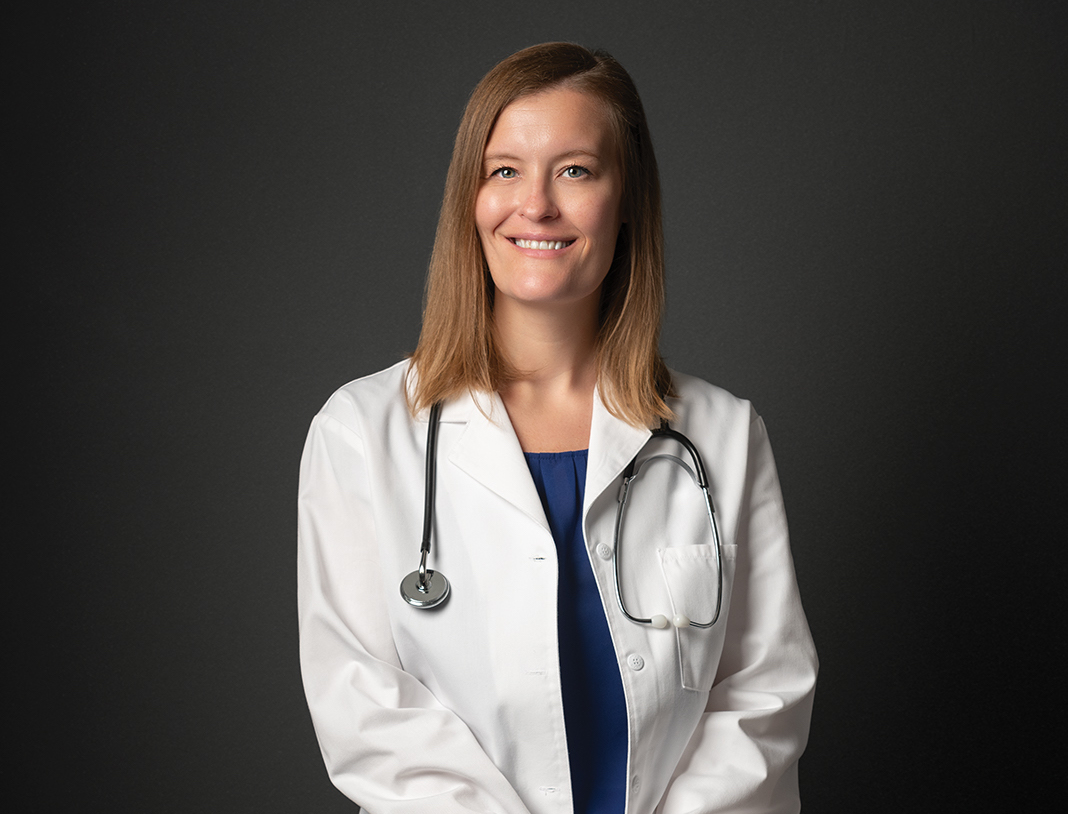 When there's not a global pandemic, Dr. Caitlin Eccles-Radtke is busy staffing a Positive Care and Infectious Disease clinic with her colleagues at Hennepin Healthcare in downtown Minneapolis. There, she also serves as the medical director for both Infection Prevention as well as the Employee Occupational Health and Wellness departments. But since January, the Minnesota doctor with a global perspective has worked almost nonstop on the health system's COVID-19 response.
The 2020 Minnesota Monthly Top Doctor grew up in St. Paul, attended medical school at Creighton University in Omaha, completed a residency in categorical internal medicine at Hennepin Healthcare, and an infectious disease fellowship at the University of Minnesota.
While at college her family moved to Abu Dhabi, in the United Arab Emirates. During breaks she traveled with her family to Egypt, Tanzania, and Istanbul, to name a few. During medical school she did volunteer work in Calcutta, India, for more than a month at Missionaries of Charity (established by Mother Teresa), as well as clinical work in the mountains in the Dominican Republic. Residency also brought her to Peru for additional international medical experience. These opportunities helped shape her views of the world and guided her future career choice as an infectious disease specialist.
How has the pandemic changed your work?
On January 23, our hospital incident command system (HICS) was activated to respond to COVID-19. This occurs when there are significant events going on in the community that will affect our healthcare system as a whole and the communities we serve.
Through February and March the HICS team expanded to include representatives from departments throughout Hennepin Healthcare. I've been the team's medical technical specialist and had not seen a patient since March until reopening one clinic in mid-July.
From a work standpoint, it's been incredible. It's also been exhausting but I'm proud to do it. I keep hearing from people, "You must be the busiest woman in the hospital," and, "Can you answer my question?" I'm glad to help in any way I can.
If we walk out on the other side of this and we didn't lose any of our colleagues, it will be worth every ounce of blood, sweat and tears.
How does an infectious diseases focus intersect with your current duties?
We see people with all types of infections (viral, bacterial, etc.) on a daily basis. Given this pandemic is caused by a virus, having knowledge of transmission, clinical medicine, and infection prevention have been important. We also care for a large number of immigrants and minority populations in our system and these groups have been disproportionately affected by COVID-19. We are working to ensure there is health equity for all patients during this pandemic.
What do you think is the role of health equity today and how does it affect the populations you treat?
I think we still have a long way to go with equity, both in healthcare as well as other areas such as education, equal pay, and racism. I think they all intersect. We have a lot to do from a sociopolitical standpoint to work to build programs on a greater scale. All of us can do what we can individually, but if the system doesn't support these greater goals, it's hard to maintain good care for people. I will say, though, that I am so proud of Hennepin Healthcare and its efforts to focus on community care and for being proactive with our messaging about where we stand in terms of caring for everybody, regardless of the color of their skin, their gender, their sexual orientation, etc. Also, as the county hospital, I'm proud that we don't refuse care to patients even if they don't have insurance.
Is the concept of universal healthcare on your mind when you think about problems like equity in medicine?
For sure. I truly believe that healthcare is a right, not a privilege. Looking to other countries that have universal healthcare in place, I recognize there are benefits and downfalls to that type of system. While I don't have a solution, I do think that healthcare should be accessible to all and not just a privilege for people who can afford it.
What is your experience focusing on HIV and preventative healthcare?
What I love about this work is the interface between the social, public health, and science components to the disease. I like helping a stigmatized population work past that stigma while practicing medicine and treating the patient as a whole. It's pretty incredible that you can treat HIV with a single pill, and people can live long, full healthy lives. HIV truly is a public health issue and scientists are finding different way to prevent it. In 2012, Pre-exposure Prophylaxis (PrEP) was developed. This is a pill that if taken daily is 99% effective at preventing HIV acquisition. If you think about the effectiveness of a flu shot in any given year which is around 60 to 70%, the efficacy of PrEP is pretty incredible from a public health standpoint.
What are the best ways Minnesotans can protect themselves from the coronavirus?
I still really think the basic rules hold true. That means wearing a mask when you are out in public or go into stores and are around others, avoiding large groups and events, and keeping your social circles small for the time being to decrease risk of spread. Also wiping down high touch points (countertops, doorknobs, toilet handles, etc) with cleaning solution in your house if you live with others. Washing your hands as well is incredibly important.
Should Minnesotans prepare for a "second wave" of the virus come fall?
Based on everything we've seen looking at the 1918 flu, listening to experts like Dr. Anthony Fauci, and knowing viruses spread worse in winter, I'm concerned that colder months could bring a nasty second wave if we're not careful—and flu season on top of it could worsen the situation.
Facebook Comments