In the spring of 2013, Max Bock-Aronson made an observation that would land him in Time magazine—but only years later, in the middle of the coronavirus pandemic.
Back then, the mechanical engineering major was studying abroad in Singapore during his last year of college. One evening, he took an unusually arduous run on the Nanyang Technological University campus. After cresting a steep hill, suddenly—"I was just done." He caught his breath on a bench and noticed dramatic halos floating over the streetlights.
Half-staggering, half-running back to his apartment, Bock-Aronson confirmed the day's unhealthy air quality online. He learned that slash-and-burn farming methods in Indonesia and Malaysia produce particles that sometimes waft overseas and cast Singapore in a haze.
An air-pollution engineering class had taught him that a cloth mask would not help, leaving tiny pollutants unchecked. But heavy-duty air-filtering masks online looked too clunky, too unwieldy. So, back at the University of Wisconsin-Madison, he ran some concept art past members of a student group he had founded for budding entrepreneurs. With their encouragement, he submitted an ergonomic, industrial-grade mask prototype to a school design contest. He got second place.
Years later, after he had honed his skills as a design engineer, Bock-Aronson was ready to take the market plunge. In 2019, under the company name Breathe99, he advertised a comfortable respirator mask capable of removing 99% of pollutants, down to the size of .1 micron.
But his dream hiccuped on Kickstarter. He hadn't defined his target demographic: Were they urban commuters in Asia? Wild-fire respondents in the western U.S.? He'd also failed to grasp Kickstarter's algorithm, peaking at about $29,000 of pre-orders, far below a $90,000 goal.
By January of last year, he was ready to shut it all down. In California's wilds, he was taking time off from his job at a Minneapolis design firm. The mask idea seemed on its way out the same time as a five-year relationship was coming to an end. The outdoors inspired introspection. "It helped me be really, really honest with myself," Bock-Aronson says. "Like, it's really easy—for a startup, or anything that we're responsible for—to shift blame onto other things, external things, because it lets us not reflect on what we could have done better. Those are hard conversations to have with oneself, especially when you're dealing with anxiety and depression."
While he came to terms, an airborne virus emerged. Soon, offers trickled in to buy Breathe99. Although he mostly distrusted those offers as potentially opportunistic, he also feared starting over. The pandemic began to tear into the country, however, and he realized "I'd never be OK with myself if I stayed in that place of fear and anxiety."
Acting fast, he secured a $130,000 investment from Venn Foundation, a St. Paul-based backer of charitable, below-market ideas. "It was a really critical time for them," recalls Venn CEO Jeff Ochs. "Hospitals were reusing all these N95 face masks at that time, so there was just a real big need. [The Breathe99 mask] was potentially a superior product if used correctly, and it had a much more economical and environmental design—you didn't throw away the whole mask every time."
Like Breathe99's original model, the new "B2" looks as inconspicuous as a cloth mask. It has washable parts, an airtight seal around the mouth, and two disc-like filters, making it less wasteful and more affordable over time than disposable masks.
A Kickstarter for the B2—globally focused this time—generated about $500,000 of pre-orders in 20 days. (The National Institute for Occupational Safety and Health has not yet tested B2's filtration, although Breathe99 designed the mask to comply with its standards and has published University of Minnesota test results online.)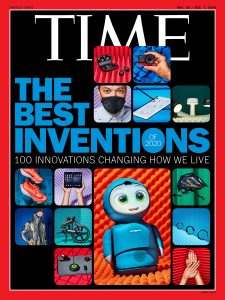 At last, in November, Time included the B2 on its list of 2020's best inventions. "The startup journey, in general, is full of ups and downs," Bock-Aronson reflects. "It can be really trying, and so I felt very grateful. There was an emotional release."
Time also put the B2 on the cover. Seeing this, Bock-Aronson warped back to his childhood. As a kid in south Minneapolis, he had treasured the annual Popular Science issue compiling the country's smartest new devices. His parents—both teachers—had bought him that subscription. Raised by two moms in the early '90s, he credits them, also, for his societal bent. "My parents being from a marginalized community, and then doing the type of work that they do—those were the types of things that made me think, 'OK, I want to do something that helps people more broadly.'"
To that end, he doesn't love the B2's relatively high price. Produced in low volume and locally ("which is good," he adds of the latter), a B2 mask starter kit is about $60. He's excited to raise volume and cut the price by half or more. "The goal would be to make the most protective mask for daily use widely available, to everybody," he says, "because I think public health should be a basic right." That's whether you're going for a run outside or simply navigating a moment in time that took many of us—Bock-Aronson not least of all—by surprise.
Buy a B2 starter kit and find further information at breathe99.com
Facebook Comments