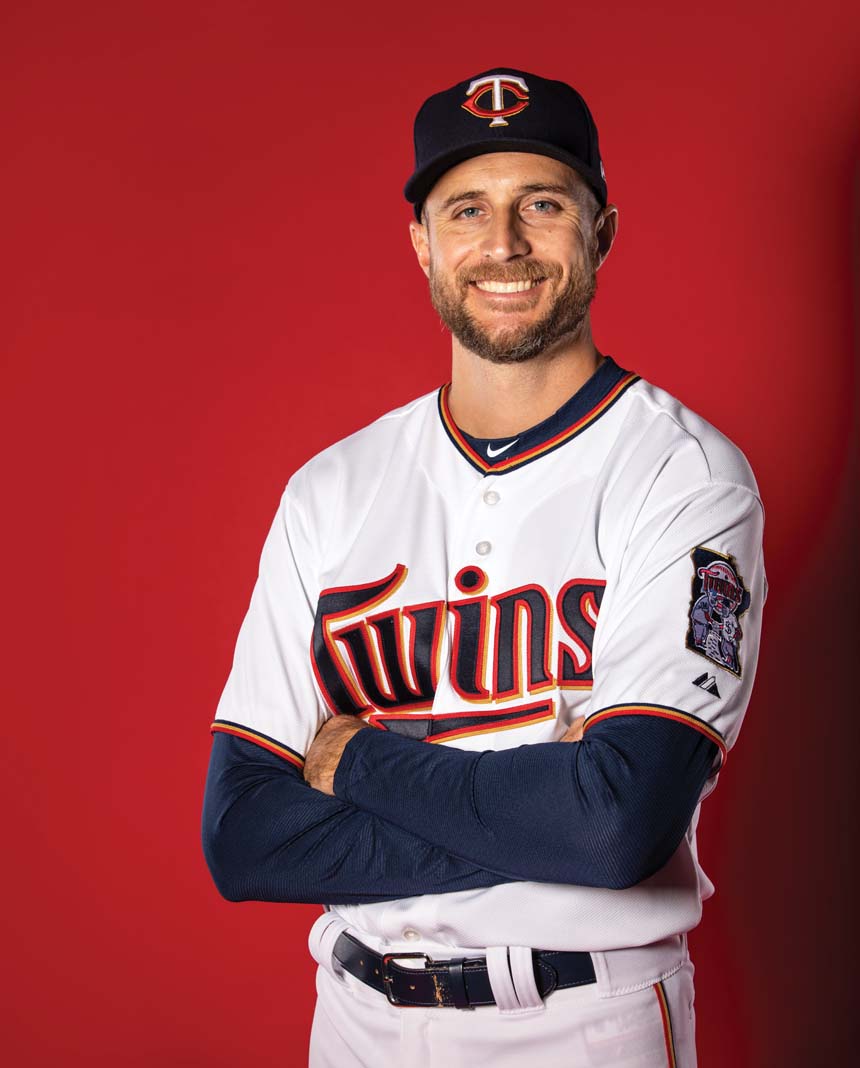 Rocco Baldelli lands in Minnesota after a standout playing and coaching career with the Tampa Bay Rays.
Photos by Brace Hemmelgarn/Minnesota Twins
---
Rocco Baldelli knows finding a new home in Minnesota is a big decision. During a Sunday morning phone interview, he and longtime girlfriend Allie Genoa are on the hunt. "Maybe the suburbs," he offers, noncommittal. "We've looked downtown, north of the river, St. Paul, over by the lakes—pretty much everywhere." As the Minnesota Twins' new manager, he moved from Florida, where he spent his early adult life playing with, then working behind the scenes for, the Tampa Bay Rays after signing with the team out of high school. (He had a stint with the Boston Red Sox in 2009 before returning to the Rays in 2010.)
But Baldelli is still young. In fact, in the last few months, that's become his defining trait. He is now, at 37, the youngest manager in Major League Baseball. (Previous Twins manager Paul Molitor was 62 when he was let go after four seasons last October.) With the retirement of hometown hero Joe Mauer, the addition of free agents like Nelson Cruz and Jonathan Schoop, and the star potential in young players like José Berríos and Byron Buxton, Baldelli joins a new-look Twins team hoping to improve on last year's disappointing 78-84 record.
He was in demand: Five teams interviewed the Rhode Island native for a manager role. His qualifications include a knack for advanced analytics honed during four years in the Rays' front office, plus coaching experience, his affable nature, and—in the Twins' case—his ability to relate to younger players.
His youth shows on social media, where Baldelli has tweeted from a Dave Chappelle standup show, a Bernie Sanders festival, and a Halloween party he and Genoa attended as characters from TV crime drama True Detective. He posts snaps of their dog, Bowie the Beauceron—named after a song by jam rock band Phish. "When you attend the shows," he says, explaining his love for the cultishly followed group, "you're in this reality where everyone is excited to be there, and everyone is also excited that you are there." The same could be said of his reality now.
Chief baseball officer Derek Falvey (left) and general manager Thad Levine (right) introduced Baldelli at his first press conference as the fourteenth manager in club history last October.
---
To land the manager job, Baldelli made fast friends with about 40 members of the organization—players, senior leadership, the Pohlad family. He accepted last fall, citing Minnesota's sense of community. At his first press conference, general manager Thad Levine and chief baseball officer Derek Falvey praised his heart, humility, and willingness to listen, and Baldelli says he couldn't be happier—even if Target Field isn't where he figured he'd end up.
Raised in Woonsocket, Rhode Island, Baldelli got his start as a standout athlete. He was a competitive Italian-American kid who played a sport for every season—from volleyball to soccer, football to karate. By high school, his baseball abilities had attracted attention from the pros, and, in 2000, he was chosen sixth in the Major League Baseball draft. He zipped through the minors, won Baseball America's Minor League Player of the Year Award in 2002, and finished his first major-league season with a .289 batting average. The nickname that he finds embarrassing, "Woonsocket Rocket," materialized out of TV news—part of his notoriety as a "five-tool" player, or one skilled in every position.
But that attention shifted tone when Baldelli started racking up injuries. In 2008, he was diagnosed with a channelopathy, a disease causing muscle fatigue. In 2011, at 29, he had to retire. "Every [player's] career is going to end at some point—that's just the truth," he says. "But when it ends, it's a very emotional and challenging thing."
He wanted to stay in baseball, and he loved working with the Rays. When they offered him a place in the front office, there was no question. "No matter who you're talking to, nobody's life goes on the path that maybe they thought it was going to," he says. "When that happens, you find what else motivates you, what else you love to do, and the people you want to spend time with, and you rededicate yourself to whatever that next step is in your life."
Eight years later, next steps have led him here. His managing philosophy holds that, even in the pros, players should prioritize fun. For Baldelli, that means hitting fly balls for the players to catch during practice. If he can find time, he might noodle around on his bass guitar. Since a friend introduced him to horse breeding, he has tended to two mares on farms in Lexington, Kentucky. "You get to admire the beauty and the athleticism of the animals," he says. "It's almost some of the reasons I really have enjoyed, in baseball, scouting and player development."
Our conversation winds down, and there's another journalist to talk to. "The interviews where I just have to talk about myself the whole time, that's not what I love to do," Baldelli says, diplomatically. He would rather talk about the players.
"It's a very communal sport. A lot of people dedicate their lives for the Minnesota Twins. Each person is responsible for other people." He continues, "These [profile] pieces kind of fly in the face of—respectfully—everything we do on a daily basis. Which is: What is the best thing for our group and our players and our staff?" I suggest that this sounds like a great way to live.
"When you do have that type of group setting," he says, "it's a great reality. It's a great place to show up to every day. With the right group of people and the right mindset, it can be fantastic."
---
The Twins play their home opener at Minneapolis' Target Field against the Cleveland Indians on March 28.
Facebook Comments