The Somali men who had gathered at Powderhorn Park one summer day several years ago were not happy with the man from Camaroon sitting in the middle of their soccer field. But there is only so much a kid can learn dribbling the ball up and down the block and around tables and chairs in the living room. And so Ralph Akale brought his three 13-year-old protégés—his son Mukwelle and Mukwelle's friends Jackson Yueill and Jack Miler—and asked if they could join the pickup game. When the men scoffed at his request, he plunked down midfield and waited until they relented.
"In the beginning," recalls Jackson's father, Mark, "they were yelling 'Get off our field!' But by the end, they were arguing over who got to have the boys on their team."
Today, the teenagers get to settle that argument for themselves. After years playing side-by-side for the Minnesota Thunder Academy, one of a national network of youth development teams sponsored by U.S. Soccer (the sport's national governing body) in its quest to develop world-class stars, the three have chosen squads of their own.
Last year, while a junior at Bloomington Jefferson high school, Jackson became the first player ever out of Minnesota to be recruited to play for the Division I powerhouse UCLA. Come fall, Academy of Holy Angels senior Jack will lace his cleats for the Harvard Crimson. And Mukwelle, well, after scoring 38 goals as a freshman for DeLaSalle High School, moving at age 14 to Florida to become one of the youngest players in the National Team residency program for players under 17 years old, then returning to Minnesota as a junior to play alongside Jackson  and Jack on the MTA development team, he went pro. Yep, that's right. This spring, Kwelle, as he's known to friends, moved to Spain to join the well-respected European team Villarreal.


Left: In April, Jackson and Mukwelle traveled to Bosnia to play with the National Team, photo by Mark Yueill.
Right: The Minnesota Thunder Academy team after winning the 2013 USA Cup U16 Super Elite Division title, photo by Mark Yueill.
He is, by many accounts, the No. 1 player of his age in the country and one of the best in the world—an explosively fast play-making forward whose close-touch ball skills and ability to read the field have garnered comparisons to his idol (and arguably the best player on the planet), Argentine superstar Lionel Messi.
"There is no other Mukwelle," says Dave Golan, a locally based scout for U.S. Soccer who recalls a jaw-dropping moment during a game between MTA and a rival development academy team last year: "Mukwelle was under pressure from three [opposing] players. He had nowhere to go. And he flicked the ball up to himself and juggled it over two of them and got out of an impossible situation in a tight space. There was just a gasp of awe from people watching—coaches, fans, players. Everybody knew they had just witnessed something special."
In the words of Mukwelle's former coach and MTA executive director Rob Zahl: "It's pretty darn neat."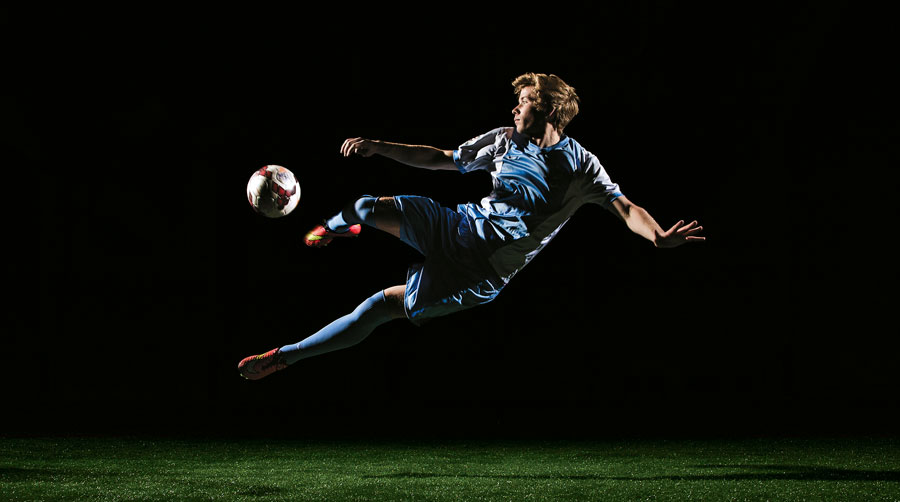 Jackson Yueill shows off a scissor kick.
WHAT'S IN THEIR GATORADE?
Mukwelle, Jackson, and Jack are just the beginning of the Thunder story.
The truth is, there is no sensible reason the No. 1 soccer player in the nation should come out of Minnesota. We are not, after all, a soccer state. California is a soccer state. In California, it's warm and sunny all year. Plus there are 38 million of them. There are just over five million of us. And even if the math weren't working against us, even if our fields weren't snow-covered or soggy seven (scratch that, ten) months a year, let's be frank: On the whole, we prefer our athletes on ice.
That's not a dis; it's just a fact. It doesn't matter that 70,000 kids signed up to play club soccer in Minnesota this summer. (That's about 15,000 more than organized hockey drew this winter from youth and adult players combined.) It doesn't matter that Minnesota boasts the largest soccer complex on earth (the National Sports Center in Blaine) or that each summer it draws more than 15,000 soccer players from 17 countries to compete in the largest international youth soccer tournament in the Western Hemisphere (Schwan's USA Cup). It doesn't even matter that by 2018 Minnesota is on schedule to finally, finally have a top tier Major League Soccer team (if someone can finance a stadium).
Yes, about a billion people watched Germany best Argentina in the World Cup finale in Brazil last summer. But here in the Land of 10,000 Preferably Frozen Lakes, we secretly think of soccer as cross-training for real athletes.
"That's a given," says John Curtis, who, as the longtime director of coach and player development for the Minnesota Youth Soccer Association, has overseen the training of hundreds of thousands of Minnesota's aspiring soccer stars—a task that can be maddeningly difficult. "My son just finished Mighty Mites [beginning hockey] and he had four team coaches. Parents are beating down the door to get on the ice. In soccer I can't get one to step up and work with five year olds," he complains with a laugh. "We're just a hockey town."
And so the fact that MTA has produced two of the nation's top players (Mukwelle and Jackson have been ranked as high as 1st and 6th, respectively) might be considered a cool fluke—not unlike the success of homegrown phenoms Tony Sanneh (a star of the 2002 U.S. World Cup team) and Manny Lagos (now the Minnesota United pro team coach), or, a generation later, a couple of recent metro high school stars who now play pro in England and Canada. Except for this What's-in-Their-Gatorade fact: These boys are just the beginning of the Thunder story.
Shortly after Jackson made history by committing to UCLA, the University signed his MTA teammate Duncan Werling to be the second Minnesotan ever to join its ranks. Other players were quickly snapped up—often with scholarship offers—by Loyola, Davidson, Western Illinois. And the list goes on.

Mukwelle Akale, above, has been playing soccer at a high level since he was a kid. Photos by Randy Kirihara.
Of the 13 seniors on the MTA team, 11 have Division I offers. Three have played with the Youth National Team, representing the U.S. in international tournaments. And in the network of nearly 80 development academy teams across the country whose members (ages 15-17) forgo high school teams and instead play together five days a week, 10 months a year in pursuit of spots on Olympic, National, and even World Cup teams, only the Thunder received "Outstanding Style of Play" marks this year from all the organization's scouts and national coaches.
"We're the little engine that could," jokes Mark Yueill, a coaching director at MTA who, along with Mukwelle's dad, Ralph, is an assistant coach on his son's team. "We just keep on chugging."
Not in a choo-choo train, but a team bus carrying them to St. Louis, say, or Cleveland or Chicago to play development academy rivals. It's the persistent "I-think-I-can-I-think-I-can" refrain that drums out the din of exhaustion, stress, homework due, and dances missed. Certainly there are moments of longing for a weekend when, instead of training late on a Friday night before boarding a bus at dawn, you do something really radical and oh, see a movie with your friends.     
"Until this year I had no social life," says Jackson, who is known as one of the best play-making passers in the nation. "I didn't party. I didn't stay out late." Instead, he spent downtime dribbling or juggling or passing against a basement wall one of a dozen balls scattered around his Bloomington house. "A thousand touches a day," he says. Plus cardio. And strength training. "And yoga to keep me flexible."
Goalie Duncan Werling gets up at 5 a.m. every weekday to fit in an hour's cross-training at a local gym before school. He uses two free periods during the day for homework, then grabs a post-school nap before heading off to train for a few more hours. "I love it, more than some people think is sane," he admits. "But it makes me happy. I want to see how far I can get."
So do the rest of his teammates. The son of Ecuadorian immigrants, defensive back Walter Alvarado is proud of the 3.6 GPA he has earned at DeLaSalle while taking three AP classes and working an after school job. There are times, he admits, when he feels "overloaded with work. And I think maybe I have to miss practice." But he never does. Instead, "I just work harder and sleep less." As Harvard-bound midfielder Jack Miler notes, "If you want to be the best, if you want to prove you're really as good as you think you are, you have to be willing to sacrifice a lot. "
And that goes for the coaches, too; all three left corporate jobs to focus on soccer. Unlike Jackson and Mukwelle's fathers, Zahl does not have a child in the program—though he and his wife did take in a player with a troubled home life to live with their own kids for a year. "It comes down to passion," Zahl says. "If you have a passion, you would do just about anything for it. You gotta pursue your dreams. You gotta pursue that happiness—and you gotta do it the right way."
Meaning, to be clear: You gotta do it their way. As scout Dave Golan notes, "They are extremely committed to how they want their product to look on the field."

Jack Miler does a header.
DEATH BY 2,000 PASSES
The secret to MTA's success
How it looks, for starters, is a lot less white than an average team looked a generation ago. The MTA teams include players whose parents immigrated from Mexico, Laos, Ecuador, Liberia, Somalia, and more—a mix similar to many other teams in the state. By all accounts, the influx is good for the game. "Each culture has its nuance in soccer," says former World Cup star Tony Sanneh. "Think of it like dance: There's a ballet twist, a samba twist, a hip-hop twist. Watching different people express themselves differently creates new ways of thinking and reacting. The result is you're seeing a new type of player emerge, with more flair and creativity."
This is exactly the skill set the MTA coaches knew they needed in order to break with the direct route style of play Minnesota is generally known for, which is less about technical finesse with the ball and more about pure athletic strength and speed. The problem? The strategy only works if your team always has the physical advantage over its competition, explains Zahl. "So if we play a direct route, and they play a direct route, and they're bigger and faster, who's going to win that battle?"
Instead, he favors a strategy opponents sometimes call "Death by 2,000 Passes," says Zahl. "Our idea is not to punt. Our idea is to keep the ball so long that the other team just collapses." Of course, keeping the ball while the top players in the nation are trying to take it away is no small feat. Zahl, Yueill, and Akale developed a style of training for all MTA teams that best mimics—and hence prepares for—actual play. Outside observers often walk away shaking their heads at practices that look like a messy, madcap game of pick-up. But there is a method to the madness, says Akale: "I bring chaos to the training because I believe the game itself is chaotic dynamism."
Akale is a local Soccer Whisperer who runs summer camps and clinics and has little patience for what he calls "cliché coaches" and the traditional, well-organized, replicable drills preferred by many coaches—and parents. "I teach kids, 'Ignore your parents,'" he says with a laugh. In this scenario, kids perform drills without knowing how the drill fits into the game, Akale explains. Instead, he gets kids right into actual game play, even though, at first, he must make frequent interruptions to get players to reflect on their decisions. "I stop the game and ask the kid to give me his frame of mind when he did what he did," says Akale.
The asking is key, as the coaches teach not just how to handle a ball but how to think, says Yueill: "We're teaching players to be dependent on themselves, their intuition, their game sense, their teammates. It's like playing chess. They have to be able to read the game many steps out." And the coaches are willing to lose games while their young athletes take risks, make mistakes, learn the game.
"They're more concerned with developing players than with results," says scout Dave Golan. "They believe that if they can play the brand of soccer that they want, and make players better every day in practices, then they're going to get results."
For the Thunder leadership, those results go beyond their win-loss record, beyond the six bumper stickers declaring "State Champion" that are plastered across the decade-old gold Toyota minivan Yueill has used to cart players back and forth across the city and nation—300,000 miles worth of wins and losses and lessons learned over and over: Read the game. Trust yourself. Do not fear failure.
Thousands of miles away from his former MTA teammates, in a residency dorm at the Villarreal training complex, Mukwelle must remember those lessons as he begins his pro career on Villarreal's under-19 squad. "The dream isn't even close to being reached yet," he says. Every day, along with remotely finishing coursework to graduate from high school, he battles with his peers to break into the team's first squad. From there, the starting line-up. Then the top scorer. And on and on.
While Mukwelle pursues ever-higher goals, so do his old coaches. "We want people to say, 'Hey, Minnesota, you can go there and get players for your college or pro team year in, year out,'" says Yueill. "The nation is paying attention to us now," says Zahl. "We're not just some frozen pond anymore." 
Behind the scenes: