Brian Clark flops down in the swivel chair in his home office and boots up the two 30-inch computer monitors on his desk. Jay-Z's "Young Forever" is blaring in surround-sound on the stereo. We live a life like a video…you never get old…and the champagne's always cold. A Culligan water cooler is within arm's length, and a mini-fridge with sodas and snacks is just a step away. "If only I could get a urinal in here, then I'd be all set," the 26-year-old jokes.
With a few clicks, Brian fills one of the screens with virtual poker tables—nine total. The other large screen shows a detailed spreadsheet, data collected by a software program he uses to record and analyze his own playing habits, as well as his opponents' patterns.
Brian clicks back and forth from table to table, screen to screen. His eyes get sharp and focused. In his left hand, he holds three casino chips, which he flips and spins repeatedly in one beautifully choreographed motion. "I think that guy's only got one pair," Brian says, eyeing one of the nine tables he's playing. "I'm going to shove all in." He does, and his opponent folds. He rakes in a $450 pot.
Brian Clark has never worked in an office, he's never had a boss, and he's never punched a timecard since graduating from college in 2005. But he has consistently earned more than $100,000 per year. He owns a four-bedroom home, which he's currently remodeling. He pays taxes, has health insurance, and saves for retirement. He has a personal financial advisor who handles all of his investments. He travels the world—from Barcelona to Aspen to Vegas—for work, skiing, and whatever else he wants, and has season tickets to the Twins and Wild. He even has a personal assistant, who handles much of the day-to-day details of his life, including washing his laundry and dishes, making grocery trips, and
organizing his mail.
Brian belongs to a circle of young Minnesotans who make their living playing poker—an elite group of card sharks who log up to 60 hours a week at virtual poker tables (sometimes playing up to 15 games at a time), competing against people from all over the world. Many of them earn six figures a year. The most successful of the Minnesota players treat the game like a profession, abiding by principles that limit losses and adhering to a regular schedule. Brian, who is considered by many online players to be one of the top 20 Limit Hold 'Em players in the world, wakes up every morning, walks directly from his bed to his computer, and, in his pajamas, plays poker for one to four hours. He spends afternoons doing whatever he wants, then he's back in front of his computer in the evening for another three- to six-hour session. For Brian, it's just another workday.
IT'S PROBABLY MORE DIFFICULT to burn toast than it is to get to an online poker game. You log onto the Internet, point your browser at Fulltilt.com or Pokerstars.com, download a bit of software, select a clever screen name, password, and avatar, and deposit money, as little as $15, via credit card. Boom—you're ready to play.
Once registered, you enter the virtual lobby, an enormous list of thousands of games of all types, sizes, and stakes. With a click of your mouse, a table (or tables) pops up on your screen, and you "sit down" with your virtual stacks of chips to play against "SickPuppy" from Wiesbaden or "2Hot4You" from Nantucket.
But you probably don't or won't or can't play online poker like Brian Clark does. Like the old woman at a bingo hall who plays 20 cards neatly spread in front of her, Brian is experienced at "multi-tabling." He can play eight or more tables at a time to maximize the potential returns, though he often plays just a few higher-stakes games at one time. He has different accounts on four different poker websites, which increases the likelihood that he'll find deep-pocketed opponents. "It's like dropping your line in four different lakes," Brian says. "If one lake's not all that great one day, you head over to another one."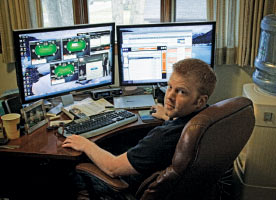 Online poker players like Brian Clark
often play several tables at a time
to maximize their profits.
Brian is less a weekend angler, however, than a Great White hunting for a nice fat fish—a cocky salesman with some cash to burn, or a drunk frat boy after bar close. Those are the kinds of opponents Brian loves to find. And those are the games where he typically walks away with all the money. Eventually he cashes out part of his bankroll, requesting that the website send him a check. (He used to be able to move money directly from his poker bankroll into his bank account, but a law passed in 2006 prohibits U.S. banks from conducting transactions with online gambling sites. No matter. The mail will come soon enough.)
To be successful at online poker, Brian says, you must understand the rules. You've got to understand hand values and mathematical odds and the basics of risk-versus-reward analysis. You must master bankroll management, playing at dollar limits that prevent you from losing your entire bankroll. Bankroll management, Brian says, is the most important thing in poker. He aims to not risk more than 5 percent of his bankroll at a time. "You have to be willing to gamble and not think about it as money. The only thing you can control is how much you put in front of you," he says.
"If you're not willing to lose everything you have in front of you, then you're playing outside your bankroll."
You have to manage your emotions, too—keep your focus, and not "go on tilt," as poker players say. Winning poker players don't panic when another player gets a miracle card on the river, or when some hothead starts ranting and swearing in the chat boxes. "Put it behind you and move on," Brian says, "because the next hand is already underway." How does Brian deal with the stress? He practices yoga.
"Poker can be a mean bitch," he says. "It doesn't care about you. It can just torture you." But losing is just part of the big picture, Brian says. He's thinking long-term, focusing on the future. "If the stock market takes a four-day tumble, you don't panic and sell," he says sagely. "You stick to your plan. It's the same thing in poker."
 
IT ALL BEGAN WITH ROUNDERS. Brian was a sophomore at the University of Minnesota–Morris when he first saw the 1998 Matt Damon film about the seedy world of private high-stakes poker clubs in New York. He was intrigued. He started playing Texas Hold 'Em with some college buddies for small stakes—$5 and $10 games, basically beer money.
He discovered he had a knack for it.
"I made $1,500 that year just playing those games in the dorms," he says. "Then one night I played with some other friends who were really good, and I lost. I didn't like losing." Rather than blaming bad luck, though, he got smart. He went straight to the bookstore, bought all the poker books he could find, and started studying. Really studying.
Of course, Brian wasn't the only one inspired by Rounders. A 27-year-old accountant from Tennessee aptly named Chris Moneymaker had seen the movie and was also giving poker a whirl. But he lived four hours from the nearest casino, so he took to the Web's online poker rooms, where he honed his skills. In 2003, Moneymaker earned a $10,000 seat into the main event of the 2003 World Series of Poker by winning an online tournament that had cost him only $39 to enter. And against all odds—there, in Vegas, playing against the world's best—Moneymaker went on to win the series, taking home $2.5 million and the coveted gold championship bracelet.
Brian, just starting his junior year at Morris, watched on ESPN as Money-maker's improbable victory unfolded. It made him curious. What was this whole online poker thing? "I looked into it and a couple of new websites were offering promotions where they would give you $50 with no strings attached to try it out," Brian says. He decided to give it a go.
You can see where this story is going, right? After the first couple months of playing online, he had rolled that initial $50 up to $4,000. After the first couple months of playing online, he had rolled that initial $50 up to $4,000. "Honestly, I got pretty lucky in the beginning," Brian says. "I knew how to play poker, but I didn't have discipline or money-management skills."
His family suggested he take his money and run. "My parents were like 'Cash it out, you're going to lose it all,'" he recalls. But Brian was committed. He ignored their warnings—and he lost a large chunk of his bankroll. "I got down to $1,200, and I started wondering if my parents had been right," he says. But rather than freak out and throw good money after the bad, he mapped out a strategy to rebuild. He dropped from the higher-stakes games he'd been playing to the lower-stakes games—the opposite of what most gamblers do, which is chase losses by increasing the stakes. "That was the first time I really started learning about the importance of money management, patience, and discipline in poker," he says. "You can't let yourself panic or you're going to go broke every time."
Within four months, his bankroll was up to $20,000. He slowly and steadily increased the stakes. He won, and he kept winning. He managed his bankroll. He stuck to his strategy. And when he drove home for the summer in his old mini-van—less than 10 months after he'd taken that free $50—Brian Clark had more than $40,000 in his online poker account.
Brian lived at his mom and dad's place in Roseville that summer. His parents made him work part-time as a counselor at a day camp, but Brian didn't argue. "I was living at home, they were paying for school, and they wanted me to have a job, so I worked," he says. "I was still able to play plenty of poker." By the end of the summer, his bankroll was up to $100,000.
He returned to school that fall, but there was no question about what Brian would do after graduation. "I didn't even think about getting a 'real' job," he says. "I knew I was going to play poker full-time."
 
BRIAN IS RUNNING LATE. Two of his closest friends, Mickey Pickett and Jay Melancon, are already sipping Diet Cokes and sitting in a corner booth at The View restaurant in Minneapolis when he walks in. They're casually dressed—white Adidas Classics, designer jeans with gold embroidery on the back pockets, and black or white zip-up hooded sweatshirts with elaborate, colorful patterns running across the chest.
Brian pulls up a chair. "Sorry I'm late," he says. "What are we talking about?"
"I was saying that probably only 5 percent of poker players make a consistent profit," says Mickey,
"That's so true," Brian says.
"Maybe even less than that," Jay adds.
Though just 24, Jay is a natural leader. A native of St. Cloud, he has dark eyebrows and a magnetic smile. He's self-deprecating and quick-witted. He regularly plays in the richest No-Limit Hold 'Em games online and has won or lost up to $100,000 in a single day. But he tries not to take himself too seriously.
Mickey, 25, is tall, with dark hair and dark features, and a baby face that would get him carded at an R-rated movie. But he carries himself with the confidence of a CEO. He drives a black Mercedes with a personalized license plate that reads "ANTE UP," and he pocketed more than $240,000 when he won a live No-Limit tournament in 2008.
Mickey started playing poker shortly after graduating high school in Little Canada in 2003. His two older brothers played the game, and often hit the tables at Canterbury Park in Shakopee. Mickey asked them to teach him how to play; they did, and he spent much of the summer at the tables. "I was winning and I realizing this could be something I could make money doing," says Mickey, "But I never thought of it as something I could make a career out of."
That fall, Mickey drove to Iowa State to start his freshman year. It was there that a friend introduced him to online poker. "I deposited $75 and proceeded to play 12 hours a day, six days a week for the next five months," he says. By February, he had worked it up to $20,000, so he decided to quit school and try online poker full-time. Eventually, he moved back to the Twin Cities and began spending more time with Brian, Jay, and the other guys who played online poker and hung out at Canterbury.
Jay was enrolled at the U of M when Mickey returned to town, but he was struggling to balance academics and poker. As his poker success increased, his performance in school went progres-sively downhill.
"I'd play all night, then all of a sudden it'd be 8 a.m. and I'd have class in 45 minutes," Jay says. "So I'd go to this 300-person lecture hall and sit right in the front with my laptop and play poker while the TA was talking about Galileo or something." One day, while playing online in a psychology class, he made $5,000.
You can see where this story is going too, huh? Yes, one night Mickey was over at Jay's house and the two were up till dawn playing Internet poker and discussing whether Jay should quit school. Morning rolled around, Jay headed to class, and Mickey kept playing. When Jay came back, he asked Mickey how he'd fared. "Mickey had won like $17,000 during the hour I was at class," Jay recalls.
"I quit school two days later."
But just because you hit a hole in one on the golf course doesn't mean you can play on the pro tour, the guys caution. The same is true in poker. "You see it all the time," says Mickey. "Some guy who plays for the first time turns $50 to $500. The next two months, he gets pretty lucky and turns $500 into $10,000. Now, all of a sudden he thinks he's awesome. He thinks it's easy money. He has no bankroll-management skills, no foundation, no support system of poker friends, and he hasn't dealt with losing. Then all of a sudden he's lost it all and he's borrowing money that he can't pay back. It's actually very dangerous to win all that money right away."
That's why the group is so important. "If we didn't have each other to lean on," Brian says, "none of us would be where we are today."
"Definitely not," Jay says.
EACH MEMBER OF THE GROUP believes that his individual success is due, in no small part, to their collaboration. Like a couple of venture capitalists meeting at Perkins to swap research or a group of small-business owners trading management strategies over coffee, they regularly share information, tips, and war stories. Each member of the group does independent research—reading poker blogs, finding the best instructional videos—forwarding anything valuable to the other guys. They use advanced computer software that tracks and analyzes each hand they play, then stores the statistics and information into a database so they can review anything that might give them an edge. They offer each other advice. They tip each other off regarding opponents. "I take notes on the people I play, then I color-code them according to how good I think they are," Brian says. When easy prey pops up on the screen, he joins the game.
The members of the Minnesota circle sometimes stake each other, too, buying a "piece of each other" in big games or tournaments. One of Brian's buddies, for instance, recently pulled together a big online game, which required him to sit down with more than $200,000. He didn't want to leverage that much of his bankroll, so he sent a text message to friends, asking who wanted in on the action. "I bought 10 percent," Brian says, "meaning I cover 10 percent of whatever he loses, and I take home 10 percent of whatever he wins. It's all about trust in this group of guys. We trust each other completely."
The members of the group rarely play each other. (Why take money from your friends?) They also specialize in different games at different limits, so their paths rarely cross online. But Brian, Jay, and Mickey do regularly hang out in the same room while playing on their respective computers. "It's easier to focus and stay calm when you've got people sitting there with you," Mickey says. They often watch each other's games, and swap bits of advice and encouragement via AOL Instant Messenger—sometimes messaging each other even while they're in the same room. Don't worry about that beat…That guy sucks, you'll get him eventually.
"I can't think of anything more stressful than poker," Mickey says. "Many days I'll play for 14 hours straight with only five-minute bathroom breaks once every hour. It's incredibly draining."
This profession can be taxing on personal relationships, too. "You have to convince friends and family that what you're doing is a career," Jay says. "Just because my job is flexible doesn't mean I don't have to take it seriously, and they have to accept and understand that or it won't work."
He might be cuddled up on the couch with his girlfriend and a bowl of popcorn, watching Sleepless in Seattle, but his computer is always on. If he hooks a fish, he's got to go to work. "It's like getting a call from a really important client," Jay adds. "I may be sitting at home in my underwear on the couch instead of wearing a suit and taking the Lincoln down to the office, but it's the same thing."
IT'S 11 P.M. AT CRAFTSTEAK in MGM Grand. The meal is done, and the leggy blond server has just dropped the $1,550 bill on the table with a wink and a smile. One of the guys stands up, takes off his Twins cap, and holds it out over the table. The dozen or so twentysomethings sitting around the table take the last gulp of their cocktails, reach into their wallets, pull out credit cards, and toss them into the hat. It's credit-card roulette, and one of these guys is the sucker who'll be paying for tonight's entire meal.
After the blond returns with the credit card—and another wink—the group heads to XS Nightclub at Wynn, the hottest new club in town. They'll sit in the VIP section, order the $200 bottle service, and party until 3 or 4 a.m.
For Brian, Mickey, Jay, and the rest of their entourage, this is basically a business trip. They're in town for the World Series of Poker, considered the Super Bowl of poker. Poker pros and amateurs alike flock to Vegas each summer for the month-long series, which features 55 tournaments and culminates with the $10,000 "Main Event," the competition Moneymaker won in 2003. Brian and his buddies wouldn't miss it for the world. But at day's end, they often go back to their hotel rooms and play online—sometimes against the very same people they faced live that day in tournaments.
Life ain't bad. But is poker a profession? How long can these guys keep this up? "It's hard to say what the future will bring," Brian reflects one recent afternoon as he sits at the desk in his home office. "I don't know what online poker is going to be like in 10 years. Maybe the laws will change or the sites will shut down. Who knows?"
"Or maybe there will be a time when we don't want to play poker anymore," adds Mickey.
And if poker doesn't pay the bills someday? Neither Brian nor Mickey nor Jay have any conventional work experience. Only Brian has a college degree. But they're not sweating it.
Poker has given them a broad network. Playing high-stakes games has put them in close proximity to powerful people—people in business, people with money, people with connections. They've met celebrities, professional athletes, CEOs, and financiers who play poker. These powerful people actually look up to Brian, Mickey, and Jay. They respect their skills and admire the guys for their poker savvy.
If Brian hits a bad streak or just wants to try something new, he's got the private phone numbers of people who know people. "Those connections pay dividends in the long run," says Jay. "I'm confident that if I had some great business idea and I wanted to stop playing poker to pursue it, it would only take me a few phone calls and less than a week to generate the start-up cash I needed." Recently, when Mickey's buddy's girlfriend was looking for a job, all is took was one phone call to a local business owner and she had a job.
"Other job opportunities are out there, of course, but I love playing poker," says Brian. "I don't know if it's the greatest thing to do, but it's what I want to do. I hope I can do it forever."
"I love the freedom of poker," says Jay. "I set my own hours and I can work from anywhere."
But the three agree that someday they will invest in a business venture together. Someday, the right opportunity will come along. "Who knows, maybe we end up working on that 40 hours a week, and playing poker part-time?" Mickey suggests.
"I'd love to invest in a business, but 40 hours a week?" Brian says. "I'd rather play poker."
Colby Johnson is the editor of Drinks magazine. She lives in Minneapolis.