Minnesota Olympic triathlete Gwen Jorgensen
Photo by Ryan Taylor/Red Bull Content Pool
---
The world's best female triathlete lives above an otherwise unremarkable St. Paul bike shop. 
Gwen Jorgensen and her husband, Patrick Lemieux, call the Twin Cities home for the few short months they're not overseas for Jorgensen's grueling training and competition cycle. So if you were out and about last fall—biking along the Mississippi, walking the tree-lined streets of the Macalester-Groveland neighborhood where they live, stopping by Izzy's for ice cream—you may have bumped into her without realizing it. 
And why would you? Jorgensen navigates the Twin Cities with no entourage, no diva-like attitude, no don't-you-know-who-I-am veneer. When she swims at the University of St. Thomas, not far from her home, she slips in quietly in the morning, puts in her laps and leaves, without demanding so much as a towel. If any Tommies swimmers happen by—and they do, because most are fans—Jorgensen greets them and chats.
"A lot of elite-level athletes sometimes come off as being a little arrogant or full of themselves," says Scott Blanchard, the swimming and diving coach at St. Thomas. "That's not Gwen at all. She gives off this great feeling of inclusiveness."

Gwen Jorgensen biking on the Ford Parkway Bridge between Minneapolis and St. Paul
Photo by Ryan Taylor/Red Bull Content Pool
---
Yet she stands alone in her athletic accomplishments: Since the International Triathlon Union was formed in 1989, no man or woman has won as often or as impressively as Jorgensen, the two-time defending world champion. In a sport combining three demanding and unrelated disciplines—swimming, biking, and running—no one had won more than four consecutive races. Starting in May 2014, Jorgensen strung together 12. 
"It's probably fair to say she has competitively intimidated people," fellow U.S. triathlete Sarah True told the Chicago Tribune at the last world championships.
Now Jorgensen, 30, heads to the Summer Olympics in Rio de Janeiro in August as the favorite for the gold medal. Not bad for a shy Wisconsin native who competed in her very first triathlon a mere six years ago.
---
Triathlon is a relatively new sport. Created by runners in San Diego in the 1970s, it first appeared on the Olympic program in 2000. Mention triathlon and most people think of the Ironman, combining a 2.4-mile ocean swim, 112-mile bike ride, then a full 26.2-mile marathon. You can take Amtrak from St. Paul to Chicago in the time it takes the fastest men to finish one. 
The Olympic distance is mercifully shorter: roughly equivalent to a mile swim, 25-mile bike race, followed by a 6.2-mile run. But it's still grueling. The disciplines require different muscles, strategies, and training methods, plus toughness and stamina.

Gwen Jorgensen winning the 2015 ITU World Triathlon Championships
Photo by Jessica Koscielniak, courtesy of columbia threadneedle
---
Triathletes aren't born; they're found. In 2009, when 2004 Olympian Barb Lindquist started the collegiate recruitment program for USA Triathlon, the sport's national governing body, she sought soon-to-be graduates with aptitude in running or swimming. Jorgensen, who swam and ran track and cross country at the University of Wisconsin, fit the profile. 
When she was growing up in Waukesha, WI, just west of Milwaukee, Jorgensen's parents, Joel and Nancy, insisted Gwen and her sister play a musical instrument as well as join a sport. (Nancy taught high school choir for 30 years.) So Gwen chose violin, which was a chore, and swimming, which she loved. From the results, an outsider couldn't tell the difference.
"We knew there were a lot of days when she didn't want to practice that violin, but we made her," Nancy remembers. "When she got into high school, she ended up being the best violinist they had, and the director wanted her to be the concertmaster. She would rather have been swimming, or rather been running, but if she was going to do violin, she was going to do it really well….That's how she approaches everything. She thinks through things. She's meticulous about it. She attends to detail. Even if it's something she doesn't really enjoy or doesn't really want to do, she still does it well."
"She was very competitive," Joel says. "When she first started swimming—I think she was 8 or 9—she went to her first swim meet; another girl got a ribbon, and she said, 'I've got to try harder, Dad. I need a ribbon. I need a ribbon.' Then she got her ribbon, and she was okay for awhile."
Yet for all her desire to win, Gwen wasn't interested in the accompanying acclaim. Nancy recalls a swim meet where young Gwen won a medal, but asked her parents to take her home before the awards ceremony to avoid standing on the podium. "She was competitive, but she didn't necessarily enjoy the attention for being good," Nancy says.
An all-state swimmer and runner at Waukesha South High School, Jorgensen joined the swim team at UW Madison. After three years of modest results, she switched to track and cross-country. That's where Jorgensen excelled, earning All-American honors and winning Big Ten Conference indoor titles at 3,000 and 5,000 meters in 2009 while completing her accounting degree.
"Looking at our Olympians, all but three swam or ran in college, and I think only 25 percent tried triathlon before graduating from college," Lindquist says. "We feel if we can find a swimmer or a runner, they have a good enough engine and enough body awareness, and they're athletic enough, we can teach them the bike."
At the time, USA Triathlon's nascent recruitment program was low-tech. Lindquist scouted potential triathletes at major NCAA championships—she noticed Jorgensen at the 2009 outdoor track and field competition—then followed up with phone calls and emails. Jorgensen was reluctant to give triathlon a try so it took Lindquist several months to convince her. Jorgensen had just started working as a tax accountant for Ernst & Young in Milwaukee, and was still getting over a stress fracture from her final track season. Plus, she didn't even own a bicycle. "I didn't think I was good enough to make a career out of triathlon," Jorgensen says. "When I started triathlon, I had never ridden a road bike, ever. It was scary for me."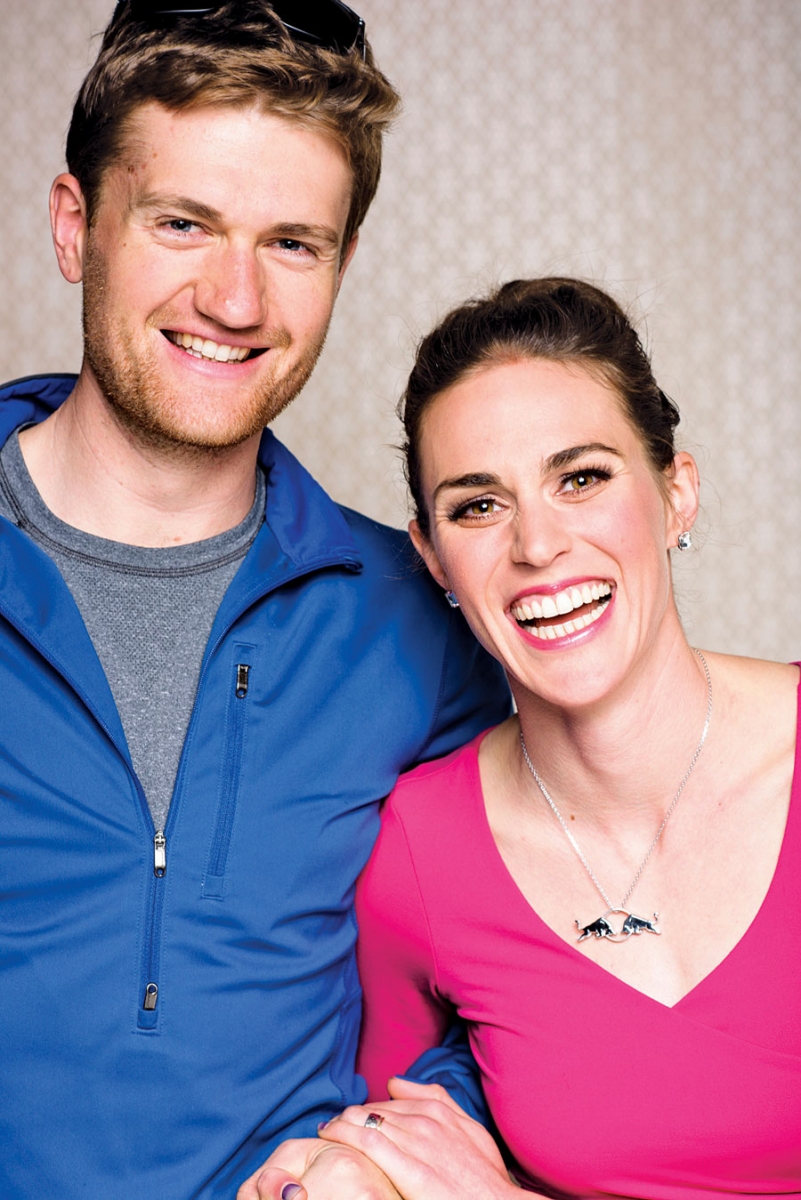 Gwen Jorgensen with her husband (and operations manager), Patrick Lemieux
Photo by Ryan Taylor/Red Bull Content Pool
---
Her fear was understandable. The triathlon swim alone can be unnerving for its chaos and physicality. "Some people have described it as swimming in a washing machine," Lindquist says. Taking a forearm to the head is an omnipresent risk. "You get black eyes. That's part of it," Jorgensen explains. "I've gotten a little more assertive. If somebody hit me, I used to back off and let them all pass. But I realized to be successful in the sport, I always need to create forward movement."
The bike leg requires steely nerves in close quarters—racing a road bike is a vastly different experience than the bike riding most people grew up doing. "Going 18 to 26 miles an hour on two wheels as fast as you can, at times weaving in and out of traffic, being among other bikers, is counter-intuitive to what people have known," explains St. Thomas's Blanchard, also a triathlon coach and former competitor. Jorgensen's first turns on the bike were embarrassing; she couldn't dismount from the clip-in pedals at stoplights without falling over. In a few short years of training, she's become competitive on the bike. But the run is where she really excels. 
For most triathletes, the third leg is when breathing labors, the body starts to ache, and every impulse says: "Stop." But this is when Jorgensen kicks into high gear. It's the stage where she has the best natural advantage—and the least risk. "When I get to the run, normally I'm a little bit relieved," Jorgensen says. If something goes wrong from then on, it's just me failing. It's not something out of my control. So I actually feel a little bit comforted when I start to run."
The hazards of swimming through the competition can be a wild card; and on the bike, dreams can be dashed by a crash or equipment failure. Jorgensen experienced the latter—a devastating flat tire—in her first Olympics, in London in 2012. By the time she fixed it and rejoined the race, she was five minutes behind the leaders. She finished 38th.
---
Most people wouldn't find a 6.2-mile race anything close to soothing, but world-class athletes aren't built like most people. When she competes, Jorgensen welcomes pain and fatigue like an old friend. "I always say, I want to suffer," Jorgensen says. "Sometimes people find that strange. But I have a journal that I keep, and suffer in my dictionary is a good term. I think it's fun to kind of find boundaries and push the boundaries, see how far I can get. That always keeps it challenging for me, and interesting." 
While Jorgensen was more than willing to punish her body in pursuit of triathlon gold, she was hesitant to sacrifice her relationships. But after her disappointment in London Olympics, she knew that the only way for her to become a top contender in 2016 was to find an elite coach and train overseas in a daily performance environment where she would ride alongside her competitors. ("It's hard to be a triathlete in Minnesota in the winter, especially when bike skills are not your strength," Lindquist says.)

Gwen Jorgensen trains in the Twin Cities three months a year. The rest of the time she spends abroad, enabling her to train alongside her competitors.
Photo by Ryan Taylor/Red Bull Content Pool
---
"I knew that in order to perform better, I needed to go abroad." Jorgensen says. "But I wasn't willing to leave home for that long. I saw being abroad as a sacrifice and I didn't want to do that because I was sacrificing being with my family. But then Pat said, 'Why don't I join you?'"
So she quit Ernst & Young and her comfortable domestic training routine in Wisconsin and Florida to train with an elite multi-national triathlon group in Australia and the Basque region of Spain. Lemieux, then her boyfriend, whom she met on a bike ride in Milwaukee, left his career behind as well, retiring as a professional cyclist to accompany her as "operations manager," cooking meals, maintaining her bike, and managing logistics. (They were married in October 2014, 10 months after he interrupted a bike ride to propose on the Ford Parkway Bridge.)
Jorgensen's new coach, Jamie Turner, agrees that her greater commitment to the sport has made a huge difference. "The support of her husband, that's the biggest improvement—being comfortable with the uncomfortable, challenging herself, and seeing it as an investment rather than a hurdle and a sacrifice," he says. "That's a bit philosophical, but that's where it begins."
In Rio, the run may determine how it ends. If Jorgensen rides the bike cleanly and jumps off within 45 seconds of the lead, look out. (At a triathlon in Leeds, England, in June, Jorgensen began the run about 90 seconds behind the leader and won by almost a minute.) "She's the best our sport has seen on the run. No question," Lindquist says. "That's a great ace in the pocket, but she's got to put herself in contention off the bike to use that run. She's got to have the swim and the bike there to let the run shine."
In addition to sheer athletic ability, Jorgensen also displays the mental and emotional discipline that allows elite athletes to perform at the highest level. To think too much about the big picture, or to get too philosophical, is, in some ways, to doubt. Reflecting on the past four years, Jorgensen says she's turned her disappointing finish at the 2012 Olympics into something positive. "I was talking to Pat the other day, and saying that I wasn't even upset after London," she recalls. "It was a turning point in my career. It made me who I am today in the triathlon world. It helped me refocus. It helped me find a new coach. It helped me be surrounded by the best resources. And Pat was like, 'You're crazy. You were crying for weeks.'"
In the final days before the competition, Jorgensen says she's been thinking about her preparation leading up to Rio more than the day itself. "I try to visualize the race, so in that regard I'm thinking about it quite often," she says. "But I don't think about that day that much. Something my coaches really taught me is that you have to focus on the process. You can't focus on the outcome. So every day I'm trying to think of things that help me improve, whether I need a higher cadence on the bike, or I need to relax my shoulders on the run. I think more about those things every single day."
And if she succeeds, she'll have to get used to the attention when she and Patrick come back to St. Paul. 
"I don't understand how really big, famous people, like the football players, do it," Jorgensen says. "I can walk down the street and get recognized once a week at best. If the Vikings quarterback walks down the street, everybody's stopping him. He probably just wants to go out and have a coffee. I feel pretty fortunate that I'm not that famous. I just think I'm Gwen. Nothing special."
Until the race begins.
Watch Olympic triathlete Gwen Jorgensen in action.
Videos courtesy of Specialized