Tez Slaughter grew up in north and south Minneapolis neighborhoods. Today, he lives off Lake Street, in south Minneapolis, and does overnight stocking for Cub Foods.
The 30-year-old describes his experiences with police as trauma. Two summers ago, Slaughter's uncle Thurman Blevins was fatally shot in an alley by Minneapolis police. Blevins' death inspired protests, though not at the level of George Floyd.
"Maybe words can't really describe what I feel," Slaughter says, speaking about a week after Floyd was crushed under the knee of a police officer while he cried out that he couldn't breathe. "But tired is one of them."
The barbershop where Slaughter socializes and feels safe is next door to the Cup Foods grocery store, mere steps from 38th Street and Chicago Avenue, the site of Floyd's death. In the nights that followed, uprisings spilled long-simmering fury across the Twin Cities—a metro area with some of the nation's worst racial disparities in homeownership, income, educational attainment, and employment.
The civil unrest dealt about $500 million in damages to nearly 1,500 businesses, according to city data and reporting by the Star Tribune, with some of the worst on Lake Street. Civilian cohorts of 100-plus volunteers swept up debris. Donated groceries went out to new food deserts. Thousands of crowdsourced fundraisers—some launched from bedrooms, others by nonprofits, many using the public GoFundMe site—amassed between hundreds and millions of dollars. They pledged to revitalize neighborhoods, to generate "economic solidarity" with local Black-owned businesses.
"Keep the Black dollars circulating," Slaughter says, of the crowdsourced campaigns. "It's our neighborhood, so that's the goal: us owning businesses."
His vision goes farther, drawn up from what he sees in the neighborhood every day: "We need more programs for these kids, to stop them from getting into mischief. We need proper housing for people. There's a lot of homelessness out here. There's a lot of drug addiction. Representation for legal matters. There are people who've been to jail, or went through the courts and still have stuff on their records that they can't get expunged—just all this stuff that's tearing us down."
His own hopes exceed Cub Foods—to become a mentor, a community leader. He says he might start his own fundraiser. "People just need help right away, to get some type of hope for tomorrow, something to look forward to." He speaks outside the barbershop, in front of a mural on the neighboring building that isn't Cup Foods. Over the faces of Civil Rights leaders (Malcolm X, Marcus Garvey, Angela Davis) are the words "Give me a place to stand and I shall move the earth."
That's just what the following three fundraisers are trying to deliver:
The Real Minneapolis
Mary Claire Francois, an 18-year-old nursing student at St. Catherine University, lives in her childhood home, nine blocks from 38th and Chicago. After Floyd was killed, that intersection became a memorial site, and she went out day and night, at first on cleanups. "I was, like, these people need so much more than granola bars and just seeing people walking around and cleaning up their street," she says.
So, on May 31, she launched a GoFundMe. Her goal: $1,000. "I was just gonna hand out waters and support some of the people at the intersection."
By late July, she had raised more than $21,000. Her neighbor Valerie Quintana, a 51-year-old Las Vegas native who runs four sober houses in south Minneapolis, joined in to help.
They spent $2,000 on security and medics at the intersection, $1,500 on hand-sanitizer stations and port-a-potty setup, $1,400 on volunteers passing out food under canopies, which they also purchased, according to Quintana's written log of expenses. They invested more than $13,000 in a month, she says, all while scouring the area for more funding ideas.
The pastor of the church on the corner told them he'd like to expand his space. Maybe, he told me, he could start a GED program, a step up for gang members in the neighborhood. (The church has its own GoFundMe.)
One night, Francois and Quintana handed $500 to the manager of the barbershop, who recommended funding the nearby Central Area Neighborhood Development Organization. Outside the barbershop, young men (including Slaughter) mentioned opportunities to learn trade skills.
Five neighborhoods overlap here. That means Francois and Quintana could find no one representative voice. Quintana, who is Latinx, and a white woman who temporarily helped with operations also heeded "white savior" danger.
"As a biracial person, I felt kind of lost in who I was," Francois says. Francois' father is a Black immigrant from Saint Lucia, and her mother is white. "Basically, I'm a privileged person of color." They wanted to defer to the Black voices of south Minneapolis—a place scarred by decades of government-sanctioned discrimination in the form of redlining and racial covenants.
Soon, they solidified into a three-person team (rounded out by Marni Lewis-Harvey, a longtime local activist and marketing manager who built them a logo, website, Facebook page, and marketing materials). Together, they set up a sponsored nonprofit called The Real Minneapolis. The name refers to the residents who pitch in, who populate the many photos and livestreams Quintana posts on the group's Facebook page.
In July, they partnered with farmers on a free produce market near the intersection, answering a demand for fresh, healthy donations. Soon, they were paying local Black and Indigenous (BIPOC) teens of color $14.50 an hour to tend a new community garden (with financial support from the nonprofit-boosting Minneapolis Foundation).
After that, they launched photography classes, led by a local professional who has shot for the New York Times and CNN. Then, the teens made signage for their garden under the tutelage of the In-Signity sign shop. And then, on Facebook, the team announced plans to open a tech center for under-resourced youth, potentially in south Minneapolis' Midtown Global Market, on September 8.
Quintana seems to burst with ideas nonstop: swimming lessons for Black youth, a mentorship program, getting executives involved in phase two of the garden project, when the teens will cook using the herbs they grow. The Real Minneapolis dreams of corporate backers.
And it all started with cleanups.
Back in late May, Quintana had taken to Facebook, rallying hundreds of broom-wielding volunteers—her knee-jerk response: Cleanliness became central to Quintana while in recovery for alcoholism and heroin addiction. "We're gonna clean that kitchen and set the table," she says.
Learn more: realmpls.org
Du Nord Foundation
When Chris Montana saw two GoFundMe campaigns pop up to repair unrest-related damages to his south Minneapolis-based Du Nord Craft Spirits, he was startled. "We didn't want to get a windfall from the tragedy," says the nation's first Black owner of a microdistillery. "Consider us saved."
Montana, whose profile is high enough for New York Times coverage, points instead to Seward Pharmacy. The independent Lake Street drug store makes house calls in local Somali communities and, by late July, had raised $24,954 of a $50,000 GoFundMe goal. "As a distillery, we make alcohol," Montana notes. "Of those things, what do you think is more important?"
With Du Nord's Lake Street neighbors in mind, he launched the Du Nord Foundation. By late August, it had raised almost $760,000 for minority small businesses, boosted by shoutouts from former Minnesota senator Al Franken and comedian Sarah Silverman. (Du Nord also set up a food bank, feeding more than 300 families a day for two weeks, and, since the pandemic began, has shifted distillery production to hand sanitizer.)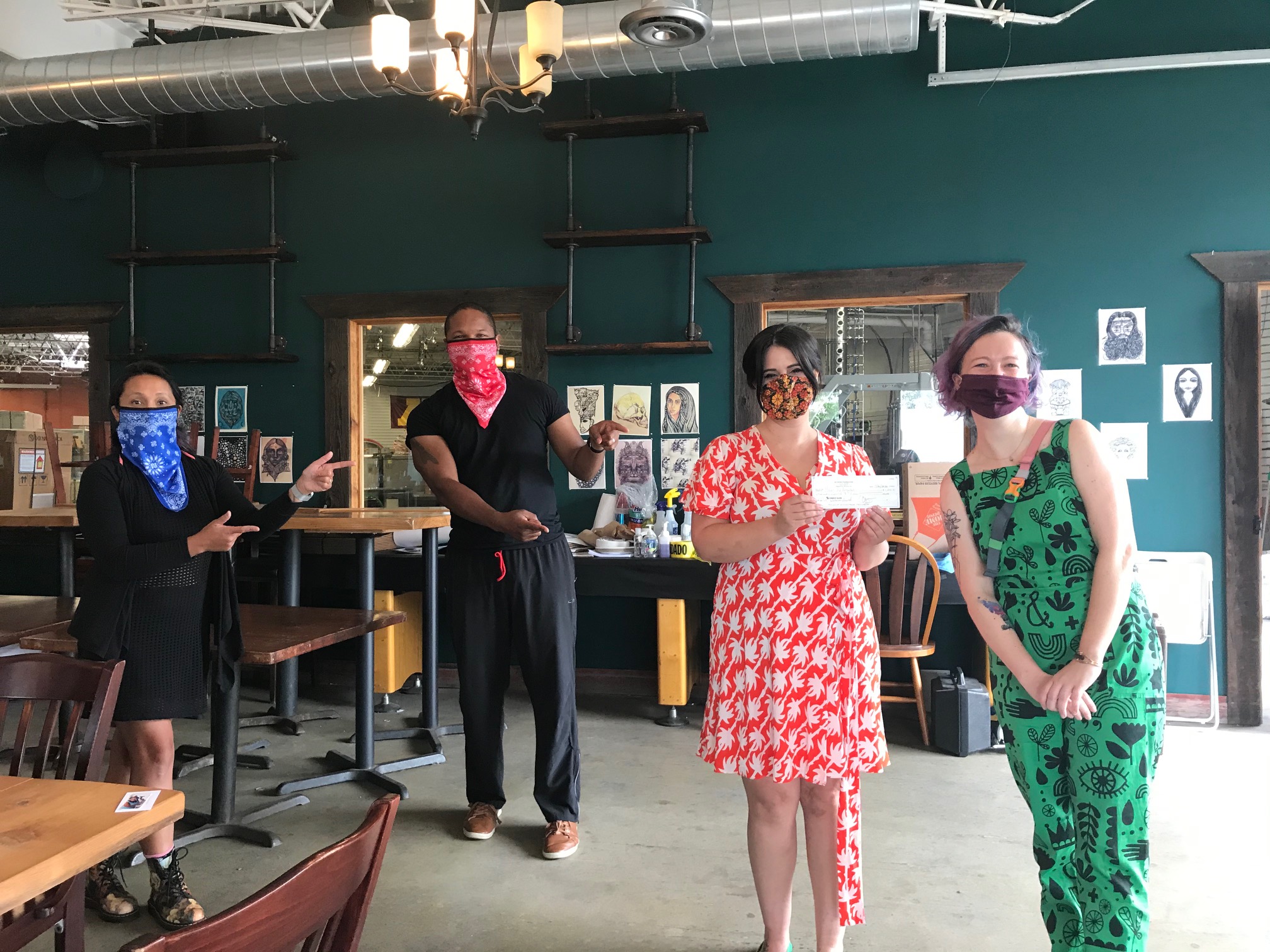 As a lender, Montana says he won't just help Black and brown businesses handle four- to five-figure grants—he'll also relate. He, too, was a person of color with an idea.
"You're never gonna find that smoking gun," he says. He can't point to investors who passed on Du Nord because of his skin color. "When we started, we were massively undercapitalized. And when we looked around, there were other people who had much more money—multi-million-dollar operations, and here we were with 60 grand and a community development organization." (Black entrepreneurs were denied loans twice as often as their white counterparts in a five-year span, according to recent Federal Reserve data.)
"What we want to do is sit down with these folks and say, 'Hey, it's easy for us to write a check,'" says foundation partner Tina Rexing, owner of Eagan-based T-Rex Cookie company. "What would be more beneficial to a lot of small businesses is, 'Hey, not only do you need $10,000—do you need an attorney? Do you need an accountant? Do you need an insurance person?'"
To stay accountable, Montana and Rexing plan to disclose investments as they go.
Learn more: dunordfoundation.org
Lake Street Council 
Lake Street Council staff got used to working from home due to COVID-19. Then their office burned down. Uprisings had scorched their 5-mile, east-west stretch of businesses on Lake Street in south Minneapolis.
"The next morning, our team said, 'You know? There is probably gonna be a lot of interest in supporting businesses and making sure that they can get back open,'" recalls Allison Sharkey, executive director of the council. "'What do you say we throw up a fundraiser page?'"
They expected tens of thousands of dollars. By press time, at the end of July, they had more than $9 million. (Today, they have $10 million.) For a nonprofit of their size, it was too much. They got large donors' permission to use some money to hire contractors and bump full-time staff from four to six. They also accepted pro bono legal, financial, administrative, and public relations aid.
Although a big sum for the council, $9 million is nowhere near enough to rebuild even just the 20 or so privately owned buildings that perished. Hennepin County property records place their combined market value at $19.2 million.
"It's a huge amount of money to come up with $20 million on a GoFundMe, right?" says Kirsten Delegard, executive director of Mapping Prejudice. Delegard's research links Minneapolis' history of racially discriminatory policies—redlining, racial covenants—to today's racial disparities. "But that's not a lot of money in terms of public investments. A modest apartment building costs at least $5 million, right? It's all relative."
She adds, "We have to realize that this is a marathon, not a sprint."
To subsidize rebuilding and restocking costs, the council's first-round grants went out as $25,000 loans to 175 businesses in mid-July. People of color and immigrants run about 86% of these businesses. About 70% are uninsured or underinsured, according to the council, and a large majority on Lake Street rent.
For many, the pandemic had already ravaged most or all income, Sharkey says.
"There's an opportunity to think about different ways people who were renting could be in an ownership position," she notes, hopefully. Maybe with land trusts, or joint ownership, or commercial condos.
Meanwhile, outside developers have swooped in, low-balling entrepreneurs, according to the council—harbingers of post-disaster gentrification. "We want to make sure that the business owners who are here can stay, whenever possible," Sharkey stresses. "We don't want to lose what's predominately an immigrant-run business corridor."
That's part of why cleanups helped: "Some businesses have reopened, and they need to send the message that it's safe."
That means a lot rides on residents, too. "Are you going to be a patron of these businesses?" Shannon Smith Jones poses to donors. As executive director of Hope Community, a community development organization in south Minneapolis, Smith Jones wonders if the area's legion benefactors will forget the cause after hitting "Donate now."
In the long run, she says, the Twin Cities need policy changes. "I think reparations is a very good start," she notes, referring to the current hot-button topic of public or private money given to descendants of enslaved Africans. "And I don't think it has to look like writing everybody a check. How do we give tax breaks to businesses of color? It could be for school, it could be for homes." (Top of her list? Affordable housing, with property ownership key to wealth building.)
But behavioral changes matter, too.
"With the disbursement of funds from these GoFundMes, I don't want people to somehow be disappointed in a couple years if they didn't totally transform these neighborhoods," Delegard says. "Because it's just not enough investment. It's seed money for a bigger shift that is gonna need to happen."
Learn more: welovelakestreet.com
Facebook Comments