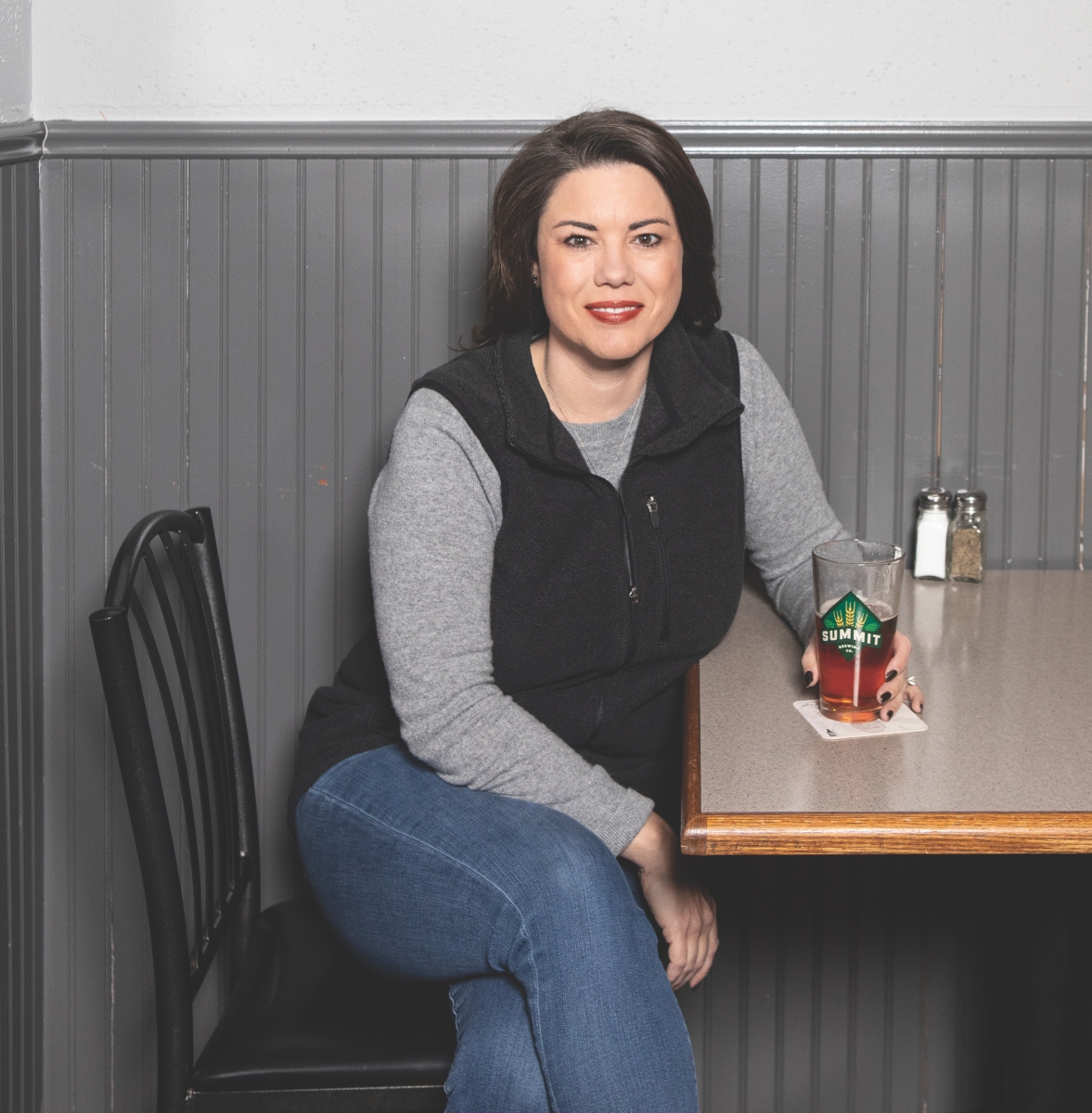 Angie Craig, on the cusp of her first session in Congress, sips a Summit EPA at her favorite Eagan bar.
Photos by Ackerman + Gruber
---
"This is the first time I've walked in here and she didn't just pour me a beer." A second after Angie Craig says this, there's a freshly poured Summit EPA waiting for her at the bar.
This afternoon, basketball's on, "Take Me Home Tonight" is playing, and two regulars are already hunkered on stools at Wildcats, the strip-mall pub in Eagan where, for three years, Craig has enjoyed weekend dinners with her wife and their four sons—before a successful campaign won her the seat representing Minnesota's Second Congressional District in the U.S. House last fall. "We kind of adopted Wildcats as our unofficial campaign office," she says in her light Southern twang.
Raised by a single mother in an Arkansas mobile home park, Craig worked as a newspaper reporter in Memphis, Tennessee, and led human resources at St. Jude Medical before pursuing public office. She unseated Jason Lewis in her second race against him for the south-metro district, becoming the first gay mom in the history of Congress. But as she jokes around with the bartender and finishes her beer, dressed today in jeans and a black winter vest, the only thing different is the camera.
---
Stepping into a new role as a politician, what is your biggest fear?
My greatest fear is being called a politician. Nobody respects a politician. I never thought of myself as someone who wanted to be a politician. I had a career before this: I was a newspaper reporter, I was a person who worked in business, and at the end of the day, and I hope what people say is that I listened, and that I tried to do what was right for this district, instead of what was right for a party or anything else.
What did you and your family do to celebrate your win?
We had a campaign celebration at Lone Oaks Grill, just up the road in Eagan. And the next day, we put our three kids on a plane to go back to college. We did let our tenth grader, at Rosemount High School, stay home after the election because there wasn't a lot of sleep. He mostly slept. Like most teenagers.
Is there a personal goal you want to set for yourself in Congress?
I think true courage is actually talking to folks you may not agree with 80 percent of the time but you find some common ground and you work with them anyway. For me, a personal goal is to create relationships across our entire delegation, including the Republicans, and try to find areas where we can work together. I'm aware that often we see different ways to solve the nation's problems, but I'd like to at least agree that there is a problem. I think the two areas where we can work together are stabilizing the cost of healthcare and infrastructure investment.
You've talked about growing up without health insurance. What's something you learned back then about healthcare?
Families [that can't afford healthcare] have to make a sincere choice: Am I going to put food on the table? Am I going to pay for the mortgage or the rent? I still remember the box of bills that piled up on the kitchen table when my little sister had to be hospitalized. I was the oldest, and I watched my mom work out a payment plan with doctors and hospitals. Thirty years ago, you could do that in this country. But I've talked to families across this district who have faced catastrophic bankruptcies from a member of their family becoming ill, or, before the Affordable Care Act, faced lifetime limits or couldn't get health insurance because of a pre-existing condition. Fifty-one percent of people in this congressional district have a pre-existing condition. So, protecting pre-existing conditions, I believe, is something that this Democratic Congress should make a number-one priority. When you get the bill in the mail, it doesn't have a D or an R on it. That's why I don't care if it's a Democratic idea or a Republican idea; if it's a good idea to reduce the cost of healthcare, I'm going to support it.
Has media attention to your firsts—as the first openly gay U.S. congressperson representing Minnesota and the first gay mom in Congress—been distracting or helpful?
I'm gonna answer it two ways: One, I think it's important that young people who also happen to identify as LGBTQ see role models. And then, second, it actually wasn't an issue in this race. Imagine 20 years ago that someone could run for Congress and simply say, 'My wife and our four sons…' but we're not making a deal about it. I'm telling you who I am, just like any other politician would. And maybe that's the real story: We're at a time where someone who happens to identify from the LGBTQ community can run just like any straight person would.
Still, marking these firsts must be kind of cool.
They tell me I'm the first lesbian mother to ever be elected in the history of the U.S. Congress. And I think that's cool, but it doesn't make my four boys think I'm any cooler. [Laughs] This is simply the family they've always known.
---
What drew you to journalism as a potential career?
I think the same thing that drew me to public service and politics: I wanted to serve. But I came out when I was 18 years old in Arkansas. Public service was not going to be an option for me. So, instead of serving, I documented what was happening in the country. I got to cover student senates, school boards, city hall—it was a way to be involved, but obviously it was from the outside looking in. Then I came to Minnesota, and it's such an accepting community, and after the 2012 marriage equality battle—the constitutional amendment that we defeated, and then we turned and passed marriage equality—that yearning in me to serve my community came back. And I wondered, is this available to me now? So…it was. [laughs]
What attracted you to Minnesota?
The truth is, I had three job offers at the same time. One was here, and two were in [Ohio and Pennsylvania]. The deciding factor for me was: Where was the best community for my family? I grew up in the South, I lived in the South, [and we had] our battle to adopt our oldest son in the South. The main criteria for me was going to be living in a community where our family would be accepted. I always laugh and say St. Jude [Medical] was the least money, it was the coldest weather, but I was most optimistic about this community, and Minnesota hasn't let us down for a minute.
What activities do you do for yourself?
We are a huge sports family, so we're big Minnesota Lynx fans. It's ridiculous, but during the campaign, instead of coming home and watching more politics at 9:30 at night, we actually re-watched every season of Grey's Anatomy. And then, I enjoy trapshooting with our boys. One of our sons started shooting trap in high school, and I decided to try it with him. I don't hunt, but two of our sons hunt pretty routinely and religiously. But as soon as our son, who happens to be a vegetarian, started trapshooting, I started doing it, and it became something that all of us could do together. Well, me and the boys could do together. My wife doesn't like it.
What do you like about it?
Anytime you can get a young kid to spend time with you, that's great. But there's an Eagan gun club here in town, and there's some great folks who go there, and frankly it's a great place to meet people who maybe, ideologically, are exactly in the same place as my party. Rarely do I meet a sportsman, a hunter, who doesn't agree that universal background checks are important in this country. If we just pass universal background checks, that wouldn't completely satisfy some folks on the Democratic side, but you know what? If we can make some progress here, we can't let perfect be the enemy of the good.
How do you see your routine changing?
I've got to leave a little more time when I go to the grocery store. People know me now, so buying groceries is a little harder. But that's what's amazing. I get to go to the grocery store and be held accountable to the people I work for, right? It makes my kids want to go to the grocery store with me just a little bit less. I stop and talk to everybody.
---
Policy Priorities:
More-affordable healthcare
"I ran a health plan for a major Fortune 500 company, so I've also seen firsthand the cost of prescription drugs. It doesn't make any sense to me why drug companies continue to pass on that cost at the rate they do to consumers."
Infrastructure investment
"How can we put together a package that can actually pass and get some of our tax dollars back to the Second Congressional District—to improve our highways, roads, and bridges, and expand rural broadband?"
Strengthening career and technical education
"The biggest challenge businesses have in this district is finding the right job skills for people in those jobs. One of our sons is graduating with an advanced manufacturing degree. That's something we've got to come back to in this country."
Campaign finance reform
"The fact that corporations can spend unlimited money on Super PACs, and I don't know who ran ads against me—and [Republicans] can say the same thing—we've got to reform the way campaigns are conducted in this country."
Facebook Comments