Forget comfort zones. Kat Perkins is all about working the discomfort zones—starting with, oh, all of middle school. The rocker chick with an affinity for skulls and nose rings wasn't exactly on-trend in her rural hometown of Scranton, North Dakota, where classmates never strayed far from jeans and cowboy boots. "I got made fun of a lot," says Perkins, 33, who headed for the Twin Cities after she graduated and formed a band called Scarlet Haze. "It was hard. But I wasn't afraid to be myself."
That fearlessness—along with a rich, powerful voice reminiscent of Heart's Ann Wilson—has made the nanny from Edina a darling on NBC's The Voice this season from the minute she walked on-stage in a tank top, jeans, and ropes of silver chains. It is also what got her through her most daunting challenge of the season. No, not battling week after week to stay in the good graces of her team coach, Maroon 5 lead singer Adam Levine. Not even trying to keep her cool while chatting with guest coach Coldplay heartthrob Chris Martin. ("Those eyes, that accent, come on," she says.) The hardest part was having to sing a Kenny Loggins song—in a skirt.
"I thought, Oh my God, this is crazy," says Perkins of the show's decision to glam her up. "I never wear skirts. I was uncomfortable at first. But then I saw the film and was like, 'Wow. I look amazing!'"
Back in Edina, seven of the show's 13 million or so viewers couldn't have agreed more. Stephannie Keller hired Perkins a few years ago to help with her five kids, from her eldest, Benjamin, now 19, to the youngest, Emma, 7, who already knows what she wants to be when she grows up ("A rock star, just like Kat"). Perkins will never forget the look on Emma's father's face when he came home from work one day to find the nanny's pint-size protégé with an armful of her own tattoos. "He said, 'Wait, this is temporary, right?'" recalls Perkins with a laugh. She was never an exact fit for Edina ("The first time I took off my cover-up at the country-club pool and everyone saw my gun tattoos, I could literally hear the gasp," she says), but she has always been just right for the Kellers.
It was Benjamin, an aspiring music producer, who encouraged Perkins (a vet of Tony and Tina's Wedding) to audition for The Voice. Though she loves the look of '80s icons Kim Carnes and Stevie Nicks, she also credits her casual-cool style to the demands of hard-rock gigs: "You can't dress up when you're lugging around drums and heavy equipment."
A record deal in 2009 put Scarlet Haze on the road for a year, at one point opening for Bon Jovi. "But then the money ran out," says Perkins. She found herself in Bozeman, Montana, exhausted, stressed, and broke. "When I had to call my mom to use her credit card to pay for gas to get us to the next venue," she says, "I decided to pull us off the road for good."
And so she found herself in suburban Minneapolis, singing to the kind of audience that, post-show, blows out candles on the birthday cake. She was happy driving carpool, bugging the kids to do homework, and doing occasional gigs with the band (including her beau, guitarist Eric Warner). But after her success on The Voice, she says, she wants to record a solo album. If she makes it big, she says, she'll even wear a skirt on stage. "Because then," she says, "I can pay someone else to carry in the drums.
Kat Perkins' Style Crib Sheet:
Favorite shops:  Heartbreaker. Len Druskin. Fashionology. The Sea Wolf Tattoo Company in south Minneapolis, where I get all my tattoos.
What she can't live without: The studded Corral cowboy boots I wore on the show. I got them in Deadwood, South Dakota. I'm still paying them off.
Confession: I love the color pink. It's my secret inner little girl!
Web Extra: Behind the Scene Photos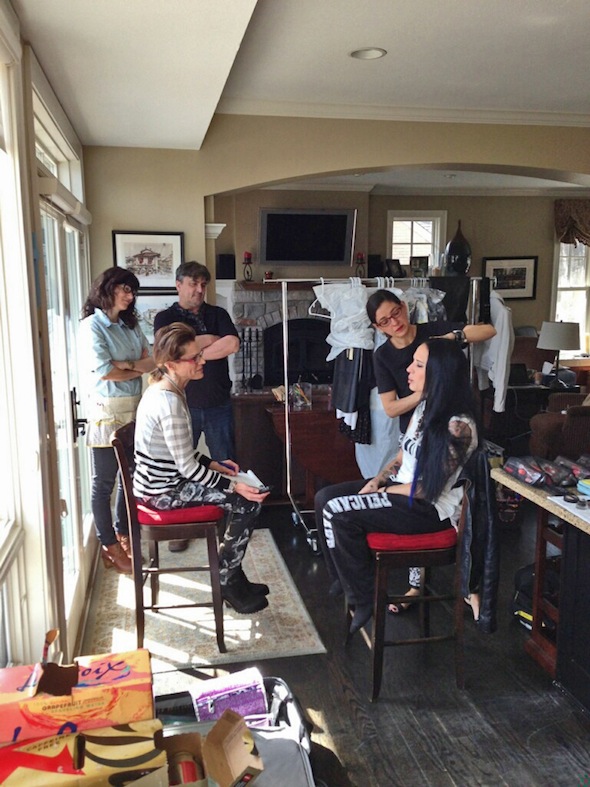 Karen S. Schneider interviews Kat Perkins as Stylist Fatima Olive styles her hair. Photo by Rob Johnson.
Behind the scenes from Kat Perkins' photo shoot. Photo by Rob Johnson