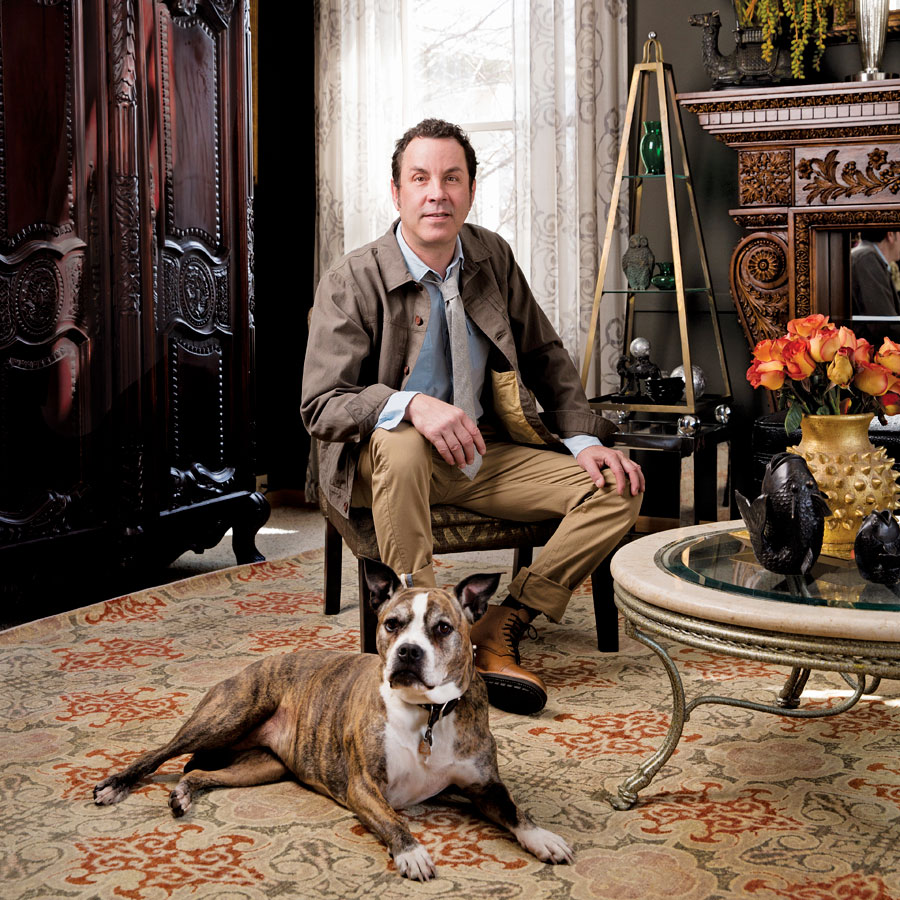 It's patio season—and for Richard Anderson, that means it's busy season. After applying bronze spray paint to a row of oversize planters along Seven Sushi's sidewalk patio ("it gives them an updated look and covers imperfections," he explains), he gets to work adding fresh soil to terra-cotta pots, planting flowers, and arranging vines on the restaurant's rooftop deck.
"For someone with a touch of OCD, I have to have that perfect mix of imperfect in my florals—it's much more European," he says as he tweaks a larger-than-life floral arrangement. "I don't do cookie-cutter anything."
The stylist's signature style, which he dubs "disheveled bohemian luxe," is a trademark of his seasonal décor, whether he's displaying Victorian-inspired holiday decor at Northeast Social or transforming a rusty watering can into a shabby-chic flower vase at Filson's North Loop storefront.

Norman Russell shirt, $188, Closed pants, $239 pants, Rod & Gunn belt, $95, and Grenson boots, $470, all at Martin Patrick 3; vintage vest, Richard's own
Anderson got his start in the decorating businesses nearly 30 years ago after styling a Valentine's-themed window at the now-defunct Sherman's Bakery in Uptown Minneapolis. The display—paper hearts flying out of a mailbox—was such a hit that word of his creativity spread. Anderson quickly lined up a roster of restaurant clients, including Lucia's and the now-closed Loring Café. "Working for [Loring Café owner] Jason McLean is where I really honed my aesthetic," Anderson says. "I call it rock 'n' roll elegance—it's got a certain edge to it."
While living in New York for a few years, Anderson worked under famed event planner (and Duluth native) Robert Isabell, and the pair collaborated on celeb-studded gigs including Madonna's birthday party. For one of the New York Symphony's galas, Anderson reconstructed chandeliers so they came up out of the tables—and realized he could turn even the craziest ideas into reality.
That confidence came in handy for his next gig upon moving back to Minneapolis in the early '90s: working with Prince on a redecoration of Paisley Park, a process that included having a purple chair custom-built in L.A. and flown in on a 48-hour turnaround.

In Richard Anderson's home, gold-toned skulls are artfully displayed amidst gilded angel candleholders and a Virgin Mary statuette.
But Anderson is perhaps best known from his days as a recurring guest on HGTV's Decorating Cents, a home makeover-on-a-budget show hosted by Joan Steffend. He was such a natural that the first day they started shooting, the camera guy asked him, "Are you sure you've never done this before?"
At the age of 4, Anderson remembers having decorated an entire room with toilet paper only to be caught in the act by his father. "He said, 'Richard, what are you doing?' And I said, 'Daddy, I'm decorating!' I wish there was a picture of me proudly standing in front of my work, but there was probably a scolding instead."
Anderson's south Minneapolis home is decorated with an eclectic collection of old world–inspired decor and vintage finds. Gold-toned skulls are artfully displayed amidst gilded angel candleholders and a Virgin Mary statuette. A few contemporary items—a crisp pair of patterned pillows and airy curtains—help keep the room looking modern.
Anderson's personal style is equally eclectic. "I dress the way I decorate a room. My shoes are the throw pillows," he says. "It's luxe, it's mismatched—I'll throw on a fur with cargo pants, or a Victorian jacket with Dolce & Gabbana slacks, whatever! Anything goes."

Anderson's work outside of Seven
---
Richard Anderson's Style Crib Sheet
Go-to shopping destinations
Army surplus store Jump Wings Heritage and Rewind Vintage are two of his Twin Cities favorites, "but mostly I just throw things together I find in my closet."
Favorite fashion finds
A pair of John Galliano newspaper-print men's pants from his "hobo couture" collection from 2000; a 1980s Jean Paul Gaultier pinstripe skirt-pant; a '90s-era Patricia Field floor-length plaid kilt; and a multi-colored fur jacket by local designer Emma Berg
Home goods on a budget
Hunt and Gather Antiques, HomeGoods and Pier1 Imports for accessories, and Gertens and Bachman's for plants

anderson's landscaping at the loring pasta bar
Facebook Comments