There are two takeaways when you hear the newly married Emma Johnson talk about how her relationship with her husband Sam progressed. The first is that, in the words of her friend, their almost-four-year love story went along at "glacial speed." (They were quietly interested in each other while being good friends for 2.5 years before he asked her out.) The second is that, despite the speed, the Johnsons were willing to follow God's path for them—even if their wedding was cancelled because of the coronavirus. 
Emma and Sam first met in 2013 when Emma was scoping out Sam's brother for one of her best friends. While her friend and Sam's brother ended up marrying in 2015, it wasn't until 2016 when Emma's and Sam's worlds began to collide. That year, one day after Emma wrote in her prayer journal that she wished for someone special, Sam transferred from North Dakota State University to pursue architecture at the University of Minnesota. Exactly a month after she prayed for God to teach her contentment with being single, whether it was for "one month or one year or forever," their friendship began with a get-together with a mutual friend that lasted seven hours. Two years later, she asked God for Sam to show her that he was interested in something more. The next day, he called her on the phone for the first time.
For Sam, the progress looked different: "I don't think I had a specific moment where I knew Emma was the person I wanted to spend the rest of my life with. I generally don't experience life in 'aha' moments," he says. "I had the opportunity to see Emma in many different contexts before we started dating and learn about her strong character and faith. … Eventually, I asked her to marry because she was my best friend." 
Exactly 11 months after they started dating, Sam proposed where they ended their first date: St. Paul's Union Depot.
In four months, they planned a spring wedding with purple and gray colors, sentimental table centerpieces (the framed numbers corresponded with dates in their relationship), and a meal including pulled pork sandwiches, brownies, and an ice cream sundae bar. March 13 rolled around, and President Trump had declared a national emergency. Sam still had his bachelor party, and Emma still attended her bridal shower; everyone told them not to worry too much. Their wedding was the next week.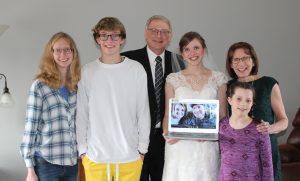 However, even as they were buying napkins and finishing up the final touches over the weekend, by Sunday night groups had to be 50 people or smaller. The large wedding was cancelled, but they were still thinking about having the wedding party and close family attend. On March 16, President Trump said that groups should be 10 or less, and Emma and Sam made the difficult decision to tell their siblings not to come. Between their large families and out-of-town traveling, it wasn't practical.
"I've never been the type of girl who had her dream wedding planned out, thankfully. I'm very glad. It was providential on God's oversight; otherwise I would have been very crushed," Emma says. "It was obviously pretty heart wrenching at first, but then it started to be more okay because, well, we started to realize this wasn't just a little blimp in the radar. I was like, 'Are you serious, the one week of the year they're going to have to do this?' but then we realized it wasn't just for a weekend."
While the two are tentatively planning to host their original wedding later this year (and another honeymoon in Duluth when everything's open again), on March 21 the two were married. Everyone was dressed in their wedding day clothes—Emma was in a lace-covered white sheath dress—but instead of standing in front of 300 of their friends and family, with a bridal party of 19, they were in their pastor's office with their parents, their pastor, and their pastor's wife. 
"We didn't have a wedding, but we still got married and I couldn't be happier," Emma says. "It was really chill and made marriage the focus instead of the wedding. Especially since Sam and I haven't lived together and we were saving our first kiss for the wedding day, we got to enjoy each other and marriage without all the trappings."
Facebook Comments