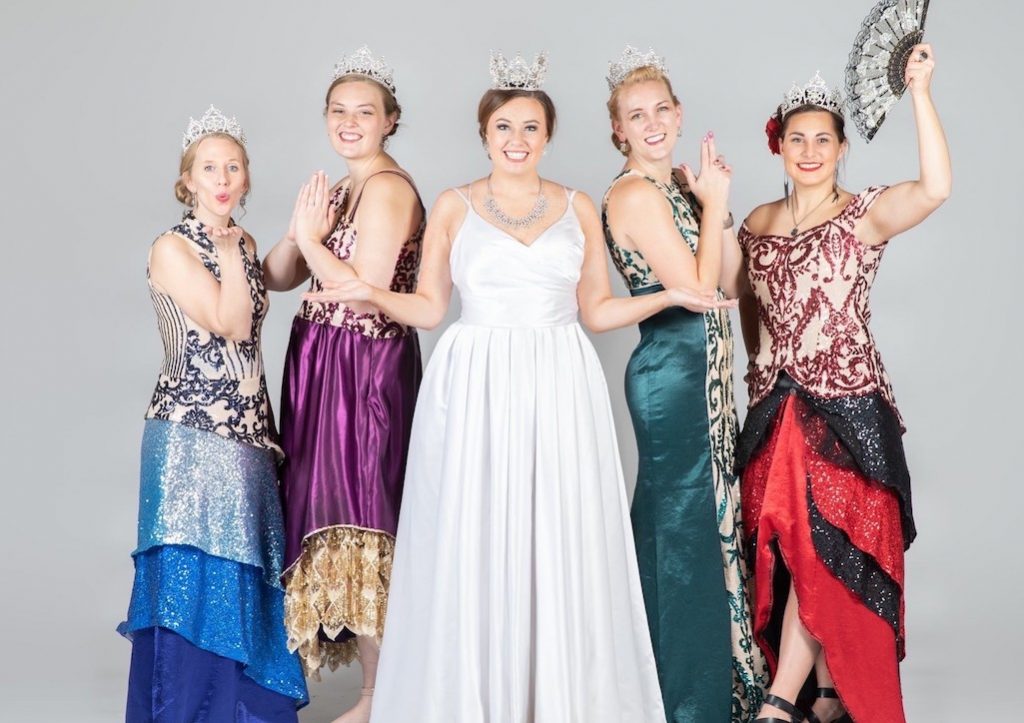 Since 1937, the full St. Paul Winter Carnival court has presided over our capital city, bringing winter cheer and annually duking it out with the red-suited Vulcans Rex, the god of fire, and his krewe. Surrounded by royal guards in blue and the saucy Klondike Kate, the four pairs of princes and princesses and our king and queen make between 200 and 300 appearances at community events, outreach opportunities, and volunteering events throughout the year, with a purported 100 of them during Winter Carnival alone. 
So how do they get to each event looking picture perfect? Their secret fairy godmothers: the wardrobe committee of the Ambassadors of the St. Paul Winter Carnival (the nonprofit supporting the festival). To find out how it all works, we chatted with Elizabeth Fleming, the 2012 West Wind Princess and one of two wardrobe coordinators this year. Fleming is at the end of her three-year term, so she has been training in Lyz Carlson, the 2014 North Wind Princess, to take the reigns next year. (Note: You do not have to have been part of the Winter Carnival to be on the board—you just have to be passionate about it!) Get the scoop before Winter Carnival starts on January 23, and meet the new royalty after their coronation on January 24.
The Wardrobe
"Typically there are three evening dresses, four cocktail dresses, a sundress, a business dress, four or five blouses in different colors, a cardigan, a couple sets of jewelry, accessories, purses, a fur coat, ear muffs, and scarf [per woman]," Fleming says. The catch? She and Carlson purchased these items in late July so that, come coronation time, the new royalty would have everything they could possibly need.
"We buy three of every size in every color [needed for the four winds and the queen], so if we have a blue dress, we have three size 2s, three 6s, three 8s all the way up, and then one of each size in white. In the end, in Lyz and my houses, we have probably 600-700 articles of clothing. …There have been some dresses purchased that Lyz and I have been back two times already to have them returned, and then repurchased.
"In the past few years, we've been gearing more toward our wind colors—our royal blue and purple and green and red [as opposed to having the queen in white and the princesses all wearing one color]. There's no rule to do that, but the ladies feel like they are more in touch with their characters," Fleming says. After Winter Carnival, the wardrobe committee spends the year assigning which outfits to wear to which event, right down to which wrist bracelets should be worn on. 
The Parade Costume
While the royal ladies wear a variety of outfits, most people recognize them in their parade outfits that personify the Winter Carnival legend. "When parade season comes, each kind of has her own costume that is custom made in that they have a lot more say in what that looks like," Fleming says, adding that they can choose their favorite bodice and skirt styles.
This year, the four women still pay homage to each character—Middle Eastern fringe on the East Wind princess's skirt, a large Spanish rose in the South Wind princess's hair, for instance—but the outfits seem more coordinated than they have sometimes in years past. It helps that the fabric was chosen together ahead of time, Fleming says.  
"Some years [the Past Princess Association and Former Queens] don't purchase the fabric ahead of time, and so during my year in 2012, ours weren't coordinated much at all. … There was a brooch that the previous West Wind picked out for me as a gift, and I said I wanted to incorporate my predecessor into my costume somehow. [The designer] built my entire costume around that one brooch to show respect to the people before me." 
Royal Changes
Fleming says, "I am a type 1 diabetic, so when I was in Winter Carnival 10 years ago, no one really asked what would be comfortable. That's something new in the last three years: We put on the application and asked the candidates, are there things you cannot wear? If they need to be carrying an inhaler, is the purse big enough? Questions like that. 
"We're trying to make it more inclusive … We're making a lot of changes in how we address different cultural things, like tattoos, even. Previously people would have to cover their tattoos, but they don't have to now if it's not offensive. … We don't want people to think they can't be a part of this because of clothing."
This interview has been edited for length, style, and clarity.
Facebook Comments