Photos of iconic figures line the walls at LUSH, a modern gay bar in St. Anthony East, so it's only fitting that it would host DesignICON 2, a fashion show where the designers are asked to find inspiration in an icon.
This year (DesignICON's second), the choices ranged from designer Oscar de la Renta to director Guillermo del Toro, from fictional teen-turned-popstar Lizzie McGuire to present-day real-life musical legend Rihanna, and more.
"It's important to me because I think that there are so many talented fashion designers here in the Twin Cities that don't get a lot of recognition in the craft and the artistry that they do," Quinn Villagomez, the KFAI host and DesignICON's founder and emcee, says. "My mission is to make sure that these designers get an opportunity to do something exciting and something fun … just to kind of live their inner youth, and channel an icon that they grew up with, and bring them to life through fashion."
During the final hour of the show, straining to hear the five judges each asking the 18 designers a question grew a little tiring, but it was well worth it for the fashion. And luckily, the event's runtime allowed plenty of time to try out the themed drinks of the night. (The Social Juiciest, a non-alcoholic combination of ginger ale and mango purée, was downright life-changing.)
This year, Villagomez added an Audience Choice award. In future years, Villagomez said that she wants to add a judge showcase and a mentor to be like the Tim Gunn of DesignICON. She also wants the show to expand and become a Twin Cities staple.
Villagomez was happy with this year's show as it was, though. "I was really proud of there not being one empty seat, that made my day," she says.
The Winner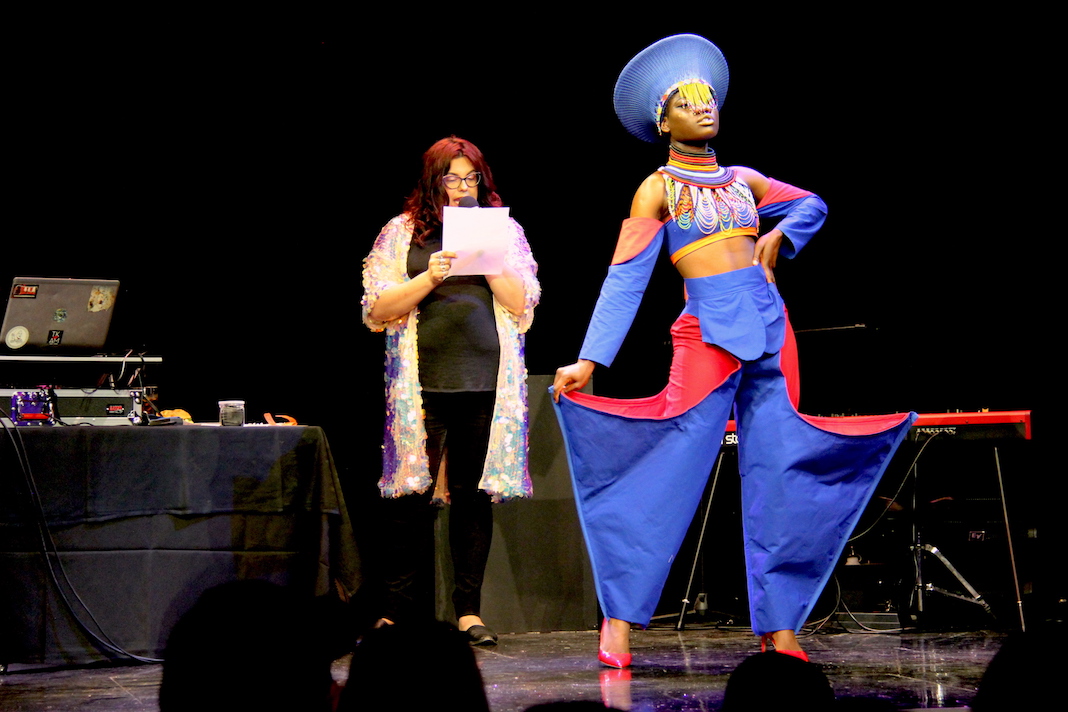 Victor Molubah Farmah
Icon: Brenda Fassie
Model: Duchess Bijoux
The icon that inspired this look, Brenda Fassie, was a South African, anti-apartheid, Afro-pop singer. "She was a controversial, non-conformist force to be reckoned with," Farmah says. "She used her platform and music to bring awareness to the mistreatment and injustice of Blacks in her country."
Daring shapes, daring colors, daring accessories. You've heard of statement jewelry, for example, but everything in this design is a statement.
"Back then during the apartheid time, police brutality was very bad. I used that police color scheme to empower because that feels like something that she would have done to cause controversy," Farmah says.
Farmah combined traditional elements like the Zulu hat that his mother wore and the South African and Kenyan Araba necklace with innovative clothes, tying them together with similar emphasis on geometric shapes and bright colors.
"As I make a design, I make sure it looks exactly like I envisioned. So I was very proud of making that structure stick out since that was basically the fundamental part that I really wanted to showcase a lot in the design," Farmah says. "But I also do like that I was able to bring forth the South African culture in the design, and have my model represent South Africa as a whole, and Brenda Fassie."
The Runner-Ups
Natalie Barclay
Icon: Ariana Grande
Model: Lianna Regenold
Awarded: Second Place
If the background were changed to the set of Jimmy Fallon, say, Regenold could have been easily mistaken for the icon that inspired Barclay's design. Ariana Grande was immediately and unmistakably identifiable as the icon, the design true to her style to the point of playing it safe relative to the competition, but it worked well.
We last covered Barclay's work when her designs were included in a Fashion Meets Poetry show.
Kendall Ray
Icon: Virgil Abloh
Model: Toneh Gaypia
Awarded: Third Place
Ray managed to translate the more masculine designs of Virgil Abloh, perhaps best known for his design collaborations with Louis Vuitton and his brand Off-White, into the feminine beautifully in his design, a short denim patchwork dress with a long, elegant train made mostly out of recycled designs from Ray's old collections. When Gaypia walked the DesignICON 2 runway a second time with Ray at her side, they both did so with a fist raised powerfully in the air. Chills.
Gay Hacker
Icon: Tina Turner
Model: Mari McCuiston
Awarded: Audience Choice
Short, flashy, flattering, and featuring a little fringe, this dress is one that would make Tina Turner envious. Not only did the design suit its icon well, but McCuiston captured her personality and beaming smile well enough that it seemed she would start singing any second.
The Snubbed
This isn't to say that the winners didn't deserve their awards, but all the designers and their models put a great deal of effort into the show. Their efforts deserve recognition, too.
Valerie Bolden (Val'Dess)
Icon: Mae West
Model: Jaimie Wolff
This slinky black mesh gown conveyed well Mae West's allure, the fur and glittering accessories her class. Wolff was as much acting as she was modeling, wandering the DesignICON 2 stage with someone draping fur over her shoulders and helping her with her makeup while she maintained a dramatic poise perfect for the entertainment icon. If there were an award for hair and makeup, too, this authentic and striking look surely would have won.
Monica Nguyen
Icon: The World
Model: Sarai Lewis
The world inspired the appearance of Nguyen's design but also its construction. Nguyen created the design from mostly recycled materials—the tentacles are garbage bags, the headpiece is a plastic bottle, parts of plastic bottles cover the tentacles and gloves—embodying the icon in a way that made a fashion statement and a political one.
Emily Laurich
Icon: YUNGBLUD
Model: Seth Macbeth Latherow
Latherow ran around with such speed that it was difficult to get a good look at the design. It wasn't difficult to see that the inspiration had come from YUNGLBUD, though, who is known for energetic performances, nor was it surprising to hear Laurich explain that the design was built to allow such wild movements. The look itself was as fun as it was functional, and the designer's coordinated look was, too.
We last covered Laurich when her designs when they were featured in the University of Minnesota's College of Design's 50th annual Apparel Design Fashion show. Wren Tilbury also had designs in both shows, with Josh Ramsay as her icon for DesignICON 2.
Mason Paul Persons
Icon: Fairy Godmother from Cinderella
Model: Zeam Porter
Disney's original fairy godmother wears a rather unflattering blue cloak and its massive pink bow. The 1997 live action remake, which features Whitney Houston as the fairy godmother, makes her outfit so resplendently gold that she could steal the show at the ball, too. At DesignICON 2, floral pants and a matching floral vest over a huge flowing shirt brought about a fairy godmother who was unabashedly grandmotherly, sassy, and practical all at once. Porter bibbidi-boppidi-booed across the stage and through the audience with a fitting bubbliness and a cloud of glitter following them that made the design feel magical.
Facebook Comments