It isn't every day that you get an opportunity to present your successful business in front of five business icons on national television, but that's exactly what Scott and Gina Davis did with their apparel business, Dog Threads. Better yet, they accepted a $250,000 deal with shark Mark Cuban. That's a pretty good Saturday if you ask us.
We sat down with Gina in her Long Lake office to learn more about Dog Threads, the Davis' apparel line, and all things Shark Tank. Here's what we learned.
An Apparel Line for Dogs
Dog Threads, an apparel line for dogs and humans, was born in 2014 after Gina unsuccessfully scoured pet stores looking for dog clothes to compliment her four-legged best friend Thomas' vibrant personality. "Every store I went in it was really cheap and tacky clothing, and we thought to ourselves, 'I wouldn't wear that, so why would we dress Thomas in that?'" Gina says. 
Thomas was a Pomeranian poodle, also known as pomapoo, who acted more like a person than a canine. "He often slept with his head on the pillow, tucked into the sheets next to me and would sleep in later than us like a teenager," Gina says. "He wanted to wear clothing, and he knew when we were matching that we were going somewhere special. Thomas also just had a face unlike any other pup I knew and had so many expressions." 
Scott encouraged Gina, who was a women's apparel designer at the time, to make Thomas a shirt on her own. So, she did. Thomas' first shirt was a button-down classic Hawaiian pattern that turned heads everywhere he went. "We started making him outfits and every time we'd dress him in it, people would say, 'Where did you get that? Where can I find one for my dog?'" What started as a side business with 25 shirts soon grew to become Gina's full-time job three years later.
Thomas became the face of the company and, as you can imagine, an eager model any time a new print launched. Unfortunately, Thomas passed away last winter, but his legacy lives on through Dog Threads. "He's living on through each dog that wears his designs," Gina says.
Gina's father, Scott Landes, is proud to see his daughter's adaptability in the business industry. "One of the amazing things about Gina's accomplishment is her ability to keep changing her business model until she found the right formula," Landes says. "Moving from designing her own line of women's clothes, then moving to an online boutique, while working full time, to dog clothing, to dog clothes plus matching people clothing seamlessly, was amazing. Many entrepreneurs can't see the need to change and end up failing while they stay focused on their original plan. Gina had the vision to keep changing."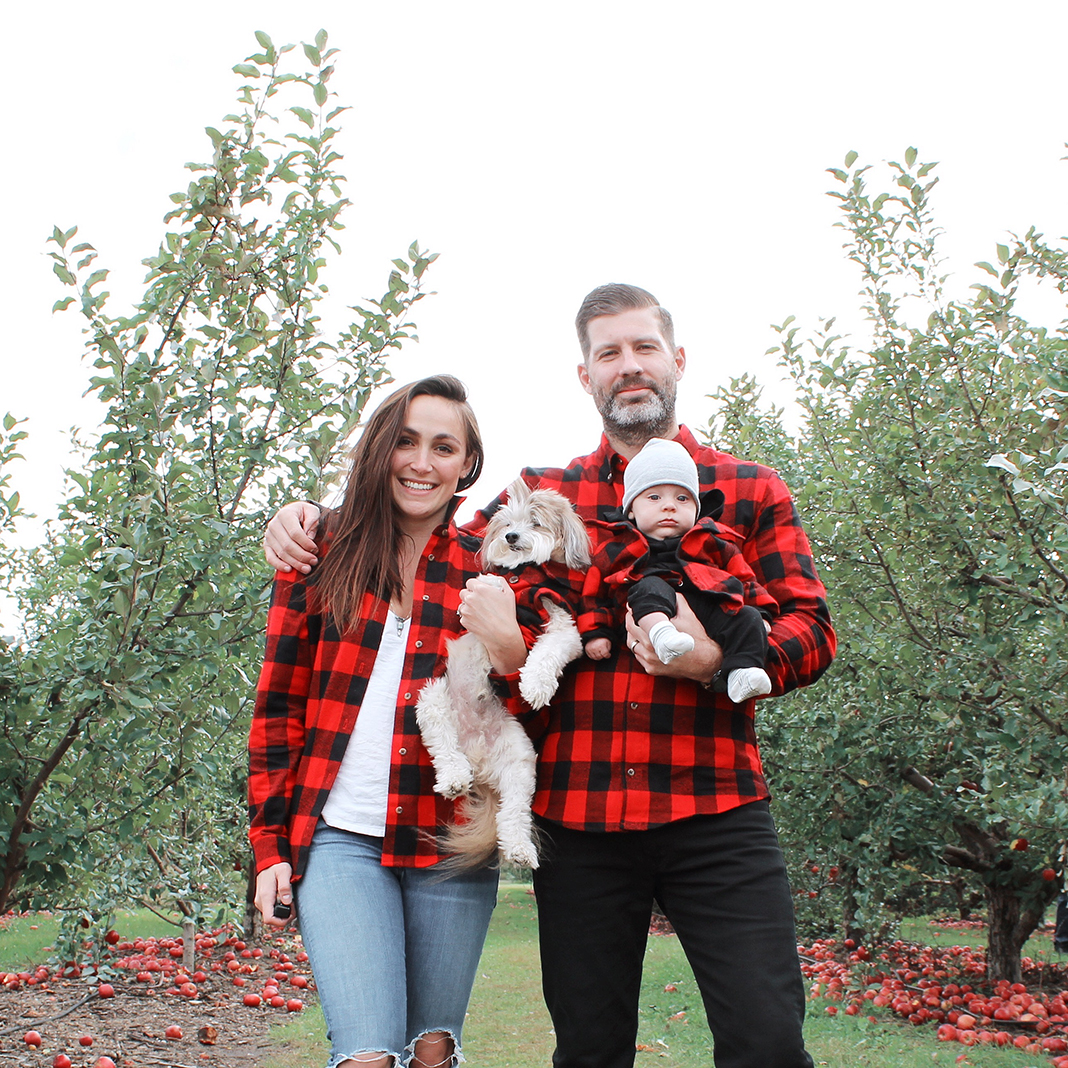 Matchy-Matchy
Soon, Scott and Gina wanted a line of Dog Thread shirts of their own. "It was a mixture of us getting envious of Thomas' growing wardrobe and the fact that we thought it would be so fun to match him," she says. "We saw a trend in the marketplace for matching outfits, but no one was doing it for dogs and owner."
They launched a limited quantity of matching shirts, uncertain if other people wanted to match their dogs. It sold out immediately.
Since the demand was there, the couple looked into expanding their business to support dog shirts and unisex shirts. Now, the company offers dog shirts, men's shirts, women's shirts, kid's shirts, and bandanas. In fact, approximately 80% of sales come from the matching sets of shirts. Best of all, the human shirts are so high quality that many people wear them as part of their everyday wardrobe whether their pooch is with them or not. Dog Threads' current line includes button-down plaid shirts, Hawaiian shirts, T-shirts, sweaters, and silk bandanas.
Using profits they've made thus far, Scott and Gina were able to hire a full-time staff member and finally got an office space in Long Lake. Prior to moving into the new office this past July, the Davises were running Dog Threads out of their Bloomington home.
Your Purchase Helps an Animal in Need
If you thought Dog Threads was just a fun apparel line, think again. Since its inception, Scott and Gina have donated a portion of every sale to various nonprofit animal rescues. Past partners include Underdog Rescue, the Animal Humane Society, Secondhand Hounds, Muddy Paws Rescue, Minnesota Basset Rescue, Lange Foundation, and One Tail at a Time.
Becky Landes, Gina's mother, is one of the couple's biggest cheerleaders and offers hands-on help when needed. "Gina and Scott have this synergy together that works really well," she says. "So, watching this start from a little dog shirt to seeing what they've done creatively to get here, I am not super surprised. I felt it was only a matter of time."
The Journey to Shark Tank
After years of family and friends encouraging the Davises to apply for Shark Tank, a show they watch every week, Gina decided to go for it. In January, they recorded a short video and completed the application, which only took about 10 minutes. A few weeks later, they received a call from a casting director, who wanted to know more about their company. From February to June, the couple completed various stages of the application process until they were accepted to present to the sharks in Los Angeles in June.
Having watched the show religiously for years, Scott and Gina felt more comfortable knowing what each shark's personality was and their tendencies during the show. Even so, they were nervous (really, anyone would be).
To prepare, the Davises did a lot of research, wrote down their pitch, understood who would address certain topics regarding their business, who would negotiate the deal, then practiced, practiced, practiced. They thought, 'even if we don't get a deal, at least we know our presentation will be good.'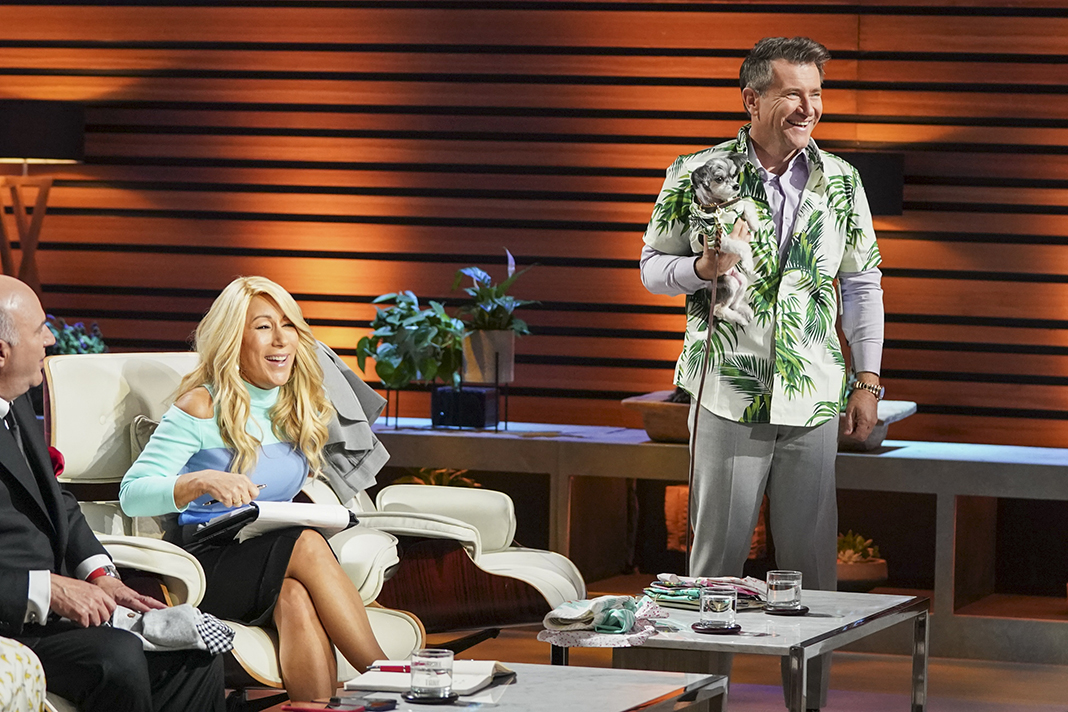 Dog Threads Presents on Shark Tank
In June, Scott and Gina presented their business to Cuban, Robert Herjavec, Lori Greiner, Daymond John, and Kevin O'Leary. The couple was seeking a $250,000 investment for 17% equity in the company. After a lively presentation consisting of Herjavec dressed in one of the matching shirts and a Great Dane that didn't like the spotlight, Scott and Gina had landed a deal with Cuban.
"Mark was our dream shark because he is experienced in ecommerce business and because of his connections with licensing opportunities in the sports arena," Gina says. "We also have always connected with his advice most when it comes to the show."
At first, Cuban offered them the $250,000 for 30% equity. Scott quickly countered his offer with a deal for 25% equity because the young couple wants to ensure their family's future—also noting they were missing their firstborn son's first birthday to be on the show. (Don't worry, they threw little Ziggy a birthday party the following week.) Feeling guilty and softened by their story, Cuban agreed.
"This is so exciting for their business," Becky says. "The investment will help them to grow the business in ways they need to. They've been very mindful and intentional about how they have built this business, starting it with only $500 and having zero debt. This couldn't be a better time, and I believe they'll make the best and most beneficial choices with the investment and make Mr. Cuban proud."
The Davis' business pitch aired on Shark Tank Nov. 10. If you missed it, click here to watch.
What's Next for Dog Threads?
Five months have passed since Scott and Gina accepted Cuban's investment, but the deal is still in the process of closing. "It takes a long time for due diligence," Gina says. When the Davises earn the investment, they plan to better their margins by manufacturing more products at a time. Not only that, but the spring/summer line will feature original prints exclusive to Dog Threads.
Of course, the national attention resulted in more traffic to their website and more orders to fulfill. Fortunately, the Davises had a feeling their pitch would air, so they started preparing the business to take on the influx of traffic ahead of time. "It's been really good for business," Gina says. "A little crazy, but really good."
For more information, visit shopdogthreads.com or follow the Dog Threads Instagram account.
Interested in more Minnesotan charitable companies making great products? Click here.
Facebook Comments