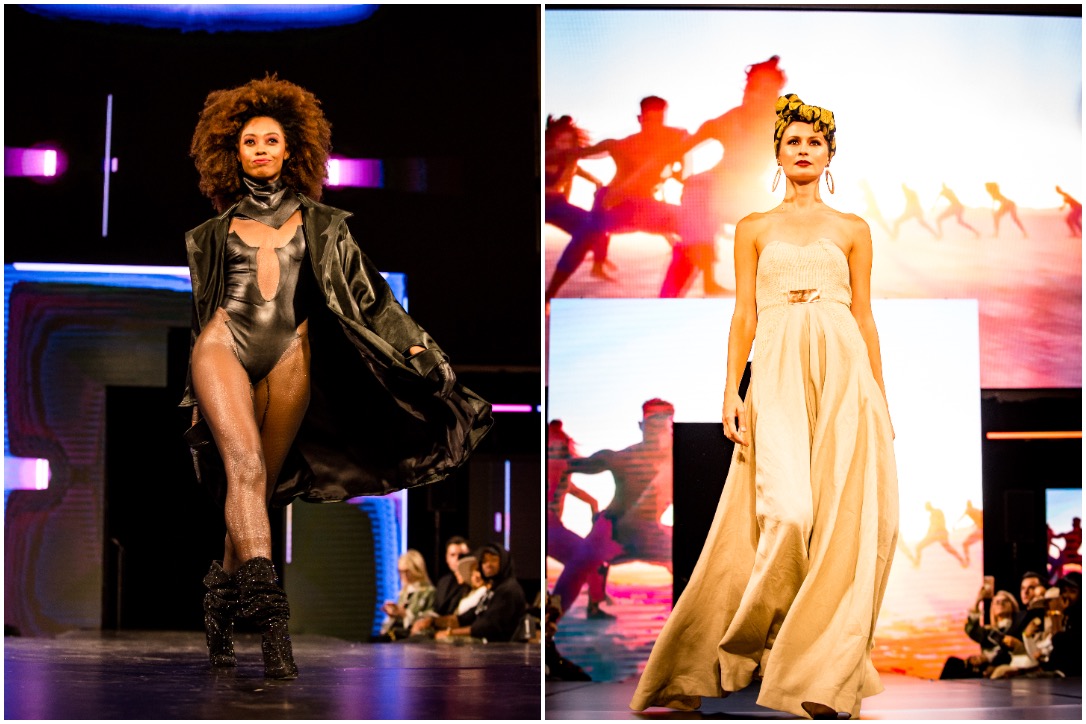 From stylish streetwear to edgy-yet-elegant evening attire, the 2019 Curated Style: Straight from the Runway fashion show featured looks to suit everyone's tastes. The star-studded event on October 4 showcased new collections from eight Project Runway alums: Korto Momolu, Dexter Simmons, Sean Kelly, Seth Aaron Henderson, Justin LeBlanc, Garo Sparo, Christopher Straub, and Margarita Álvarez. Drawing inspiration from their ancestry and childhoods, to their travels and hobbies, and more, the designers displayed the boldest and best looks from their collections. Here, we take a closer look at some of the most standout trends exhibited during the evening.
Decorative Details
Full of feathers, sequins, sparkles, and animal prints, Margarita Álvarez's "1986" collection was all fun and flirtation. Based off the things she considered cute and feminine growing up, the flashy colors and scene-stealing styles were a testament to not taking it too seriously when it comes to the things you like—especially fashion.
East Asian Influences
Not just one but two designers' new collections were inspired by Japanese streetwear, which features some of the most exciting and experimental looks around the globe. Seth Aaron Henderson's collection was described as "Classic Americano with heavy Japanese streetwear influences," while Dexter Simmons put a more psychedelic take on the fashion with his "Wavy" collection, which featured embroidery, screen printing, and all kinds of colors and textures meant to cross and blend demographics and genders.
Fluorescent Colors
Neon colors are lighting up the runways this season. As part of the 1980s fashion renaissance, you can expect to see hot pinks, bright yellows, electric blues, and lime greens. Inspired by deep sea bioluminescence, designer Christopher Straub decided to pay homage to this trend by pairing black with vibrant, statement-making hues for a unique, otherworldly effect.
Lots of Layers
While spring 2020 is predicted to have plenty of lovely, light tiered dresses floating down the runways, we got a sneak peek at some similar styles from several designers. Garo Sparo's "Cosmic Mind" collection in particular showcased layered looks that stole the spotlight with their drama and volume, ranging from sexy, sheer paneled jumpsuits to a memorable six-layered tulle ballerina skirt.
Sustainable Materials
With a society gravitating increasingly towards environmentally friendly practices, sustainability is playing a role in fashion, too. Korto Momolu's collection, which was inspired by the recent discovery of her ancestry, featured a mixture of colors and textures that all used sustainable fabrications such as hemp, cork, linen, and jute—materials Momolu described as having a reputation for being unglamorous, and ones that she wanted to use specifically to show off their beauty and versatility.
Facebook Comments