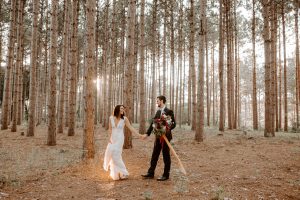 The Beckers love celebrating. They also love photography (Kate Becker has had her photography business for nine years). And interior design. And modern architecture. And Minnesota's great outdoors. 
But, celebrating is definitely at the top of their list. Now, more than ever. The couple that created Northerly, a unique photo camper experience that started in 2016, will be adding a new activity to their repertoire: hosting weddings (and all other events to be celebrated). 
Pinewood, the wedding and event location opening August 31 by the Beckers includes the same concepts as Northerly: providing a one-of-a-kind experience for guests to cherish. The venue is located in Cambridge, Minnesota, a place carefully picked to give people the opportunity to immerse themselves in the outdoors only an hour's drive from the Twin Cities. 
"We wanted to create something super unique that's never been done before. It's really no different than hosting a family gathering. There's that sense of fulfillment of giving people that experience that's priceless," Tony says. 
The Scandinavian-inspired building was designed with the idea of combining an outdoors aesthetic with a modern building that could be used year round. While Tony's background in construction lent itself to the design of Pinewood's A-frame and sleek, black wood tones, Kate's photography background made sure the building had just the right angles and vignette spaces.
Pinewood is a year round venue, so it has both indoor and outdoor spaces available for ceremonies, with guests able to have access to patio spaces as well, with fire pits in the winter. Full vanities, a kitchenette, and a bridal suite are tucked near the changing spaces for weddings. The large panoramic doors and windows provide natural lighting for precious photo opportunities, as do the separate entrances for the bride, groom, and their guests. (The vendors also have a separate entrance within the building.) 
Assistant manager Krysta Corrigan, who is the main point of contact for booking a Pinewood event, affirms that the venue provides an organic and unforgettable experience. As she puts it, "Pinewood is totally unique in the sense that it's a modern, upscale, and fully functioning whether it's a summer or winter event."
Pinewood's first wedding will take place on Aug. 31, and an open house will be held on Sept. 26 for both visitors and booked clients. 
"I truly believe that nothing really like it exists in Minnesota, the design of the building is really unique and offers a lot of opportunities for photos and experiences," Kate says. 
Facebook Comments