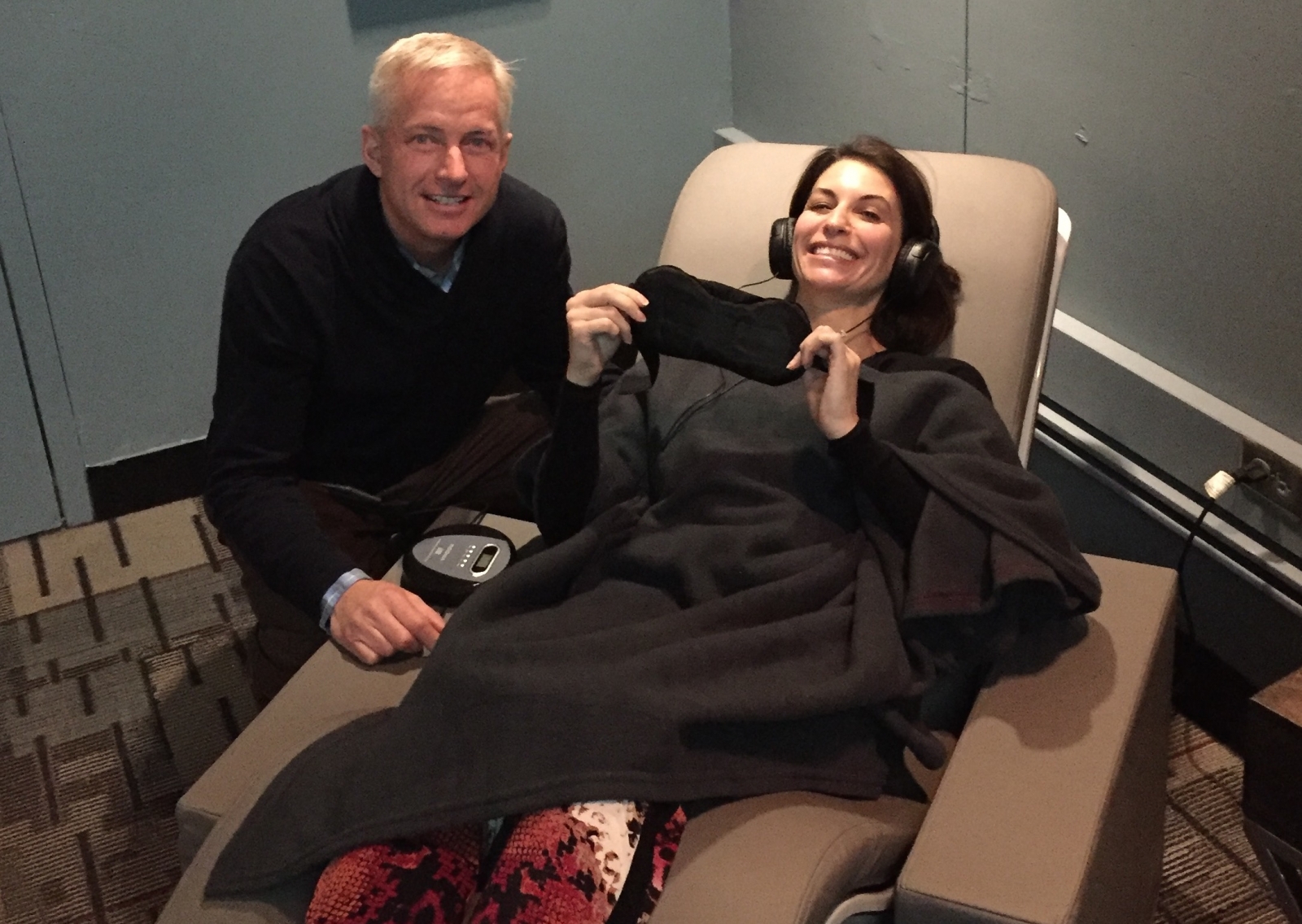 John Harrison with Jordana Green in the Chiroport
I rarely, ok never, write about products or services in this blog, but I had an experience the other day I have to share. You know how when you go on vacation it seems to take days to feel relaxed? On the fourth day of your 4-day vacation you finally feel some semblance of calm and then you're right back to work, kids, cooking etc. I hadn't been on vacation in over a year and handsome husband and I were going to visit my parents in Florida. So you can see where I was a little stressed about my 'vacation' already.
Anyway, we arrived at the airport and I bumped into an old friend, John Harrison. He wasn't a fellow traveler, he was working at The Chiroport. He's a chiropractor. He gives you an adjustment, then you fly off to your vaca, or he works out the kinks from your long flight into MSP. Normally I don't see a chiropractor but John then told me about this chair in the Chiroport that puts you into a meditative state. Ok, now I was intrigued.
I trust John as he is a friend, so he cracked a few spots in my neck and back, then I was off to the chair. I reclined, got a blanket, eye mask, headphones, and I was in heaven. I have no idea what that chair really does but I was enjoying every moment of the classical music mixed with ocean waves dotted with tribal drum beats. It wasn't really a massage chair but it fully relaxes your body, I didn't move a muscle for 20 minutes. At home I try to meditate (I'm terrible at being still) so this was transformative for me. The experience was like having the first four days of vacation in less than half an hour. By the time I got up, I was so chill, and already on vacation.
John has no idea I'm writing this, I get nothing whether you visit him or not, I just wanted to share an amazing experience. Relaxing is a skill and meditation is a practice, I am so grateful to have had some help feeling tranquil.
This week I wish you peace, a calm body and still mind, and it's ok if it comes with a little help from a friend.
Facebook Comments