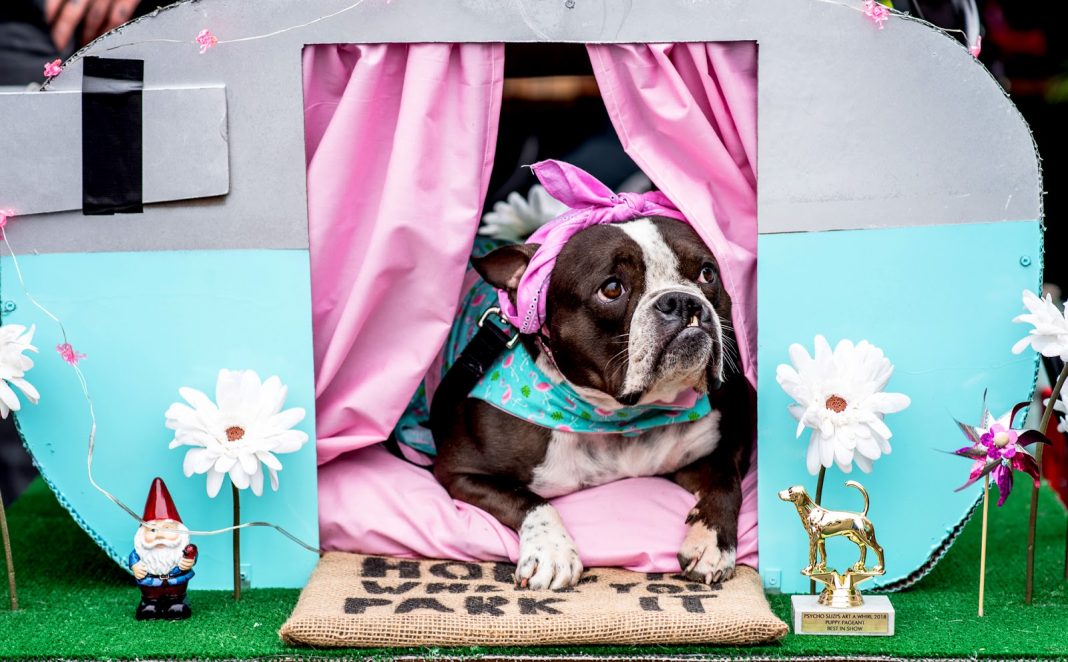 Caught in the One-Act Play
What: Caught
When: May 17-June 2
Where: Guthrie Theater, 818 S. Second St., Minneapolis
Another installment in the Guthrie's Level Nine series—marked by $9 tickets, audience involvement, and, often, an element of social justice: The award-winning Caught, by playwright Christopher Chen, opens on an art exhibition by fictional Chinese artist Lin Bo. Audience members peruse his work, in the role of gallery attendees. Then Bo takes the stage, dishes on dissident art-making in China, and takes on a New York journalist, who joins him onstage with a tactical air of skepticism. The show's aim: to get us questioning everything we're led to believe. Learn more.
Give It an Art-A-Whirl
What: Art-A-Whirl
When: May 17-19
Where: Various locations in northeast Minneapolis
Lofts and studios open in northeast Minneapolis to showcase nearly 800 artists for Art-A-Whirl. They paint, make jewelry, sculpt, throw pots, design clothes, and do all sorts of beyond-categorization creative stuff. Find food trucks, pick up a map, browse some of the best art in Minneapolis, and check out this profile we did of local artist Katayoun Amjadi, who shows at Art-A-Whirl and talks about how she has evolved as an icon-crafting Minneapolis artist in our May/June issue. Learn more.
Viking Lore Revisited
What: The Vikings Begin
When: May 17-October 27
Where: American Swedish Institute, 2600 Park Ave., Minneapolis
Our stereotypes about the Vikings get an update. From Uppsala University, in Sweden, select artifacts that date back to early Viking times—including boat graves, weaponry, jewelry, and traded items—travel the U.S., stopping at the American Swedish Institute through fall. Learn more.
Minne-Haute Couture
What: "The Art of High Style: Minnesota Couture 1880-1914"
When: May 18-August 4
Where: Minneapolis Institute of Art (Mia), 2400 Third Ave. S., Minneapolis
In 1906, St. Paul socialite Greta Spinning Evans wore a pink wool traveling suit on her honeymoon—its silhouette hugging her figure à la a new, hit-making couturier from Paris. Yes, Minnesota has a couture past. And the Minneapolis Institute of Art puts it on display this weekend. Because, amid the state's milling and mining boom of the latter 1800s, train-ferried tycoons demanded garb of the tailored, cosmopolitan persuasion we today associate with luxury brands. See Evans' pink suit and more through the end of summer. Learn more.
Sound and Color
What: Resonance: A Sound Art Marathon
When: Saturday, May 18, noon-10 p.m.
Where: Walker Art Center,
The Walker Art Center has a history of pushing experimental jazz. This Saturday, the contemporary art museum hosts Resonance, a project comprised of international jazz and visual artists who flex the boundary between exhibition and performance. The rain-or-shine event on the Cowles Pavilion in the Minneapolis Sculpture Garden explores sound from inside a '50s automobile, in connection to Malcolm X, via captioned TV shows—and is free. Learn more.
A Bow-wow Luau
What: Art-Thou-Luau (during Art-A-Whirl)
When: Saturday, May 18, beginning at noon
Where: Psycho Suzi's 1900 Marshall St. NE, Minneapolis
"The party every dog waits for all year long," goes the tagline for Psycho Suzi's annual Art-Thou-Luau, a tiki-torch groovy, DJ-all-day patio party for folks coming in from the self-guided art odyssey that is Art-A-Whirl. Accompanying that tagline: a dog (above) looking real '50s domestic, but with a Rosie-the-Riveter wrench-twist. In other words: very Psycho Suzi's. Stop by the hip northeast spot with your "fur baby," rain or shine, for cocktails, a puppy pageant in three categories (talent, fashion, and puppies(!)), and a Doggie Disco Dog Park and Lounge. Comedian Maggie Faris emcees. Learn more.
Open Door Policy
What: Doors Open Minneapolis
When: May 18-19
Where: Various Minneapolis locations
This weekend, the inaugural Doors Open Minneapolis event kicks off, inviting visitors behind the scenes of more than 110 venues across the city. Each tells a story, related to the arts, to business, to education, to innovation, to spirituality—and other facets of Minneapolis' cultural identity. The point is to take stock of where our history has led us. Learn more. 
The Little Prince en Pointe
What: Remembering the Little Prince
When: May 18-19
Where: SteppingStone Theater, 55 Victoria St., St. Paul
The Little Prince, that famous 1943 French novella by aviator Antoine de Saint-Exupéry, has both the cult-classic devotees and the 300-translations-worldwide literary cred. So, no surprise that its post-WWII, magical-realistic reflections on loneliness and humanity have been adapted for film, TV, opera—and ballet, with an original take by the Ballet Co. Laboratory coming to SteppingStone this weekend. The local company frames this 50-dancer version in the context of a workaholic father telling his daughter a story, featuring the classical music of Camille Saint-Saëns. Learn more.
'Cycle Showcase and Social
What: Rockers Spring Social Motorcycle Show
When: Sunday, May 19, noon-5 p.m.
Where: Red Stag Supper Club, 509 First Ave. NE, Minneapolis
Thousands of motorcycle enthusiasts ride up to Red Stag Supper Club for the annual, free-to-the-public spring social hosted by the Ton-Up Motorcycle Club of Minneapolis. Vendors and manufacturers put out for the lifestyle, whether you're a lover of vintage or contemporary bikes, and funds raised go to tools for teens pursuing careers in the motorcycle world. Stay for live entertainment, food, Tecate Brewery specials, and trophies for top bikes per category. Learn more.