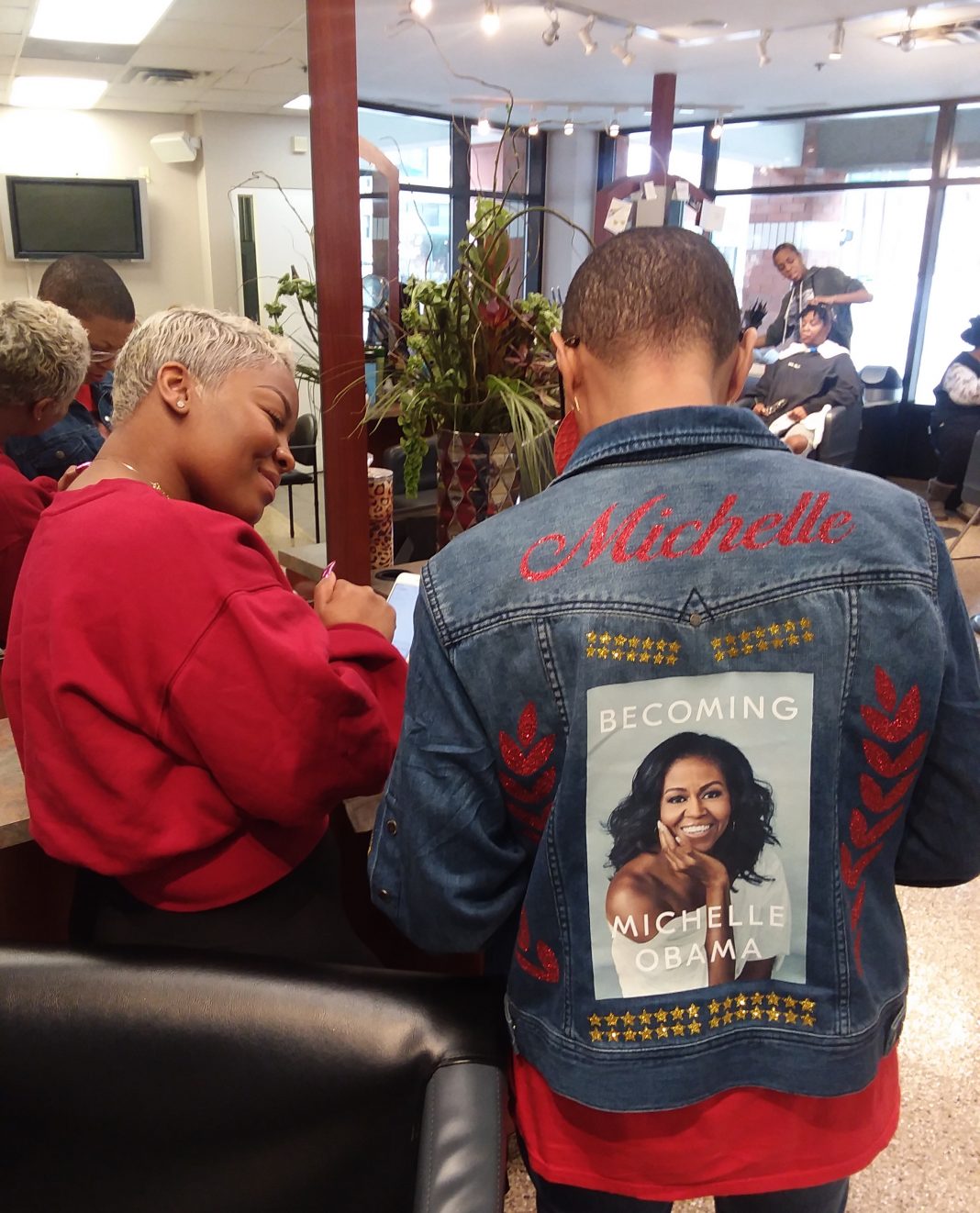 In Sheletta Brundidge's hometown of Houston, Texas, her friends commissioned a mural on the side of a building to welcome Michelle Obama. The former first lady was stopping by on her international book tour, a week and a half before coming to St. Paul.
"I didn't even know there was such a thing, right?" Brundidge reflects, speaking on the morning of Obama's arrival to Minnesota—"Muralists!" She learned fast and started phoning muralists in the Twin Cities. "They were like, 'Mrs. Brundidge, we can't do a mural,'" she recalls. "'It's cold outside. The paint doesn't work like that.'"
Winter 2019, stretching into March, nearly foiled the Cottage Grove resident's one-up over her Southern rivals.
They had already egged her on: Brundidge "wasn't the biggest fan" even though she had her denim uniform ready, bedazzled by her mom and aunt in Houston and fangirlishly emblazoned with an image of the cover of Becoming, Obama's best-selling 2018 memoir. "My husband was like, 'Don't do anything stupid; I'm going out of town, I'll be back on Thursday,'" she says. "He got on that plane, and I started calling."
When the muralists fell through, she tried Image360, a graphics company in Woodbury. "I told [the owner], 'I need a poster—a super-huge poster to wrap the front of my house.'" ASAP, she stressed. Obama would be here in less than a week.
On Friday, the Image360 team delivered a 17-by-7-foot poster of Obama, as depicted on her book cover, plus a message: "Minnesota loves Michelle."
A contractor helped apply it to the Brundidges' garage door on Monday, she says. A couple days later, on March 13, Obama was due to land. (Brundidge and her husband would park on the street until she took off again.)
Now, a month and a half later, on Friday, May 3, that poster goes up for auction at the Northwest Marriot, in Brooklyn Park, from 7:30 to 9:30 a.m. It's part of the "I Am" fundraiser, for the Twin Cities nonprofit Girls in Action, a group that teaches qualities of leadership to African American girls in the metro area.
Whoever bids for it bids for an artifact of local history. Because Brundidge, within that March week, manufactured a small whirlwind. The podcast host and media personality at least out-hustled her Houston friends, attracting international media attention, hatching a minor viral moment, coining the hashtag #minnesotalovesmichelle—and, above all, celebrating Michelle Obama as if the former first lady had christened a new national holiday (which she sort of did—more on that later).
Moreover, Brundidge tapped into a nationwide cultural phenomenon, helping to explain how Obama metamorphosed into a force strong enough to fill Beyoncé-grade arenas and move more copies of her book than any other author in 2018.
"I was like, wouldn't it be awesome if she came by and just signed [the poster]?" Brundidge said back in March. The day before, the poster had had to come down because of rain. "Oh my god"—she mulls over the prospect, decked out in her denim, thinking of Girls in Action—"how much more money would that make for these girls?"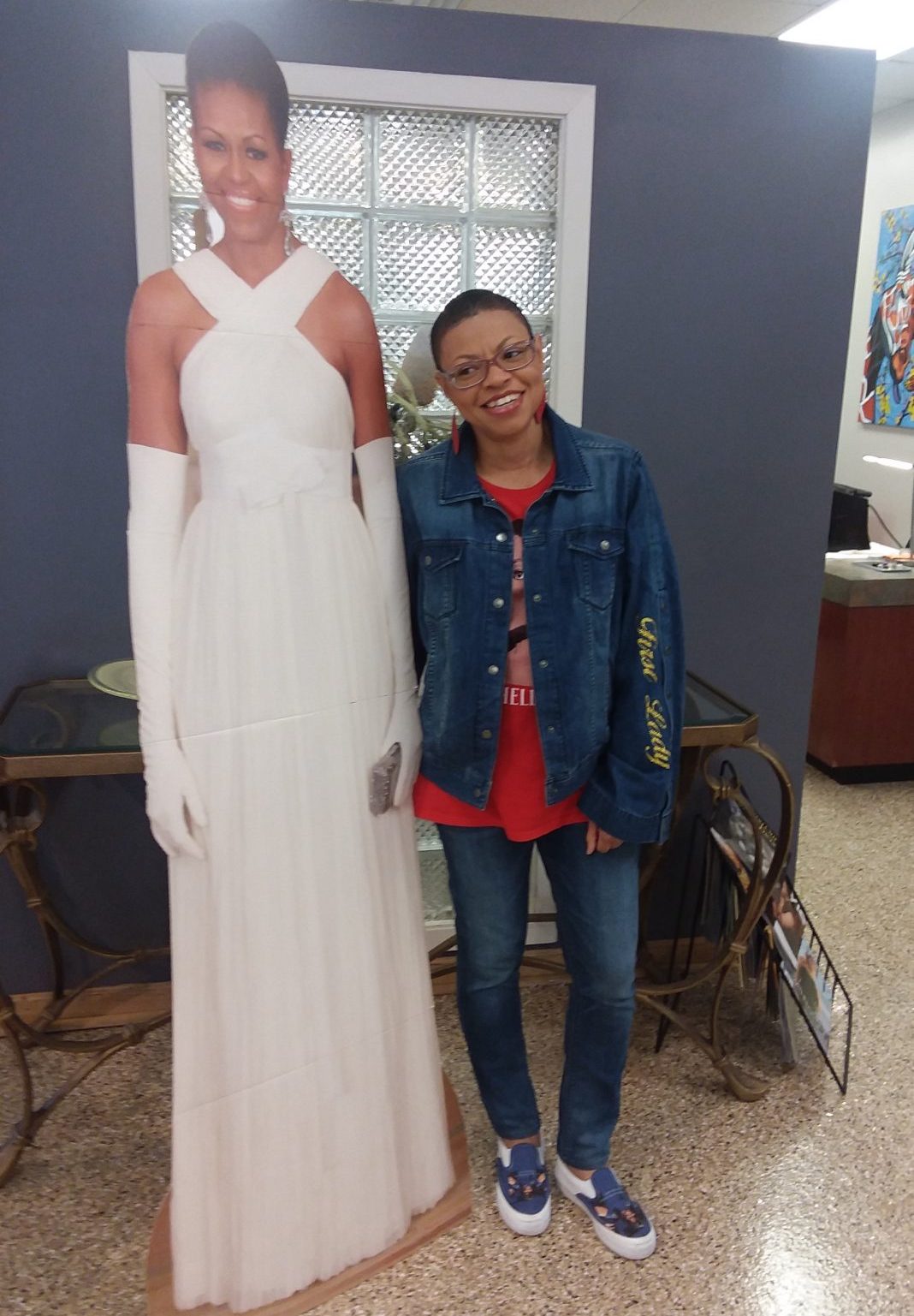 From the Salon to the Xcel
The day starts around 11 a.m.
"You laughing at me? You laughing at me?"
Brundidge steers a 6-foot-tall cardboard cutout of the 44th FLOTUS through the door of V.I.P. Hair & Nails, in downtown Minneapolis.
It's Michelle Obama circa 2011, in the white Tom Ford gown she wore to Buckingham Palace—with an updo, opera gloves, and diamond-chandelier earrings.
"Y'all ain't ready for it," Brundidge says, setting the cutout in the middle of the salon. It stands upright despite a damp morning, one inch taller than the real Obama, nine inches taller than Brundidge—and towering over the few women slouched in salon bibs, laughing. "I really ain't ready for it, girl," a beautician quips, "but how come you didn't get me one?"
In fact, Brundidge did get the cutout (off Amazon) for the women in the salon, who wouldn't get to see the real Obama take the Xcel Energy Center stage later that evening.
Brundidge bounces person to person, a regular, while the letters of "Michelle" shimmer on the back of her jean jacket in bright red cursive. Underneath, Obama smiles, cupping face in hand, ready to dish, hair down.
Brundidge's own hair is to-the-scalp, and she's not here for a mani-pedi, either. Three members of her six-woman book club, destined for the Xcel, will kick off a day of self-love at V.I.P. One arrived from Houston last night—and got to see the master plan.
In the basement of Brundidge's Cottage Grove home, the mother of four had pushed aside the desks that she uses during therapy sessions with her three autistic children. Laid out on the floor: the poster from Image360.
"She had gates up so the kids wouldn't run through the room and walk on it," her friend Fanchon Pendleton says, laughing. "I was like, girl, you are doing so much."
Brundidge's husband had thought of auctioning it off, with the added goal of getting Obama to sign it, to raise its value. As for the beneficiary: Brundidge knew the founder of Girls in Action, and it just made sense.
Dr. Verna Cornelia Price launched Girls in Action in North Minneapolis in 2005. She's also an author known for her TEDx Talk-inspiring book Power of People: Four Kinds of People Who Can Change Your Life.
"[Michelle Obama] teaches our girls that, valuing yourself—it sometimes takes a little time and takes a little work," Price says. "She really taught us that if no one likes you—I mean, we saw that in the White House: people made fun of her, people were rude. But she knew she was important. To herself, to God, to her family. And she persisted. And that persistence piece is really important for our girls."
Girls in Action has 300 young women in its program this year, 90 percent of them girls of color and all from the Minneapolis-St. Paul metro area. The organization goes beyond academic support, leading activities in self-confidence that demonstrate how to wield power positively.
Trying to convince Obama to swing by Cottage Grove, Price tweeted Oprah (a friend of Obama's) and the former first lady herself. "I have sent so many crazy tweets," she laughs, "and I'm not even a tweeter."
Brundidge, on the other hand, is what Price calls "a brilliant PR mind." She has to know social media, as co-host of the podcast Two Haute Mamas, airing on WCCO radio, where the second "haute mama" is her friend Lindy Vincent. Together, they dig into marriage, motherhood, and hot topics—like, recently, the R. Kelly documentary, the college-admissions scandal, and, more personally, how to deal with the racism inherent to a classmate once calling Brundidge's son an "out-of-control monkey."
Before this, in 2006, Brundidge made it to the finals on Nick at Nite's Funniest Mom in America contest. Her blog won a regional Emmy in 2007. This past January, she and Vincent hosted an event rallying black women to join the St. Paul Police Department.
"Listen, I got a great Michelle Obama preview story for you," she wrote me in an email. The BBC covered it, and Swedish media wanted in, she says, although they had to cancel at the last minute. "Watching [Obama] live will be the final chapter of [the book club's] journey together," she wrote.
But the responses she and Price hoped for just weren't coming in.
Until 11:13 a.m. that day.
Brundidge was still chatting with local media at V.I.P. The morning before, she had tweeted about auctioning off the poster. "Thank you for such a warm welcome to Minnesota and for lifting up some of the amazing young women in your community, Sheletta!" Obama tweeted back. "I hope you all have a great time tonight. #IAmBecoming"
WCCO posted the video of Brundidge—elated, fanning herself, tearing up at her smartphone—recorded by a friend at Ike's Food & Cocktails downtown, during "Lunch with the girls!," as described on the itinerary she sent me.
Still glowing from the @MichelleObama #IAmBecoming book talk experience! And when @michele_norris presented Forever FLOTUS with MY question THEN put a pic of my family on the jumbo-tron, I lost it. But when #MichelleObama Tweeted me I totally stroked out! #MinnesotaLovesMichelle pic.twitter.com/VygBJwASmM

— Sheletta Brundidge (@TwoHauteMamas1) March 15, 2019
The Becoming Effect
For scale: Obama booked the 20,000-seat Xcel Energy Center a month before Ariana Grande was scheduled to perform. In 2017, Hillary Clinton's 15-stop What Happened tour skipped the Twin Cities and put up in theaters of a few thousand elsewhere.
Obama didn't visit Cottage Grove. She didn't sign the poster. But, at the Xcel, a photo of it did appear on the big screen. Obama was talking with moderator, National Public Radio journalist and Minnesota native Michele Norris.
"Oh, god," Brundidge recalls Obama saying, "I feel so sorry for your neighbors." Brundidge didn't catch much, though: "I didn't hear shit she said 'cause I was screaming and jumping up and down and clapping," she tells me by email. Including whatever Obama said in response to her Twitter question, "How do you keep your marriage strong and love alive with Barack?"
It felt like the proper amount of enthusiasm. Even with the Xcel's capacity, seats went fast, and Brundidge had lucked out, winning a Twitter lottery to jockey for an early ticket. "I literally had my husband at home with three computers and two laptops and a couple of phones." At 9:03 a.m., he scored—154th in line, tickets $60 each.
Brundidge gifted them to her friends, after buying them copies of the memoir for Christmas. "I could probably pay my mortgage for a couple months if I sold my tickets online," she says. "I would not sell them for the world."
Her ad hoc book club, comprised of old friends and co-workers, convened only for Becoming, via Skype and FaceTime for members in Florida and Texas. Their admiration of Obama converged with a recent, widespread obsession, as the former first lady pivoted her public persona. She was no longer the circa-2011 Michelle Obama, of the cardboard cutout that Brundidge had carried to the salon.
Instead, after the White House, Michelle Obama became a mover and shaker of emotions. She became the Obama who gave the 2016 Democratic National Convention speech about raising daughters and rising "every morning in a house that was built by slaves." Who said, of Facebook executive Sherly Sandberg's trendy "lean in" philosophy for working women, "That shit doesn't work all the time." Who "broke the internet" a few months ago simply by wearing gold thigh-high boots. Who opened up in an autobiography that became the country's best-selling book published last year.
Readers around the world, catching news coverage of Brundidge, reached out. They wanted to know what to expect when Obama crossed the pond.
It put the fanfare into perspective: "I'm a mom who has four children, three of them have special needs, I take care of my elderly father-in-law, and I'm a wife," she says. "I'm very busy in my own house, doing laundry and cleaning toilets…But Michelle has brought us all together.
"And it's not about race, or age, or political party, or religion," she continues. "I'm one of the two African American women in my own book club…It's not even men. My husband is the one who was putting up the banner, and he has his own book. He wishes he could go—but I wouldn't let him, because it's girls' day. Otherwise, he'd be here, too!"
New Shoes
In Becoming, Obama describes growing up on the South Side of Chicago, launching a law career from Princeton and Harvard, handling public scrutiny with Barack—and, always, coming up against doubt.
Brundidge could relate. In 2006, around the time the Obamas came on the scene, she got married. Examining her life, she saw few women after whom to model her fresh commitment.
"A lot of African American girls are from single-parent homes," she explains, "so we know how to be strong women, we know how to be independent women, we know how to take care of ourselves. But many of us don't know how to be a wife. Because we haven't seen wives."
Her mother and stepfather were married for 30 years, but the other women in her life—at her Texas church growing up—seemed to follow a pattern: "go to work every day, raising their families," she says. "Those were women I wanted to be like, you know? Business owners and that kind of thing."
In many ways, she is like those women: "[Brundidge and Vincent are] absolutely incredible," says Charlotte Larson, social content director and online media manager of Two Haute Mamas. "Sheletta works overnights at WCCO so that she can be home at 5 a.m. to take care of her kids. They're both powerful women in their own respect, doing other jobs."
But then, at just the right time, there were the Obamas.
"I mean, think about it," Brundidge says—"how crazy is it to come home and tell your wife, 'I want to be president'? Anybody else would be like, 'Are you kidding me? I'm not gonna go through that drama. Get out of my face.'"
Today, Brundidge says she might be divorced if not for the first lady. "No matter what crazy dream or scheme my husband has," she says, "I support him and encourage him and believe in him."
The other members of Brundidge's book club chime in with takeaways: "[Obama] gives permission for women to make mistakes and keep evolving—that we're not just one thing," Larson says. "She talked about owning your own story. You have a voice. Tell it and be proud of it, whatever it is," Pendleton adds.
Back at the salon, Brundidge picks up the cardboard cutout, to return to her van. In 2011, this was Obama during her second Buckingham Palace visit. In her white Tom Ford gown, she must have remembered the brouhaha from 2009, when she side-hugged the Queen. People who believe that the Queen should not be touched were outraged. It blew over. But in Becoming, Obama doesn't step back. "Forget that she sometimes wore a diamond crown and that I'd flown to London on a presidential jet," she writes; "we were two tired ladies oppressed by our shoes."
I take a few pictures before leaving, and Brundidge points to her own shoes. There's Michelle Obama again, printed on her toms, this time in the blue dress circa her 2016 DNC speech. Plus, a quote, about living up to role-model expectations for youth nationwide: "When they go low," Obama had said, "we go high."
Facebook Comments