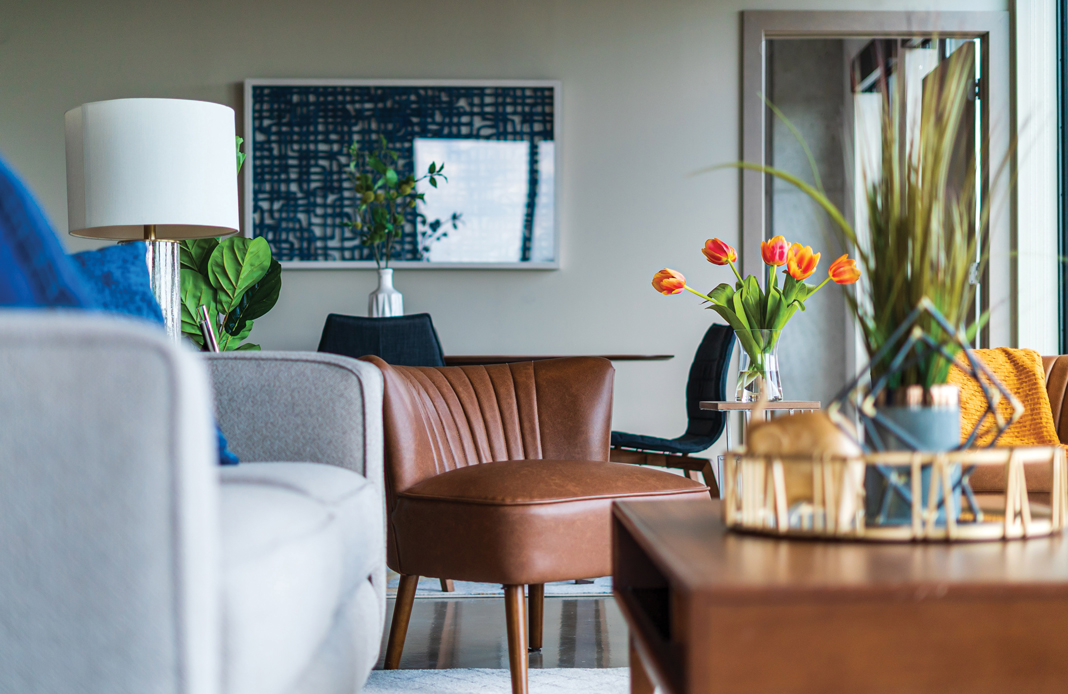 Packing up your whole life into boxes is not an easy task, and the stress only grows if you are uprooting your family and moving to a new state, or if the move entails lease dates that don't align. More often than not, moving cross-country can mean spending days, weeks or even months in a home between homes, or in a house that's not quite ready. Temporary housing resources, rental furniture and relocation consultants in the Twin Cities can help make your move to Minnesota as smooth and stress-free as possible.
If you aren't able to move directly into your apartment, condominium or home, don't worry—you have good options at your disposal. Hotels are an easy choice if you need a quick solution but extended-stay hotels are particularly suited for in-between living, especially when it comes to price efficiency, function and comfort. Unlike regular hotel rooms—with one bathroom and a few small amenities—extended-stay hotels have kitchenettes, if not a full kitchen, and more room besides.
Upscale extended-stay hotels offer guests the whole kit and caboodle: a business center, a 24-hour help desk, full breakfast and even grocery-buying services. More modestly priced options provide amenities like continental breakfast and a fitness center, while economic extended-stay hotels offer comfortable lodging, internet and TV—often for better pricing than a regular hotel room.
If you need temporary housing for a longer period of time, consider a short-term rental instead. There are month-to-month options, and longer leases extend from three to even 12 months, if you're really in a tight spot. Depending on your rental, you may need to furnish the space. If the timing isn't right for you to move in any of your own items, you can also rent furniture. This is also a good alternative if you don't want to feel like you're moving twice (once to the temporary rental, and again to your new home).
One furniture-rental company you can work with is CORT Furniture. CORT professionals deliver and set up furniture within 48 hours of ordering, and once you're ready to leave your temporary home, they will come pick it up, as well. You can rent furniture by the room or by individual pieces, and the largest package furnishes your entire home.
Professionals can help narrow your search for temporary housing and deal with moving logistics. As Minnesota's largest hospitality company, TPI Hospitality has a total of 22 hotels (six of which are extended-stay) in popular locations around the Twin Cities, including Minneapolis, Bloomington and St. Louis Park. The company also helps connect clients to extra amenities such as shuttle service.
Stay Twin Cities Housing Solutions also has a list of apartment complexes and housing developments to peruse. It offers apartments and homes in urban or suburban settings, depending on your preference. Amenities include pet-friendly accommodations, parking and fully furnished rooms, with upgrades available. Alternatively, Corporate Housing Co. recommends convenient, luxurious options tailored to each individual. The staff at Corporate Housing Co. are available 24/7 to answer any questions or concerns, and the company designates one staff member to work with you from start to finish.
If you're looking for more housing resources, reach out to experts at real estate companies like RE/MAX Results and Edina Realty. Their community and housing-market insights can help you decide where you want your future home to be and where to stay during the moving process. RE/MAX Results, which is part of the Relocation Directors Council and Worldwide Employee Relocation Council, is ranked No. 1 in agent productivity, according to the RIS Media Power Broker Report, so you can rest assured they are working hard toward your housing goals. Edina Realty leverages its national reach so you can work with trusted professionals every step of the way, and, as with Corporate Housing Co., a liaison will guide you through all the ups and downs and paperwork that moving brings.
Temporary Housing Resources
Candlewood Suites
candlewoodsuites.com
Christy Living
christyliving.com
The Corporate Housing Co.
tchc.com
CORT Furniture Rental & Clearance Center
cort.com
Courtyard by Marriott
courtyard.marriott.com
Edina Realty
edinarealty.com
ExecuStay by Oakwood Worldwide
oakwood.com
Extended Stay America
extendedstayamerica.com
Homewood Suites by Hilton
homewoodsuites3.hilton.com
Home2 Suites by Hilton
home2suites3.hilton.com
LivINN Hotels
livinn.com
Residence Inn by Marriott
residenceinn.marriott.com
RE/MAX Results
results.net
SpringHill Suites by Marriott
springhillsuites.marriott.com
Staybridge Suites
staybridge.com
Temporary VIP Suites
vipsuites.com
TPI Hospitality
tpihospitality.com
TownePlace Suites by Marriott
towneplacesuites.marriott.com
WoodSpring Suites
woodspring.com
Facebook Comments