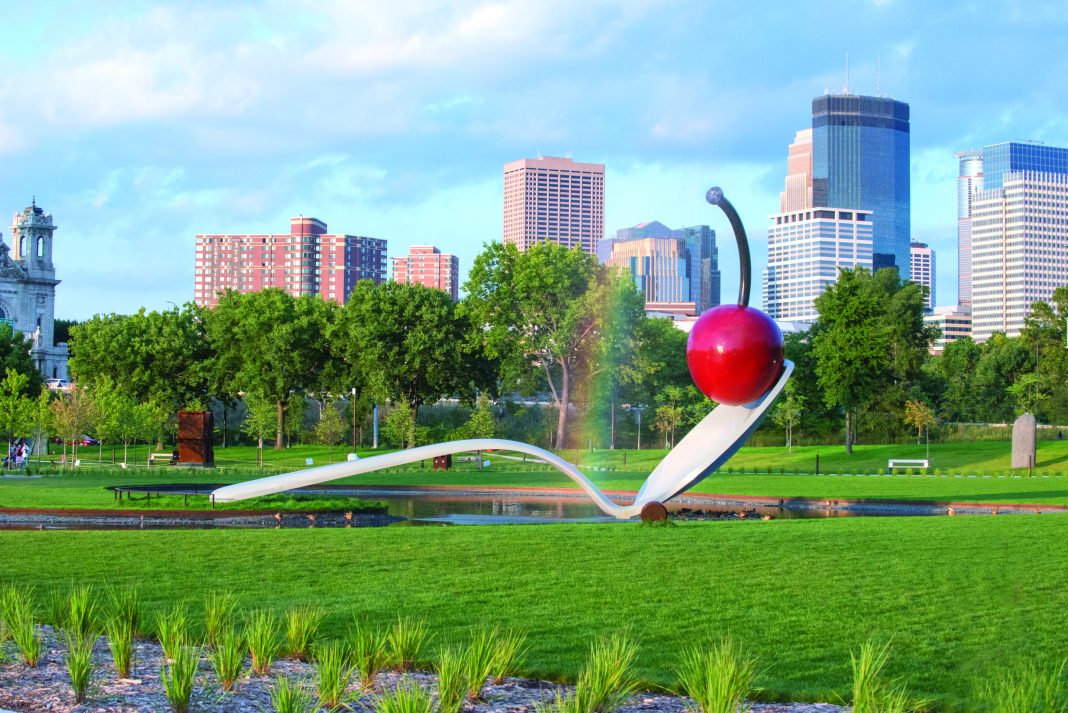 If you want to feel like you're living in the middle of it all, consider Loring Park, a youthful downtown Minneapolis neighborhood.
You'll find no shortage of things to do: The namesake park holds the Twin Cities Pride Festival in June, and the Holidazzle pitches its festive vendor tents there come winter. The Walker Art Center, a contemporary art museum, has an outdoor sculpture garden that's free to the public—and the location of indie-leaning music festival Rock the Garden every summer. Near the park, the Basilica of St. Mary stands tall as the country's first basilica, also the site of another big-time summer music fest, the Basilica Block Party in July.
Meanwhile, the four-domed Minneapolis Convention Center puts on public events year-round, such as the Minnesota Craft Beer Festival in spring. The award-winning Loring Greenway pedestrian path connects the park to Nicollet Mall, or downtown's main street, so residents can get the best of big-city Minneapolis and more-livable urban greenery.
If you don't mind limited street parking, the area's apartments and houses make for a bustling residential pocket with a growing population. (Downtown Minneapolis as a whole is nearly up to 50,000 as of 2019.)
Among many cafes and diners—including the late-night Nicollet Diner—top-tier restaurants include Butcher & the Boar for smoked meats; 4 Bells, now under lauded local chef Scott Pampuch; and the family-owned Lotus Restaurant for Vietnamese. Kick back with a craft beer at Lakes & Legends Brewing Co., on an indoor lawn chair, and feel the pulse of Minneapolis.
May We Also Suggest:
Linden Hills
Sandwiched between Lake Calhoun/Bde Maka Ska and Lake Harriet, Linden Hills offers cottage-style homes, boutique shops and ample green space. The Wild Rumpus bookstore is a favorite, where children can peruse books and pet wandering animals (including chickens). Nearby, Tilia's award-winning chefs cook up brunch, lunch and dinner. And be sure to grab an ice cream cone at Sebastian Joe's. Open since 1976, the Linden Hills Co-op offers fresh food options, with a farmers' market taking place every Sunday from mid-May through late October. Also in the summer, the Lake Harriet Bandshell hosts bands and music events.
Facebook Comments