December 2023
Landmark Center presents "Landmark Live" in the F.K. Weyerhaeuser Auditorium. Presented with support from Minnesota Music Coalition, KFAI Radio, and the Pioneer Press these concerts begin at 7:30 pm and are preceded by a cocktail hour at 6:45 pm, giving audiences an opportunity to enjoy complimentary refreshments and a cash bar. Tickets are $20 in advance/$25 at the door. Tickets include admission to the cocktail hour from 6:45-7:30 pm. 6:45 pm – Cocktail hour // 7:00 pm – seating opens…
Find out more »
February 2024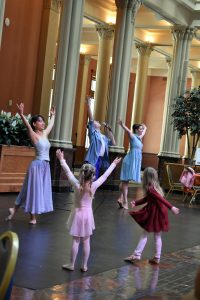 Landmark Center hosts FREE lunch-hour ballet performances and demonstrations, from 12-1pm, in partnership with Ballet Co.Laboratory. Guests are treated to excerpts from the company repertoire and audience participation gets guests moving with steps and music they heard during the performance. Ballet Tuesdays are scheduled for various Tuesdays throughout the months October, November, February, March, and April. Visit landmarkcenter.org/ballet-tuesdays or call 651.292.3063 for the scheduled dates and more information.
Find out more »
+ Export Events
We make every effort to ensure the accuracy of this information. However, you should always call ahead to confirm dates, times, location, and other information.
To submit an event for consideration, consult our calendar policies and guidelines.