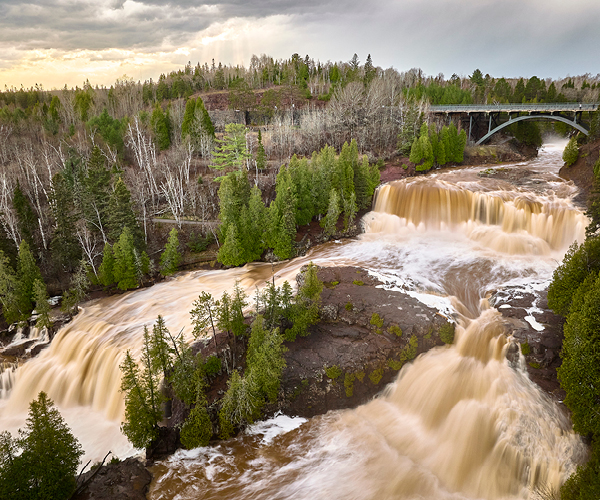 Did you know there are more than 12 waterfalls in Lake County—more than any other county in Minnesota?
You'll find scenic, off-the-beaten-path hiking trails and falls to explore between the North Shore and the Canadian border. Check out the guide below and add these falls to your Minnesota waterfall-viewing bucket list:
As the gateway to the North Shore, Gooseberry Falls earns its popularity for its spectacular waterfalls, river gorge, Lake Superior shoreline, Civilian Conservation Corps log and stone structures, and north woods wildlife. Listen to the thunderous roar of the Gooseberry River's Upper, Middle, and Lower Falls as it rages through a rocky gorge.
Hike or ski to see the Fifth Falls through a forest of evergreens, aspen, and birch.
Although known as one of the most photographed lighthouses in the U.S., many may not be aware of the waterfalls that run through the Split Rock River. If you seek a unique and beautiful waterfall but don't want all of the foot traffic found near many popular North Shore waterfalls, explore the Split Rock River Falls. Located along a section of the Superior Hiking Trail, Split Rock Falls offers a beautiful 20-foot waterfall.
We recommend hiking boots to access the cascades on the Split Rock River. When you reach the state park, take the Split Rock River Loop Trail, one of our favorite North Shore day hikes, to get a close-up view of the river gorge and waterfalls.
Discover the spectacular overlooks at Shovel Point; rocky, steep cliffs and inland bluffs; the cascading 60 ft. High Falls of the Baptism River; and the historic Tettegouche Camp, where visitors can stay the night. Tettegouch ranks as a hiker's paradise with miles of trails that overlook the Sawtooth Mountains and wind down to walk-in-only inland lakes.
Kawishiwi Falls
Within the Superior National Forest near Ely, Minnesota, in Fall Lake Township, the Kawishiwi Falls flow from the dammed Garden Lake into Fall Lake. Parking for this waterfall is located six miles east of Ely on the north side of Fernberg Road.
The Kawishiwi River is also popular for kayaking and hikes along the Kawiwishi Trail.
Visit our website to get the entire Lake County Waterfalls Guide!
Spring Lodging Specials
Look for great lodging deals in the spring along the shore and inland. Often, there are valuable discounts before the summer season begins. In addition, many lodging establishments offer lake-view rooms and cabins where visitors can watch roaring Lake Superior waves, especially with early spring Nor'easter winds.
Spring makes an excellent time to head north; tourists will enjoy less traffic and crowds before the summer rush. Additionally, the scenic views while winter transitions to spring can be breathtaking.
Check out all Lake County spring lodging deals.
Facebook Comments