Sparkling blue waters, fertile fields, wooded hillsides create the magic here. Nestled along the St. Croix National Scenic Riverway, Polk County, Wisconsin, is full of stunning scenery and charming towns. An easy, one-hour drive from the Twin Cities, you'll find endless opportunities for recreation, great food and drink, and unique experiences.
Polk County has a rich history of attracting visitors to its abundant lakes, forests, and glacial landscapes. From centuries-old paddleboat tours on the scenic St. Croix River to hunting camps and supper clubs that hosted travelers and gangsters, the spirit lives on today.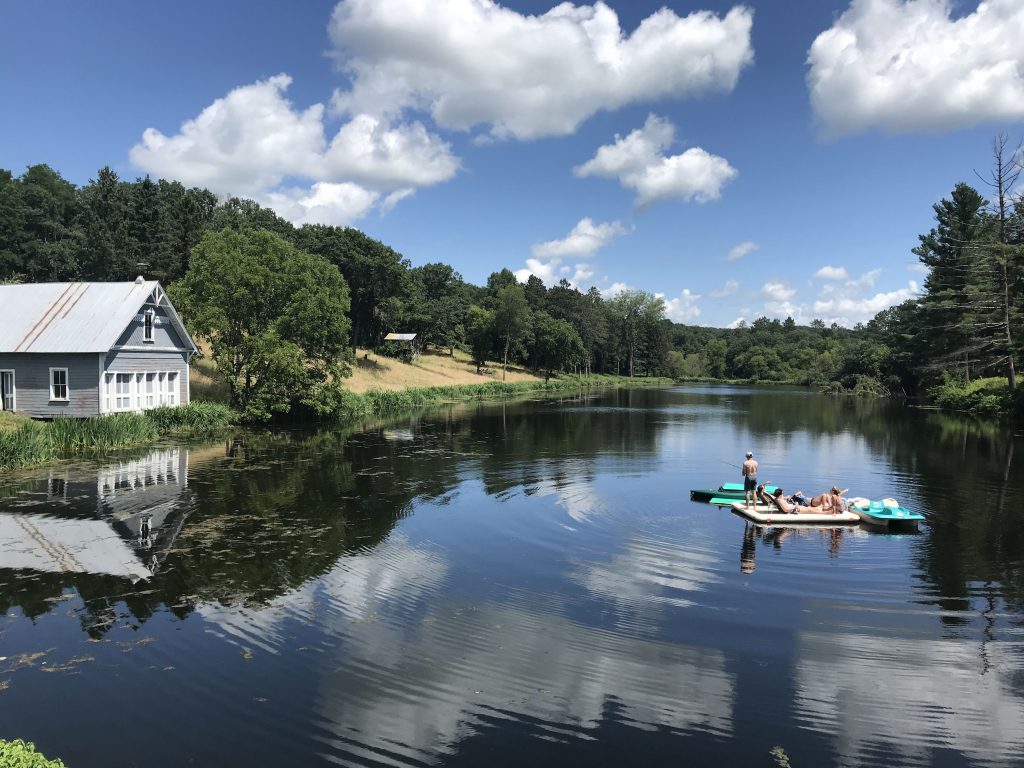 A visit to Polk County will create lifetime memories at our zipline adventure park, wildlife park, mini golf and golf courses, and many other exciting attractions. Families can enjoy our dozens of lakes and rivers for fishing, kayaking, boating, waterskiing, and swimming.
In addition to stellar county parks and trails, Polk County is home to two state parks, including the oldest, WI Interstate State Park, and the newest, Straight Lake State Park! Wisconsin Interstate State Park offers incredible views of the Dalles of the St. Croix, camping, and hiking trails, plus family-friendly events throughout the year. It is also home to the western terminus of the Ice Age National Scenic Trail, a 1,000-mile footpath that meanders across Wisconsin, through rocky terrain, open prairie, and giant forests.
Summer in Polk County brings an abundance of opportunities, including the seasonal opening of museums that tell the stories of Indigenous peoples, logging, immigration, trains, the fur trade, and more. Farmers markets pop up throughout the county, providing locally grown produce, cheeses, and wares. Working farms offer on-site visits. Take a train ride across the St. Croix River into Minnesota at the Osceola Railway. Enjoy live music all summer in the towns of Luck, St. Croix Falls, Amery, and others. Learn about the origins of Earth Day in Clear Lake. Drive along dozens of Rustic Roads to find wildlife, beautiful landscapes, and idyllic farms. Cheer on the home team at an Osceola Braves baseball game.
If art galleries and culinary experiences are on your list, you'll find wonderful opportunities here. Many talented artists make Polk County their home and their work can be found at places like ArtZ Gallery in Amery and One10 Gallery in Frederic. After some shopping on our great main streets, treat yourself to a wine tasting in a modern-day castle at Chateau St. Croix, or make your own wine tour with additional stops at Dancing Dragonfly Winery and Deer Lake Winery. Beer fan? Order a flight of locally crafted beer at St. Croix Falls' Trap Rock Brewing Company, Amery Ale Works, or Balsam Lake Brewery & Market. While you're in Balsam Lake, make a reservation at Indianhead Supper Club for a stellar meal in traditional Wisconsin supper club ambience.
Polk County is conveniently located within an hour's drive of the Twin Cities, but it's more than just a day trip. We invite you to plan a weekend getaway and relax at one of our lodging options or short-term rentals. You'll find memorable, inspiring, and exhilarating experiences during a visit to Polk County, Wisconsin.
Discover the unexpected. Discover Polk County.