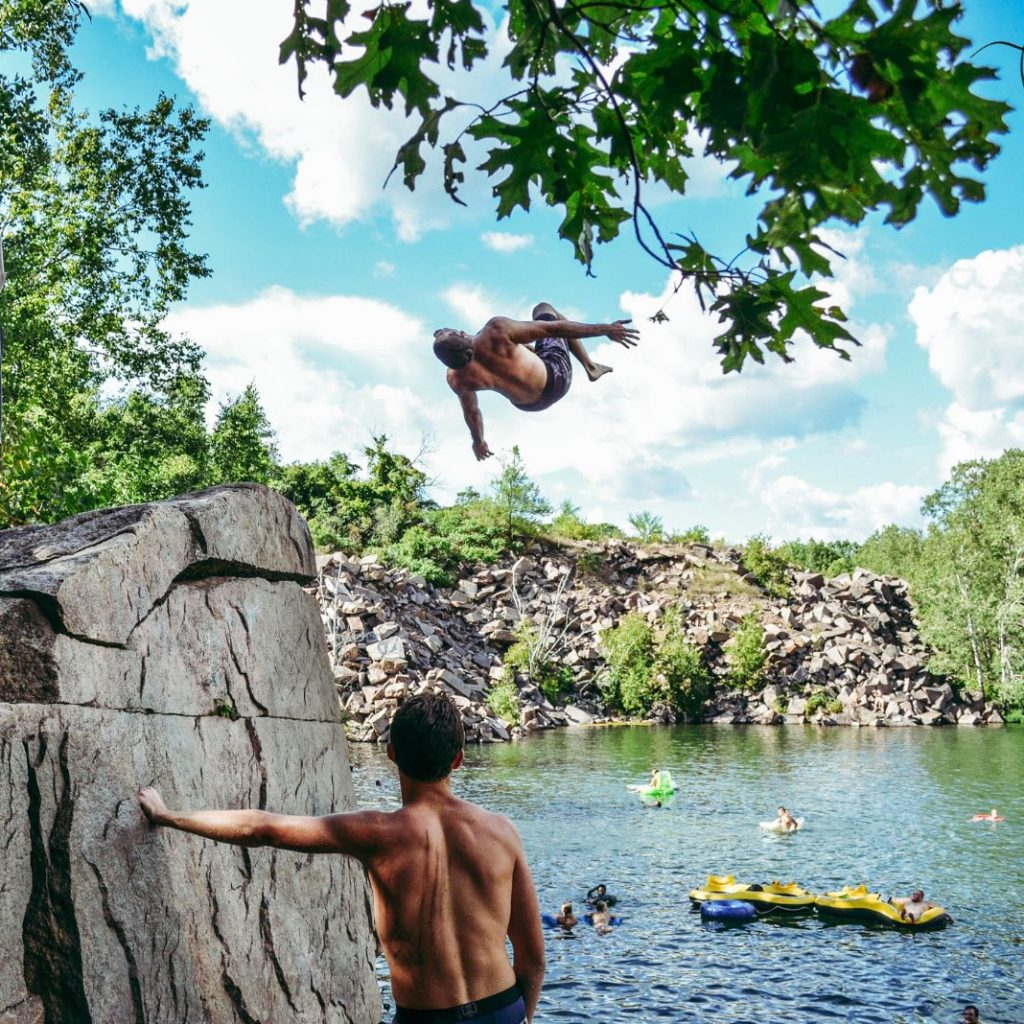 Greater St. Cloud, Minnesota, has every ingredient for the perfect summer vacation! As a hub for live music, there are multiple venues, weekly events, and annual festivals that are all about live entertainment. A vibrant downtown boasts the historical Paramount Theater and art gallery, public displays of art, hotels, bars, restaurants, shopping, breweries, and a distillery—all within walking distance! And it wouldn't be the perfect getaway without adventure. From cliff jumping to hiking and biking, Greater St. Cloud has it all!
Get out and have some fun in Greater St. Cloud: If you're feeling outdoorsy, take a relaxing walk through the beautiful Munsinger and Clemens botanical gardens along the banks of the Mississippi River. Go for a hike, then hang a hammock among the trees overlooking a serene quarry at George Friedrich Park. Ready to add adventure to your itinerary? Head to Quarry Park and Nature Preserve where you can swim, cliff jump, hike, bike, rock climb, fish, or scuba dive. Or check out the Beaver Island Trail. With stunning views, this paved trail covers just over 5 miles along the Mississippi River.
After a day filled with outdoor exploration, you'll be ready to head out on the town and have some fun! Live entertainment is the perfect addition to any summer getaway, and Greater St. Cloud has an abundance of options.
See big-name headliners take the stage at The Ledge Amphitheater in Waite Park. The Paramount Theater offers incredible theatrical performances year-round, and the Pioneer Place and Veranda Lounge feature both awesome concerts and intimate acoustic sets. Or, if you're in the mood for a good laugh, Silly Beaver Comedy at Beaver Island Brewing Company offers standup comedy shows every Saturday night. Greater St. Cloud is also home to four different outdoor summer concert series and multiple annual summer festivals, so there's never a shortage of epic entertainment.
After you've had your fill of adventure and entertainment, fuel up with our all-encompassing local food and beverage scene. From American favorites to authentic ethnic cuisine, we've got you covered! When you need a caffeine boost or an afternoon snack, Greater St. Cloud has an expansive selection of local coffee spots, tea shops, and sweet treats. Also, make sure to plan a stop at one of our award-winning breweries and the new Iron Street distillery.
Greater St. Cloud is the perfect location for your summer getaway. Start planning your adventure at visitstcloud.com!