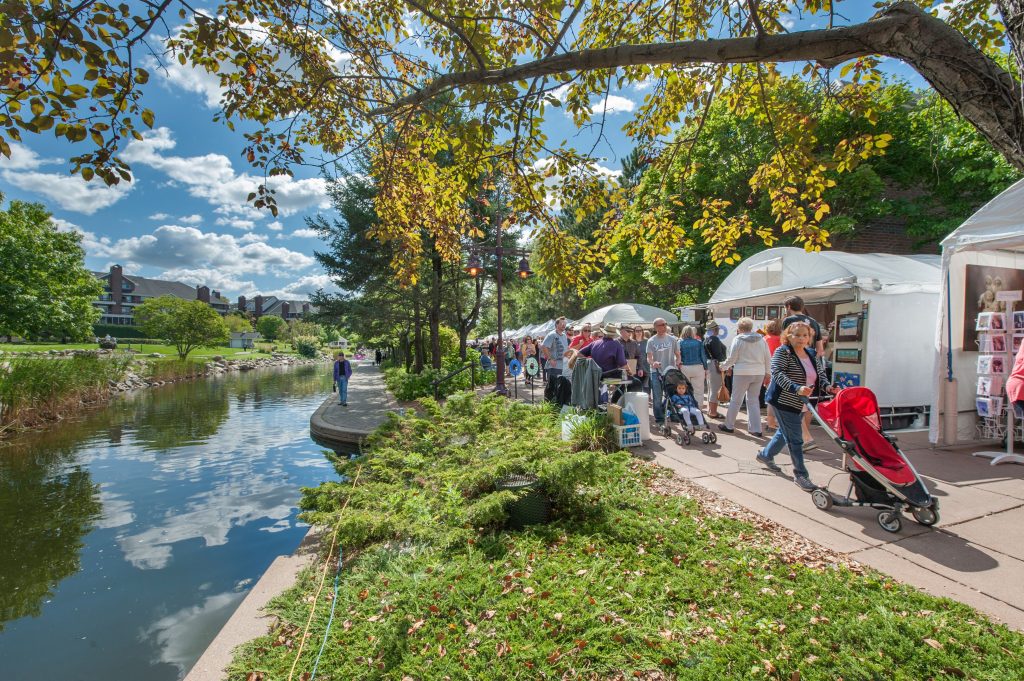 The Edina Fall into the Arts Festival graces the scenic and beautiful Centennial Lakes Park in Edina each September with an eclectic array of over 225 original artists displaying and selling their work. From pottery and paintings to jewelry, metal and wood working, everyone will find something unique to treasure. In 2022, for the first time, there will be live entertainment in the Maetzold Amphitheater and a special Kid's Zone for families with special activities. This event is also dog friendly so feel free to bring along your four-legged friend.
The Festival will also be presenting a wide array of gourmet food vendors and all the usual favorite treats from around the world. Tibetan Momos, Ben and Jerry's Ice Cream, Kettle Corn and Chicago Dogs are long-time favorites, but also featured will be local Edina food truck Thumbs Cookies and the Muddy Tiger, a favorite at the local Edina Farmer's Market serving tasty Indian-inspired fare. More than a dozen food vendors will be present, serving up mouth-watering dishes!
This amazing community art event supports and Edina Crime Prevention Fund, which helps pay for safety initiatives, youth programming and equipment for the Edina Police Department, including the care of our K-9 friends Blitz and Gryf that serve the community and keep residents safe. Centennial Lakes Park and the Edina Art Center are also supported and new this year, is the Edina Chamber of Commerce, serving as the event administrator and promoter. "The Edina Fall into the Arts Festival is an important opportunity for the City and other local businesses to have meaningful connection with residents from all over the Twin Cities," states Edina Chamber vice president Shelly Loberg. "We have artists coming from all over the region, making this an amazing tourism asset as well."
The festival takes place this year on September 10th and 11th and hours are from 10 a.m. to 6 p.m. on Saturday and 10 a.m. to 5 p.m. on Sunday. While you're there, stop into the Maetzold Amphitheater to listen to some live music performances or stop by the Kid's Zone for some special art activities and to learn about other services the city of Edina offers.