Spoonbridge and Cherry
photo by natalie hall
---
Minnesota is home to more theater seats per capita than any U.S. city outside New York — and not just any theater seats, but world-class theater seats (or, more accurately, world-class theater productions—although the seats are pretty comfortable, too). We are home to award-winning museums (everything from modern and traditional art to electricity), concert venues, outdoor festivals, and a plethora of opera, orchestra, dance, cultural, and just about every type of music performance you can imagine. Arts, culture, and entertainment sectors create jobs, revitalize neighborhoods, and educate our children while helping to boost Minnesota's economy. Supporting the arts is a win-win for everyone.
The Marriage of Figaro
photo by Dana Sohm for Lyric Opera of Kansas
---
Minnesota Opera
Upcoming dates: Oct. 7–15 | Nov. 11–19
Who We Are
Trail-blazing, stirring, and unforgettable, Minnesota Opera's world-class productions tell transporting stories that capture the attention of the national stage. We bring to life innovative, inspiring experiences of sound and vision for audiences, artists, and the larger community.
2017 Fall Season Highlights
Donizetti's Don Pasquale (Oct. 7–15, 2017): A toast to Tinseltown. This bubbly farce tells the story of the miserly aristocrat Don Pasquale as a silent movie star, grappling with the new problems and possibilities of the modern Technicolor world and a series of amusing catastrophes.
Mozart's The Marriage of Figaro (Nov. 11–19, 2017): Love is a battlefield. Bringing wit, drama, and humanity to this comedy of errors, Mozart's infectious score is widely considered the perfect opera. Will Figaro and his charming fiancée make it to the altar as they attempt to fend off the philandering, arrogant Count Almaviva?
620 N. First St., Mpls., MN 55401, 612-333-6669, mnopera.org 
Diavolo
photo by george simian
---
The Ordway Center For The Performing Arts
Who We Are
One of the leading nonprofit performing arts centers in the country, the Ordway hosts a wide variety of performances each year. With a mission to be a community magnet that attracts audiences and artists and creates unforgettable shared experiences, the Ordway's Music Theater and Concert Hall showcase the finest in American musical theater, world music, dance, and vocal artists.
2017 Fall Season Highlights
• Lin-Manuel Miranda's first Tony Award-winning show, In The Heights, will be playing September 12–24, 2017.
• Captivating choreography for all dance lovers: Diavolo on October 25, 2017 and Travis Wall's "Shaping Sound" on October 28, 2017.
• Air Supply, coming October 26, 2017, described as "soft rock with a dash of nostalgia."
• Classical music mixed with hip-hop, rock, and bluegrass, Black Violin performs November 17, 2017.
• Annie, one of the world's favorite musicals, is on stage for the holidays December 7–31, 2017.
Show Your Support
Attend a performance, purchase a gift card, or make a tax-deductible gift. Contact 651-224-4222 or visit ordway.org for tickets.
345 Washington St., St. Paul, MN 55102, 651-224-4222, ordway.org
Walker Art Center
photo courtesy of walker art center
---
Walker Art Center and Minneapolis Sculpture Garden
Who We Are
One of the most celebrated art museums in the country, the Walker Art Center is known for its innovative presentations and acclaimed collections of contemporary art. Offering a broad range of exhibitions and events nearly every day of the year, the Walker ranks among America's top five most-visited modern/contemporary art museums.
Just across the street from this landmark building is the first major urban sculpture park in the United States—the Minneapolis Sculpture Garden. As its center is a beloved Twin Cities icon, the fountain-sculpture Spoonbridge and Cherry.
2017 – 18 Season Highlights
• Nairy Baghramian: Déformation Professionnelle (Sept. 7, 2017–Feb. 4, 2018)
• Adiós Utopia: Dreams and Deceptions in Cuban Art Since 1950 (Nov. 11, 2017–March 18, 2018)
• Allen Ruppersberg: Intellectual Property 1968–2018 (March 17–July 29, 2018)
• A diverse performing arts season including The Staves & yMusic, Laure Prouvost, Robert Lepage, Tanya Tagaq, and Jason Moran with Ryan Trecartin & Lizzie Fitch.
• Cinema programs and series featuring the Walker Dialogues & Retrospectives, Filmmakers-in-Conversation, Cinema of Urgency, and the British Arrows Awards.
Support the Walker
Don't miss Avant Garden 2017, the Walker Art Center's annual benefit. Proceeds support the Walker's award-winning artistic and educational programming.
725 Vineland Pl. Minneapolis, MN 55403, 612-375-7600, walkerart.org
Lion King Jr.
photo courtesy of ashland productions
---
Ashland Productions
Who We Are
Ashland Productions fosters the development of youth in the Twin Cities through a balanced emphasis on quality theater arts training, personal mentoring, and leadership development both on and off the stage.
2017 – 18 Season Highlights
• Featured Shows: Adult performers work alongside children and teens throughout a rehearsal and performance process to create cross-generational mentoring opportunities. There are four main stage performances.
• ACT! (Ashland Collaborative Theatre): Impacting more than 4,000 students since 2009, this program introduces elementary school students to theater by providing an immersive rehearsal experience, culminating in a full-scale production on the Ashland Productions stage.
• Ashland Performance Company: Students in grades 5-8 dive into this 12-week triple threat workshop-style experience to hone their skills, build confidence, and develop deeper roots in their community of young artists.
• Summer Camps: Kids can experience just how FUN theater can be through camps focused on dancing, singing, and acting led by professional artistic staff.
• Ashland Youth Ambassadors: High school students are paired with local professional artists to become the future artistic leaders in our community.
• Concert Series: Rock, doo-wop, big band, pop, and holiday concerts.
Support Ashland
Become a donor or sponsor and help keep this community theater going strong. For more information, call Elisa Olson, Managing Director at 651-383-8114.
2100 White Bear Ave., Maplewood, MN 55109, 651-274-8020, ashlandproductions.org
Classic Nutcracker
photo by Dave Trayers
---
Ballet Minnesota
Who We Are
Ballet Minnesota is dedicated to creating and sharing artistry in dance through public presentations and education. This year Ballet Minnesota is celebrating it 30th Anniversary with a season consisting of the Classic Nutcracker, Beethoven's 9th Symphony, and the Minnesota Dance Festival.
2017 – 18 Season Highlights
From Dec. 15–17, Ballet Minnesota will perform the full-length, traditional Classic Nutcracker, a brilliant, moving performance from beginning to end. The German fairytale, written in 1816 (and first performed as a ballet in 1892), still appeals to audiences nearly 200 years later thanks to the time—less storyline, classic music, and graceful dancing. Ballet Minnesota's Classic Nutcracker includes original choreography, more than 130 talented dancers, an incredible set design, colorful costumes, and fun special effects that bring Clara's dream to life. It's the perfect festive holiday show for families of all ages.
Performed at the Cowles Center on Feb. 23–24, Ballet Minnesota brings to life Beethoven's most renowned composition, Beethoven's 9th Symphony. Comprised of four movements, Beethoven's 9th Symphony is a one-of-a-kind work that transforms music into movement.
For Classic Nutcracker tickets, call 651-690-6700 or visit balletminn.org. For Beethoven tickets, call 612-206-3600.
314 Chester St., St. Paul, MN 55107, 651-222-7919, balletminnesota.org

Chanhassen Dinner Theatres
photo InsideOut Studios
---
Chanhassen Dinner Theatres
Who We Are
Committed to delighting audiences and creating lifelong memories with a high-quality end-to-end theatre, dining, and service experience, Chanhassen Dinner Theatres not only offers spectacular performances, but also hosts distinctive and elegant wedding ceremonies and receptions for up to 300 guests.
2017 – 18 Season Highlights
The No. 1 best-seller at Chanhassen Dinner Theatres, GREASE is now playing through October 28, 2017. Another classic—back by popular demand—is SISTER ACT–The Divine Musical Comedy, playing eight times weekly from November 3, 2017–February 24, 2018. With the original cast, this production is sure to delight and touch audiences with universal messages of friendship, humanity, and acceptance. Every Friday and Saturday night is the popular Stevie Ray's Comedy Cabaret, a fun improv show basing comedy on suggestions from the audience. Chanhassen Dinner Theatres also offers a stellar Concert Series, featuring the finest talent and tribute concerts in the Twin Cities. Buy the gift of an experience. Gift cards make fantastic gifts–CDT gift cards never expire and can be used for any Chanhassen Dinner Theatres production.
Upcoming Dates
Now – Oct. 28  |  Nov. 3 – Feb. 24
501 W. 78th Street, Chanhassen, MN 55317, 952-934-1525 (box office) chanhassendt.com.com
Dr. Seuss's How the Grinch Stole Christmas
photo by Dan Norman
---
Children's Theatre Company
Who We Are
Serving nearly 275,000 people annually, the Children's Theatre Company creates spectacular theatrical experiences to educate, challenge and inspire youth and their community. Critically acclaimed for multigenerational audiences and named the nation's No. 1 children's theatre by Time magazine, CTC is committed to developing new works—currently more than 200—and producing world-class productions to dramatically change the canon of works for young audiences.
2017 – 18 Season Highlights
The season begins with Minnesota's first ever hockey musical, The Abominables September 12–October 15, created right here in the state of hockey (with a little help from more than 70 community members). The holidays wouldn't be the same without everyone's favorite Christmas villain making an appearance in Dr. Seuss's How the Grinch Stole Christmas, running from November 7–January 7, 2018. The new year also brings a co-production of The Wiz with Penumbra Theatre, starring Paris Bennett as Dorothy, from January 23–March 18, 2018.
A Family Experience:
Create memories with your family all year at CTC—purchase a subscription and see ALLtogether Electric theatre all year long! Buy tickets to award-winning shows by calling 612-874-0400 or by visiting childrenstheatre.org.
Upcoming Dates
Sept. 12 – Oct. 15  |  Nov. 7 – Jan. 7  |  Jan. 23 – March 18
2400 Third Ave. S., Minneapolis, MN 55404, 612-874-0400, childrenstheatre.org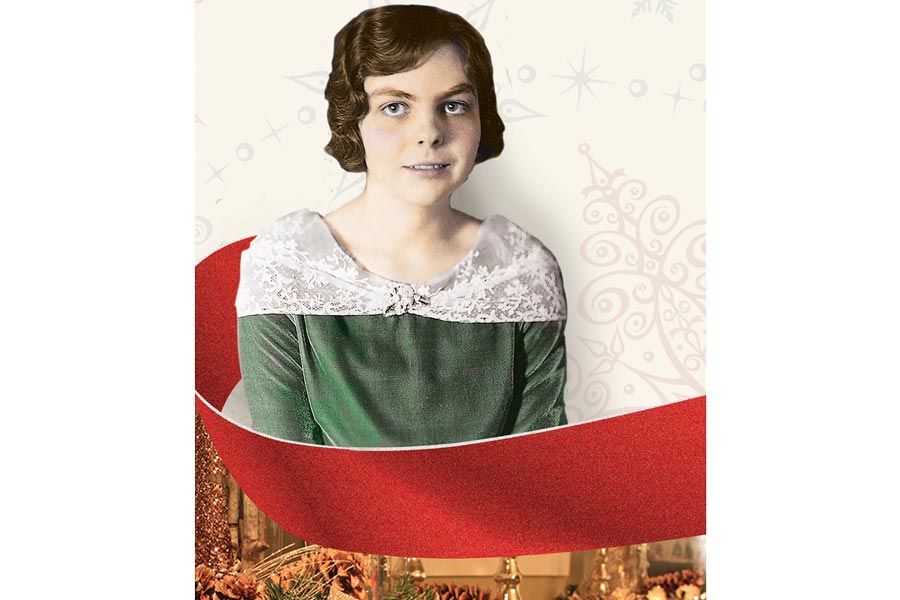 Coco's Diary: A Christmas Gift to Remember
photo courtesy of history theatre
---
History Theatre
Who We Are
History Theatre entertains, educates, and engages through creating, developing, and producing new and existing works that explore Minnesota's past and the diverse American experience. Our work provides a unique lens which links our past to the present, explores our common heritage, and illuminates our understanding of what it means to be American.
2017 Fall Season Highlights
Don't miss the regional premiere of All The Way, running from October 7–29. This Tony Award-winning Broadway play by Robert Schenkkan was described as a "jaw-dropping political drama" by Variety.
See the charming, delightful, funny show Coco's Diary: A Christmas Gift to Remember November 23–December 23, 2017. Fun for the whole family, the Star Tribune review says "The diary of young Coco Irvine dances off the page in this charming piece of entertainment."
Support the History Theatre
Buy a season pass to support History Theatre's 40 years of making history, or join the Storyteller's Circle, allowing our theatre to explore new work, reach more students, and keep ticket prices affordable.
Upcoming Dates
Oct. 7–29  |  Nov. 23 – Dec. 23
30 E. 10th St., St. Paul, MN 55101, 651-292-4323, historytheatre.com, boxofc@historytheatre.com
National Lutheran Choir
PHOTO by Stephen Geffre
---
National Lutheran Choir
Who We Are
The National Lutheran Choir, under the direction of nationally renowned conductor, composer, and organist Dr. David Cherwien, is in its 32nd season of singing a spiritual story. With a mission to strengthen, renew, and preserve the heritage of sacred choral music, the 64-member choir is comprised of professional-level volunteer singers who are teachers, entrepreneurs, pastors, nurses and community leaders. The National Lutheran Choir frequently appears on public radio and has a vibrant online catalogue of performances.
2017 Fall Season Highlights
• World Premiere: Holy Spirit Mass will debut on October 27, 2017 at 8 p.m. at the Basilica of Saint Mary in Minneapolis and on October 29, 2017 at
4 p.m. at the Ordway Concert Hall in St. Paul. This event commemorates the 500th Anniversary of the Protestant Reformation.
• The Christmas Festival will be held at the Basilica of Saint Mary in Minneapolis on December 8, 2017 at 4:30 p.m. and 8 p.m., and December 9, 2017 at 8 p.m.
Upcoming Dates
Oct. 27 and 29  |  Dec. 8 and 9
121 Hennepin Ave., Minneapolis, MN 55401, 612-722-2301, nlca.com
The Velveteen Rabbit
photo by andrew weeks
---
Northrop at the University Of Minnesota
Who We Are
Located In the heart of the University of Minnesota Twin Cities campus, Northrop presents world-class dance and music performances, speakers, films, exhibits, and more.
2017 – 18 Season Highlights
In addition to the fall performances listed below, highlights of the spring 2018 dance season at Northrop include Hubbard Street Dance Chicago on January 27; Romeo and Juliet performed by Les Ballets de Monte-Carlo February 27-28; Company Wang Ramirez on March 3; the timeless classic Swan Lake, performed by Houston Ballet, April 7-8, Keigwin + Company  Celebrates Bernstein featuring the University Symphony Orchestra April 14; and Alzono King Lines Ballet May 1.
Special Discounts
New this year! Save 50 percent off tickets for children under 17 to all dance season shows! Many other single ticket discounts are available. Or, choose a series package to attend multiple performances with the most benefits including the Portfolio Series of all nine events, the Ballet Series, or the Subscriber's Choice Series that lets you choose the exact combination of dance you like. Or, try one of our new Family or Fall, Winter, or Spring seasonal series that offer new ways to make dance a part of your life.
84 Church St. SE, Minneapolis, MN 55455, 612-624-2345, northrop.umn.edu

A Raisin in the Sun
PHOTO by Petronella J. Ytsma
---
Park Square Theatre
Who We Are
Introducing new audiences to theatre and new theatre to our audiences, the two stages at Park Square Theatre host an adult audience of tens of thousands of visits a year. We are home to one of the nation's largest teen theatre programs, introducing and engaging more than 90,000 students over the past three seasons. By reflecting the diversity of our community, our purpose is to produce and present exceptional live theatre that touches the heart, engages the mind, and delights the spirit.
2017 – 18 Season Highlights
This season, we have everything from the sassy comedy that opens our season Henry and Alice: Into the Woods September 15–October 22, to the musical romp Gilbert and Sullivan's Pirates of Penzance February 9–March 25, to a new adaptation of Hamlet October 13–November 11, and A Raisin in the Sun February 22–March 24, 2018. A new play, Dot, is a hilarious yet poignant take at a family handling a mother's dementia during the holidays, running from December 8, 2017–January 7, 2018, and Cardboard Piano, from January 19–February 18, 2018 challenges the power of love over violence. This spring, learn about history April 19-28 through The Diary of Anne Frank, and join us for the fast-paced summer mystery Baskerville, featuring Sherlock Holmes, from June 15–August 5, 2018.
Ticket Info
Choose plays and dates that work best for you, from 11 shows on two stages. Save up to 20 percent by purchasing a three-pack. For more information, call 651-291-7005 or visit parksquaretheatre.org
Upcoming Dates
Sept. 15 – Oct. 22  |  Oct. 13 – Nov. 11  |  Nov. 9 – Dec. 16  |  Dec. 8 – Jan. 7
Jan. 19 – Feb. 18  |  Feb. 9 – March 25  |  Feb. 22 – March 24  |  April 19–28
June 15 – Aug. 5  |  June 22 – July 15  |  July 27 – Aug. 19
20 West 7th Place, St. Paul, MN 55102, 651-291-7005, parksquaretheatre.org
Country music artists, like Eric Church, regularly perform atthe Target Center. (Church was here in January of 2017.) This fall's country music headliner is Alan Jackson, performing Oct. 28.
photo by David Sherman
---
Target Center
Who We Are
A live entertainment arena in bustling downtown Minneapolis, the Target Center is home to the NBA's Minnesota Timberwolves, three-time WNBA champion Minnesota Lynx, and tons of the hottest concerts, family shows, and special events each year. Newly renovated with better access, improved pedestrian traffic flow, all new seats, and more, the updated venue will reopen in October 2017 for a season of fun.
2017 Fall Season Highlights
• 2017 Honky Tonk Highway Tour: Country Music Hall of Fame inductee Alan Jackson will perform with special guest Lee Ann Womack on Saturday, October 28, 2017.
• Cirque de Soleil Crystal: A Breakthrough Ice Experience is a brand new Cirque du Soleil exhibition—and the first of its kind on ice! Running from November 9–12, don't miss this creative, imaginative, state-of-the-art show.
• This season will be even more spectacular after our $140 million renovation project. Explore new lobby and skyway areas, club spaces, and improved guest amenities.
Ticket Info
Tickets available at the Target Center box office, online at targetcenter.com, or at 1-888-9-AXS-TIX (1-888-929-7849).
*Pro tip: There are no AXS service fees on tickets purchased at the Target Center box office
Upcoming Dates
Oct. 28  |  Nov. 9–12
600 North First Ave., Minneapolis, MN 55403, 612-673-0900, targetcenter.com
Minnesota Dance Theatre
PHOTO by Jeffrey Pedersen
---
The Cowles Center For Dance & The Performing Arts
Who We Are
The Cowles Center serves as the flagship institution for dance in Minnesota, presenting 20+ productions each season in the heart of downtown Minneapolis.  The Center's campus includes three performance spaces, education studios, and administrative offices for arts and nonprofit organizations.
2017 Fall Season Highlights
• Ragamala Dance Company presents An Evening of Bharatanatyam by internationally acclaimed dancer/choreographer Alarmél Valli September 14 and 16.
• The Twin Cities Tap Festival will be held at The Cowles Center from October 19–22.
• Fall season Minnesota Dance Theatre performance dates will be October 27–29.
• The Karen L. Charles Threads Dance Project, Uncertain Reality, will take place November 3 and 4.
• Zenon Dance Company's Fall 2017 Season Performance—35th Anniversary is November 10–19.
• Myron Johnson's Nutcracker (not so) Suite is December 15–30.
Ticket Info
Season tickets and customizable multi-show packages for the 2017-18 season are available at thecowlescenter.org.
Upcoming Dates
Sept. 14 and 16  |  Oct. 19–22, 27–29  |  Nov. 3–4, 10–19  |  Dec. 15–30
528 Hennepin Ave. • Minneapolis, MN 55403, 612-206-3600, thecowlescenter.org
photo by Allen Weeks
---
Theater Latté Da
Who We Are
Theater Latté Da takes a bold approach to musical theater by re-imagining classics, developing new work, and experimenting with unique forms, musical styles, and compelling stories. For 20 years, Theater Latté Da has sought to create connections between story, music, artist, and audience by exploring and expanding the art of musical theater.
2017 Fall Season Highlights
Season 20 opens with Man of La Mancha at the Ritz Theater, running from September 13–October 22. Powerful, brutal, funny, and heartbreaking, this musical celebrates the perseverance of one man who refuses to relinquish his ideals, and who is determined to see life "not as it is, but as it ought to be."
From November 29–December 30, A Christmas Carole Petersen returns to the Ritz Theater for its eleventh holiday season. Tod Petersen's hilarious ode to his mother Carole and her overly enthusiastic love of all things Christmas is one of the most requested shows in Latté Da's history.
Tickets And Special Deals
Become a Season 20 ticket holder! Save over 20 percent off single tickets, get priority seating, receive invitations to special events, and more.
Upcoming Dates
Sept. 13 – Oct. 22  |  Nov. 29 – Dec. 30
345 13th Ave. NE, Minneapolis, MN 55413, 612-339-3003, latteda.org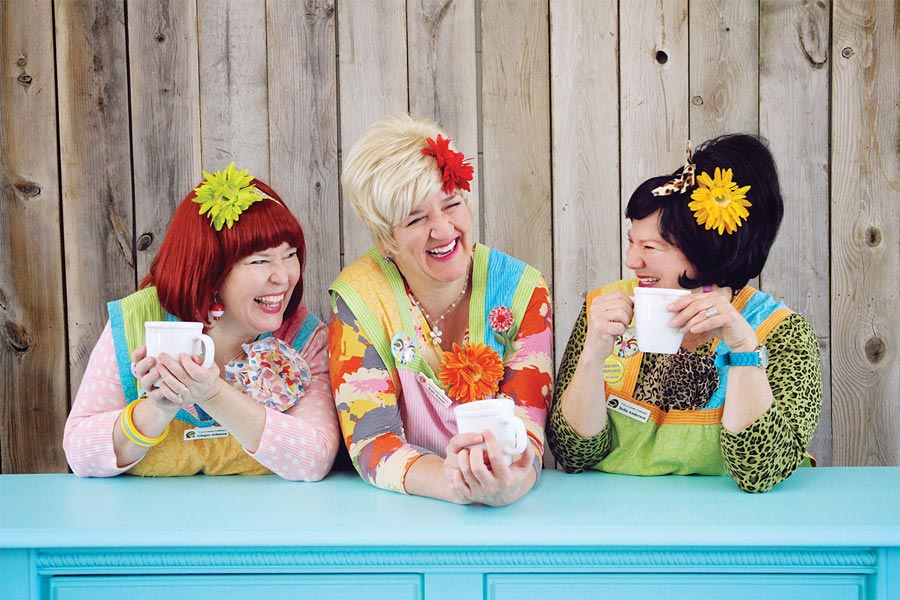 The Looney Lutherans
PHOTO by Tammy Brice
---
Plymouth Playhouse
Who We Are
The Plymouth Playhouse is an intimate 211 seat theatre. Each seat is comfortable and roomy. The rows are tiered, with generous leg room. There are no visual obstructions, with the furthest seats from the stage only 25 feet back. All performers have individual microphones so hearing is not a problem. Assisted listening devices are also available at our Concessions Stand for no additional charge. Seating is limited, so order early.
The Looney Lutherans
"Cooked up" by Greta Grosch, one of the writers of Church Basement Ladies, the Looney Lutherans are a trio of wacky ladies who interact with audience members as they sing, dance, and share their "Lutheran wisdom." In Livin' La Vida Lutheran, on stage now through October 21, 2017, they promote their new (fictional) cookbook for living a healthy life. The Looney Lutherans will return to the stage in Hold the Lutefisk! to share tricks for surviving the holidays, including exercise tips (sung to the "12 Days of Housework"), how to get on Santa's nice list (hint: make a good hotdish), and what to do when your in-laws overstay their welcome. Hold the Lutefisk! runs from November 1 through December 23, 2017. These hilarious family-friendly shows are fun for all ages.
For ticket information, call 763-553-1600 ext. 1 or visit plymouthplayhouse.com.
2705 Annapolis Lane N., Plymouth, MN 55441, 763-553-1600, plymouthplayhouse.com
A Minnesota Nutcracker
photo by Brianne Bland
---
Twin Cities Ballet Of Minnesota
Who We Are
Twin Cities Ballet of Minnesota is an innovative ballet company that creates high-quality, professional performances and meaningful educational opportunities for audiences and participants alike, throughout the Metro and beyond. TCB's home and Official School is Ballet Royale Minnesota, widely recognized as one of the foremost classical ballet academies in the state.
2017 – 18 Season Highlights
A Minnesota Nutcracker, December 8–10, 2017. Enjoy the beloved holiday classic with a Minnesota twist!  Retaining all the magic and familiar traditions loved by so many, A Minnesota Nutcracker adds local flare with Minnesota settings and custom designed Minnesota-centric backdrops. One of the Twin Cities' most attended holiday events, A Minnesota Nutcracker promises delightful entertainment for the whole family, from ballet novices to loyal patrons alike! Tickets for A Minnesota Nutcracker range from $20-$38. Buy tickets in person at Burnsville's Ames Center Box Office, via ticketmaster at 800-982-2787, or at ticketmaster.com. Discounts and group rates available.
Save The Dates
Also this season: Art in Motion, October 27–28 (Halloween event); World Premiere, Pink Floyd's The Wall: A Rock Ballet, March 1–3; and Beauty & the Beast May 10–12!
Upcoming Dates
Oct. 27–28  |  Dec. 8–10  |  March 1–3  |  May 10–12
16368 Kenrick Ave., Lakeville, MN  55044, twincitiesballet.org