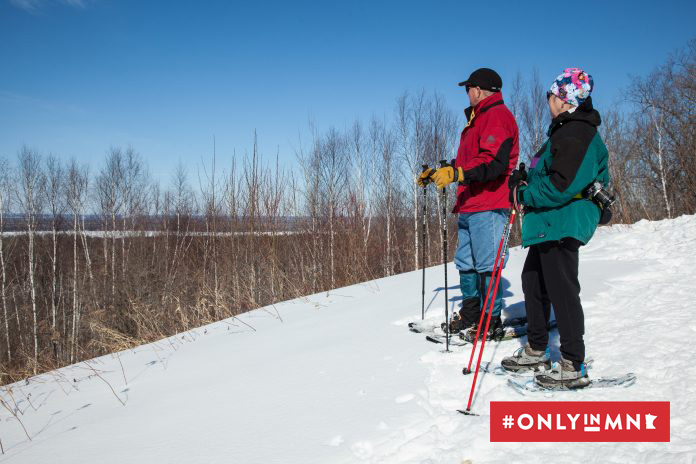 You can always count on a winter wonderland up north in Grand Rapids, Minnesota. Northerners know that there is a myriad of ways to enjoy the snow—and this winter especially is the perfect time to embrace the season, blaze new trails, and find new ways to safely explore Minnesota.
Snowshoeing
Winter's solution to hiking is snowshoeing. Strapping on a pair of snowshoes is easy and something all ages can do. Local snowshoe guide, Tom Saxhaug, goes out several times a week. He enjoys the fresh powder and making new tracks in the forest. His favorite places to go are Sugar Hills, Legion Trail, and Simpson Creek in the Chippewa National Forest.
Snowmobiling
The snowmobile trails are the best Grand Rapids has seen in 10 years! The area has received above average snowfall this winter with over 3 feet of snow on the trails. The Itasca County Snowmobile Clubs work hard to expertly groom the trails and get them ready for riders each week. Download the Itasca County snowmobile map to plan your ride.
Fat Tire Biking
Fat tire bikes have created an expanded season for cycling. While you can fat tire bike just about anywhere in Grand Rapids (in town and on country roads), there are a few trails you should consider visiting: the new Tioga Recreation Area in Cohasset offers more than 25 miles of world-class mountain biking for all levels of riders. Other local favorites for fat tire biking include the Legion Trail and the Forest History Center.
Skiing & Tubing
Grand Rapids is home to 240 km of cross-country skiing trails—offering plenty of ways to hit the trails day or night. The Minnesota Power Trail and the Legion Trail are both lit at night, creating a very special skiing experience. The trails are well groomed by the city of Cohasset Park & Rec and the Northern Lights Nordic Ski Club. In addition to nordic skiing, the area also has a great place for downhill skiing, snowboarding, and snow tubing. Mt Itasca is a winter wonderland for outdoor recreation from December through March.
Whether you plan a trip to Grand Rapids or another northern Minnesota town, get out and explore winter's abundant beauty and seek new adventures on the lakes, trails, rinks, and more. For even more snow-filled activities around the state, check out Explore Minnesota's post on 7 Things To Do In Minnesota This Winter.
Facebook Comments