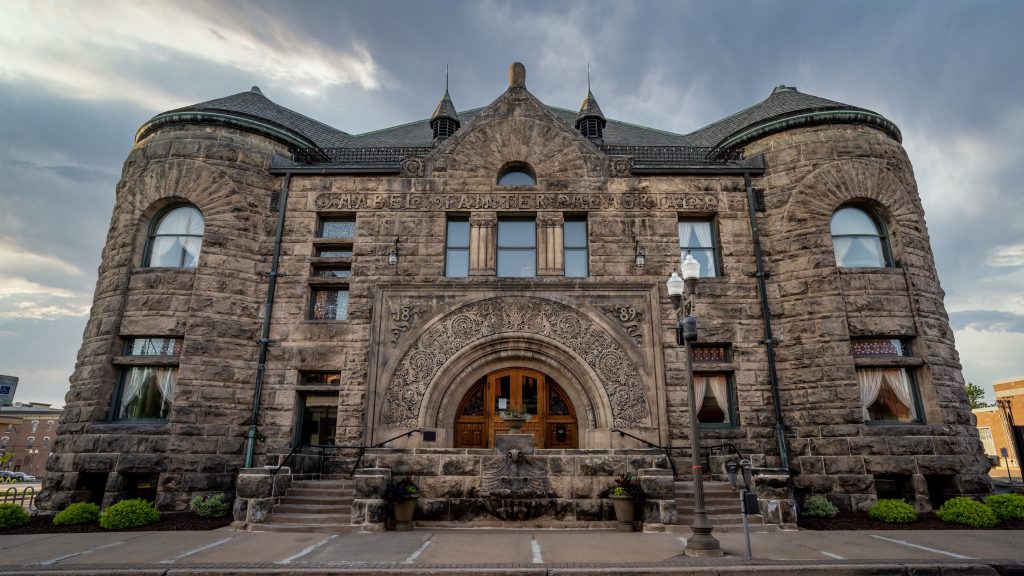 Located just 70 miles from the Twin Cities in Minnesota, Menomonie offers a scenic place where you can relax and unwind solo or with friends.
For more than 150 years, downtown Menomonie has been the center of the community. Today, its rich historic architecture is home to first-rate restaurants, a large selection of independent locally owned boutiques, specialty shops, antique stores, restaurants, cafes, and brew pubs, and the world-class Mabel Tainter Center for the Arts. The Mabel Tainter is a 134-year-old Theater constructed as a tribute to Mabel Tainter, a young woman who loved music and the arts. The facility is listed on the National Register of Historic Places and is a designated Wisconsin Historical Marker Site. It is the cultural center of the community and offers performances throughout the year. Arts and culture opportunities can be found throughout the city, from the giant "Welcome to Menomonie" mural to the Menomonie Sculpture Tour. Public art plays an important role in Menomonie, and you will find it dispersed from the northernmost tip to the eastern edge.
If you are looking for outdoor opportunities, Menomonie offers several biking and hiking locations and breathtaking landscapes to explore. Home to several parks, Lake Menomin, Red Cedar State Trail, Hoffman Hills, Devils Punch Bowl, and ideal fishing spots, adventures abound. Whether you're looking to cruise the remote countryside or participate in an ice fishing contest on Lake Menomin, you are sure to make memories that last a lifetime!
Making memories with your family is a breeze here in Menomonie. The Russell J Rassbach Museum offers an opportunity to learn while having fun and being creative. From their exhibits to the historical artifacts, the museum offers a glimpse into Menomonie's past.  Fulton's workshop, a maker's workshop within the museum, gives your entire family the opportunity explore history, technology, and a hands-on makerspace in the same gallery, emphasizing science, technology, engineering, art and mathematics (STEAM) in the workshop.
A day in Menomonie wouldn't be complete without enjoying some of their unique businesses. Stop by C&J's Candy & Scoop Shoppe, located right in the heart of downtown for a sweet treat you may not be able to find anywhere else! Or, take the family to Ellsworth Cheese Cooperative to see cheese being made right before your eyes. Don't forget to grab some award-winning cheese while you are there! Bring your furry friend and gather round the fire at Brewery Nønic for a craft beer and camaraderie. Located in an old railroad depot building, you will be impressed with the décor, along with the beer!
Whatever it is you are looking for, you can find it right here in Menomonie. For more information and assistance in planning your stay, visit www.exploremenomonie.com.
Facebook Comments