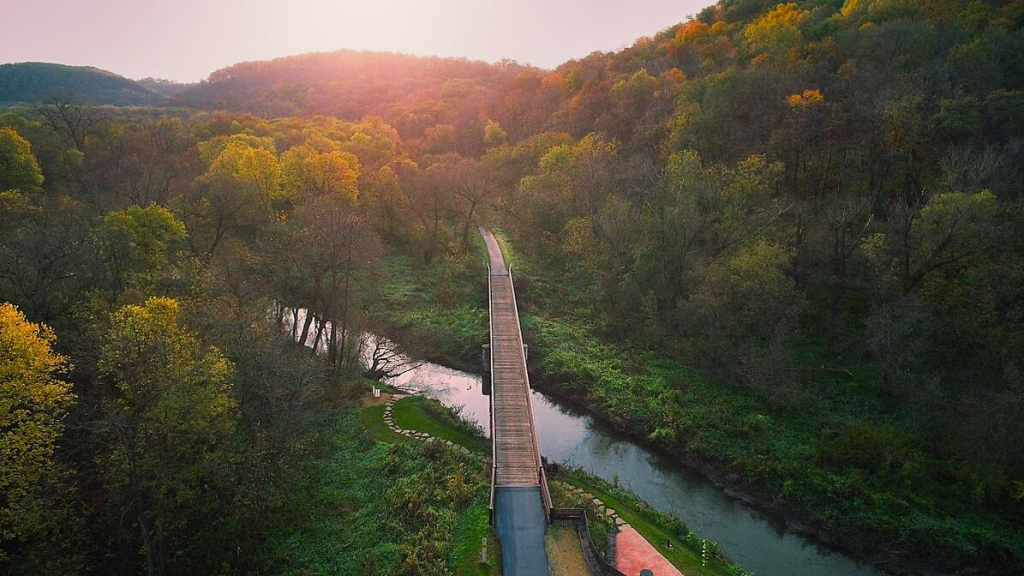 Whether you're looking for a day trip or weekend family adventure, see what awaits in Cannon Falls.
Outdoors
Explore the Cannon Valley Trail with more than 19 miles of paved trails perfect for biking, blading, or hiking, while taking in the area's diverse and spectacular scenery. Built on a former Chicago Great Western Railroad, the trail connects the cities of Cannon Falls, Welch, and Red Wing in beautiful southeastern Minnesota. Experience breathtaking panoramas of the valley with elevations that gradually descend 115 feet from Cannon Falls to Red Wing. From overhanging bluffs to views of extensive wetland biomes, nature's seasonal changes are vividly displayed.
If water sports are more your thing, check out the Cannon River or Lake Byllesby. Its recreational area offers some great spots for rafting, tubing, kayaking, and canoeing. You can find the water trails here and rentals at Cannon Falls Canoe & Bike Rental and Welch Mill Canoeing, Tubing & Kayaking.
Want to just take in the sights and sounds of the outdoors? The Cannon River also features a scenic segment that's protected by the Minnesota Wild & Scenic Rivers program. This means there's plenty of untouched beauty to explore. Take a swim at Lake Byllesby, the largest lake in southern Dakota County. It offers a beach and bathhouse as well as a campground with water and electric hookups for those wanting to make it a camping adventure. The family-friendly area also features a splash pad and more than three miles of trails for some hiking fun.
Golfing
Another way to explore Cannon Falls' beautiful outdoors is at one of its three golf courses, all within 10 miles of town. The Cannon Golf Club is an 18-hole course that runs along the Cannon River and offers a variety of features, including streams, narrow fairways, and 100-year-old oak trees, which make a fun yet challenging golfing experience.
The Gopher Hills Golf Course features 27 holes on three distinct courses, including its family-friendly executive 9. Enjoy plenty of risk/reward opportunities thanks to its sculpted bunkers, tree-lined fairways, and elevation changes. Check out the course's free lessons every Saturday throughout the summer. Just purchase your range balls! Gopher Hills is also the host for the Chamber's 31st Annual Golf Tournament on June 16.
A championship golf course with some stunning views, the Summit Golf Club is an 18-hole, 72-par course that features dramatic elevation changes and dense trees that offer some great golfing experiences. Warm up on the club's putting green, chipping green and driving range or take it easy on the 9-hole, par 3 course.
Shopping
Cannon Falls is a quaint community that offers a great shopping experience where you'll be sure to find something unique. Here you can explore the town's boutiques and its more than 15,000 square feet of antiques and collectibles.
Local Food
As the self-proclaimed "Local Foods Capital of Minnesota," Cannon Falls doesn't disappoint when it comes to fueling appetites. Find some of the freshest cheese, turkey, and baked goods at Ferndale Market, a local turkey farm. Looking for a place to sit down and relax? You can find a variety of options, including hand-made, stone-fired pizza at Brewster's Pizza or Dudley's Pizza, and authentic Mexican from Rancho Loco. You can also buy specialty coffee, ice cream, and cheese at CannonBelles Coffee & Ice Cream.
Wineries & Breweries
After spending the day outdoors, unwind at one of the area's wineries or breweries. Find award-winning wines at Cannon River Winery or seasonal brews from Tilion Brewing Co, which offers a fresh take on traditional styles.
Events
Cannon Falls features many family-friendly events throughout the summer, including the Cannon Valley Fair, Fun Fests, Art Fairs, Deck the Falls with fireworks, and more.
Ready to plan your Cannon Falls adventure? Check out the 2022 Visitor's Guide.