photo shunevich24 – fotolia
---
According to countless wedding experts, fall has edged out summer as the most popular wedding season. With beautiful and natural colors, less humidity and more predictable weather, love is definitely in the air.
Venues: Finding a Spot to Tie the Knot
Nontraditional venues—such as barns, wineries, and industrial warehouses—are still popular, says Bruce Vassar of local weddding pros The Wedding Guys, who produce Unveiled, The Ultimate Wedding Planning Event, and the Twin Cities Bridal Show. Couples are also opting to create comfortable lounge spaces indoors, and utilizing the most of outdoor spaces (when weather permits). A fall wedding is the perfect time for a bonfire, complete with hot chocolate, apple cider, s'mores stations, and sparklers for the kids. (The couple should put someone in charge of tending the fire so they don't have to worry about it.) Another trend is increased travel for guests, so venues with sleeping rooms are becoming more popular. "This, paired with more traditional fashion, means we will start to see more traditional ballroom weddings," Vassar comments.
Fashion: Dress to Impress
Some things are truly timeless—like long cathedral veils—while other trends come and go. According to The Wedding Guys, when it comes to wedding gowns, the new look is plunging necklines and low backs with illusion fabric accented with detailed embroidery.
Long detachable trains or overskirts are coming into play as well, and  bows are making a comeback. As a more traditional style returns, the "boho" look of recent years is fading.
Formal attire never gets old. "We're seeing long sleeves and cap sleeves for women and traditional black tuxedos for men with a pop of color in the tie, pocket square, or socks—just to give it a personal touch," Vassar comments.
Sometimes it's not just a marriage between bride and groom, but a fusion of East and West, North and South, Old World Charm and Modern Lifestyle. Couples today are from many different cultural and ethnic backgrounds, and more and more weddings are planned to reflect this. Whether it's bagpipe music to honor Scottish ancestors or an elaborate Indian celebration consisting of a Mehendi ceremony, brides and grooms are also planning colorful, meaningful weddings incorporating their faith and family heritage. If executed well, these weddings tells a great historical story. With some creative thought, the wedding will stir guests to leave the celebration with a heightened understanding of the couple's family history, background, and beliefs.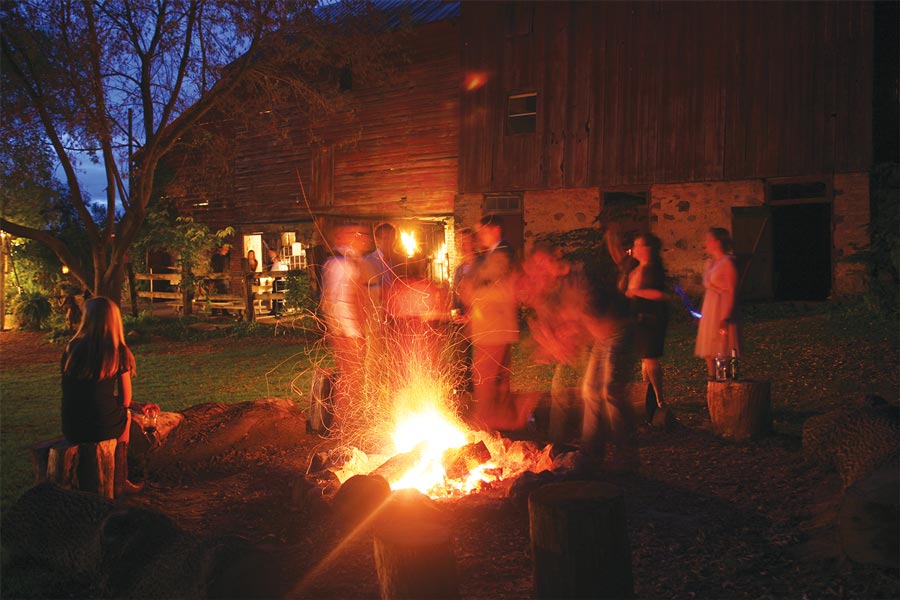 An evening bonfire can be a festive way to celebrate a fall wedding
photo by studio Laguna
---
Flowers & Food: Sweet Treats and Blooms
While large organic bouquets that cover up the bride's gown are fading in style, these gorgeous creations are still a wonderful idea for centerpieces. Additionally, to help with cost, go with in-season flowers, such as Asiatic lilies, dahlias, and zinnias.
Farm-to-table wedding catering and seasonal dishes are popular, offering guests a true culinary experience. "Food is such a personal expression of the couple," Vassar comments.
Trends show more couples moving to custom menus and supporting local companies on their special day. Tall cakes are also making a comeback: you just can't beat the cutting experience. As far as cupcakes, The Wedding Guys say they're "great on a dessert buffet, but not as a standalone item."
New trends are brewing for drinks as well: Robbie Harrell, CEO of local company Minnesota Ice, has received more and more requests from couples for custom monogrammed ice cubes. "With pure and clear ice, and the couple's monogram engraved on top, it becomes the new talking point," he says, rather than the traditional signature cocktail.
Décor: Make A Statement
According to The Wedding Guys, a new décor trend this season is balloon-covered ceilings, balloon waterfall structures, and chandelier-like centerpieces suspended from the ceiling. The Wedding Guys also suggest "incorporating non-traditional elements to enhance the florals, such as books, ornate candlesticks, and even hockey sticks. It is Minnesota after all."
When decorating your space, remember that large, statement-making pieces are what make the biggest impact at the reception. Less can often be more.
Another décor trend is bringing the outdoors inside through large potted plants for an enchanted garden look, and incorporating vines, branches, and natural elements into the tablescapes.
Another tip? Don't build your own special occasion around what you find on Instagram and Pinterest alone. The Wedding Guys point out that each venue is different, and some may not have the infrastructure necessary to create certain looks. Keep an open mind. If you're stuck on décor ideas, a professional event designer/wedding planner can be a lifesaver.
Having a wedding in the fall also allows for earthy and rich themes, not only in food and décor but also in the overall vibe of the celebration. "Fall brings the warmth of love in color and richness," Vassar says. Try introducing more comfort foods and savory flavors into your culinary options, or incorporate acorns, fall berries, and thistle for an "autumnal vision" in your flowers and centerpieces.
For more wedding trend ideas, visit the Twin Cities Bridal Show November 5 at the St. Paul RiverCentre from noon to 4 p.m. General admission is $15. For more information, visit twincitiesbridalshow.com.