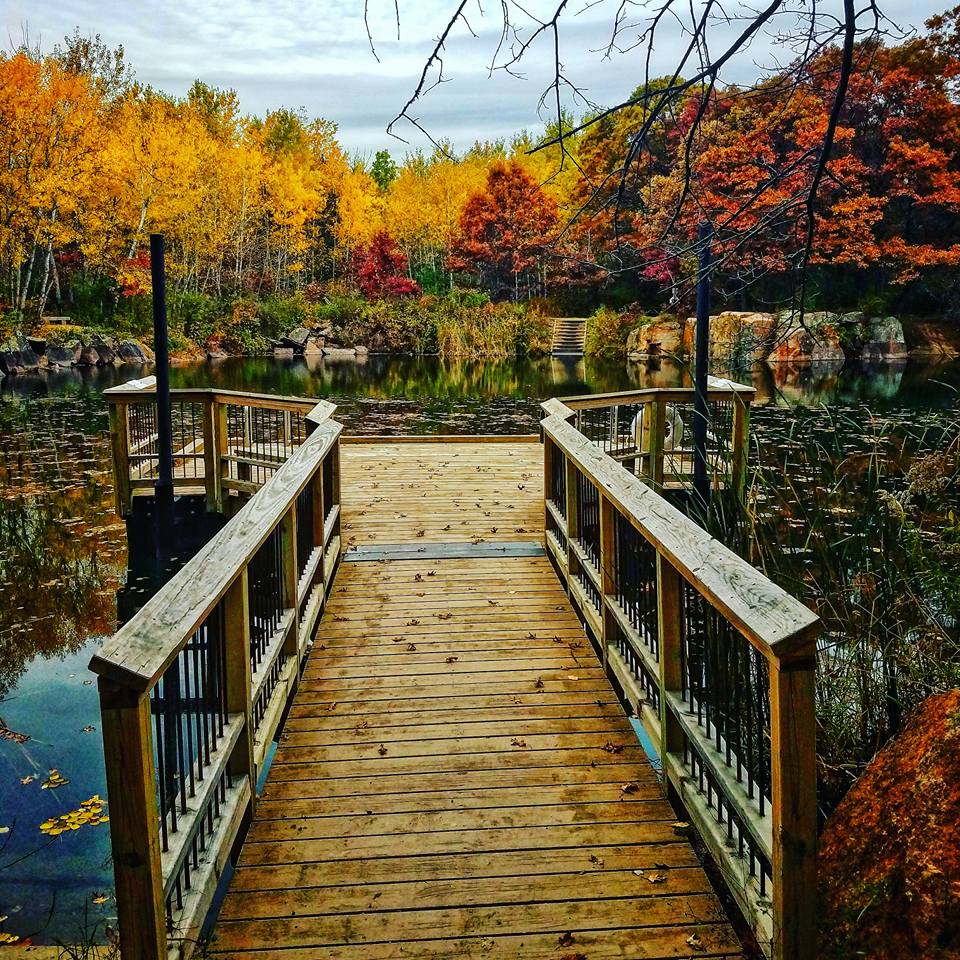 While we try to stay upbeat, positive, and compassionate for one another, there is no denying that the last several months have been hard. This is a time unlike any that we have ever experienced before, and we're all doing our best to make informed decisions, stay connected with one another, and try to have a little fun. When the stress of clicking "not attending" on a Facebook invite or the guilt of tipping back some bonfire beers becomes too much, we encourage you to give yourself a break and visit Greater St. Cloud.
Give yourself a break and experience the changing colors of autumn in Greater St. Cloud. At Quarry Park & Nature Preserve, a favorite of many, you can hike miles of gravel and natural trails that twist and turn through former granite quarries—the photo ops are endless. Check out the reflections of the trees on the water while paddling a kayak or canoe, on the Mississippi River at Munsinger Gardens, or along the Beaver Island Trail. Hop on your bike and roll through the countryside on the Lake Wobegon Trail, where you'll marvel at not only the brightly colored trees, but the stretching farmland, native wetlands, and more.
Give yourself a break and enjoy the flavors of fall in Greater St. Cloud. Sip on a freshly brewed Oktoberfest or seasonal ale from one of six local area breweries and cideries. Warm your soul with all things apple and pumpkin from one of dozens of local bakeries and coffee shops. Find comfort and warmth at the bottom of a bowl of soup or chili from over 35 bars and restaurants in downtown St. Cloud. Whatever fall flavor you're craving, you can find it in greater St. Cloud.
Give yourself a break and capture some Instagram-worthy pictures at local orchards and pumpkin patches. Collegeville Orchards features not only dozens of varieties of apples, but also a pumpkin patch, petting zoo, and a small shop. Hidden Cove Orchard sells apples and is home to a sprawling, unique gift store for patrons to peruse. Fairhaven Farm is a fruit farm that includes a large apple orchard and you-pick pumpkins. And Stoney Brook Farms is a veggie farm that grows the coolest corn maze each year, and also provides many fun activities for kids.
Give yourself a break and spend a weekend away. From downtown hotels that overlook the Mississippi River to unique AirBnB options like a see-through bubble in the middle of the woods, you'll be comfortable no matter where you lay your head at the end of a busy fall day.
If you can't physically come and give yourself a break with Greater St. Cloud, we hope you can do it virtually. Browse Visit Greater St. Cloud's website to find virtual hikes, check out road trip ideas, and connect on Facebook, Instagram, and TikTok. Also, follow the #OnlyinMN hashtag on social media for travel ideas all over the state of Minnesota. And remember, no matter what you're doing to handle this currently crazy world, don't forget to give yourself a break.
Facebook Comments