Crutchfield Dermatology
CRUTCHFIELD DERMATOLOGY, PA
1185 Town Centre Drive, Suite 101
Eagan, MN 55123
651-209-3600
crutchfielddermatology.com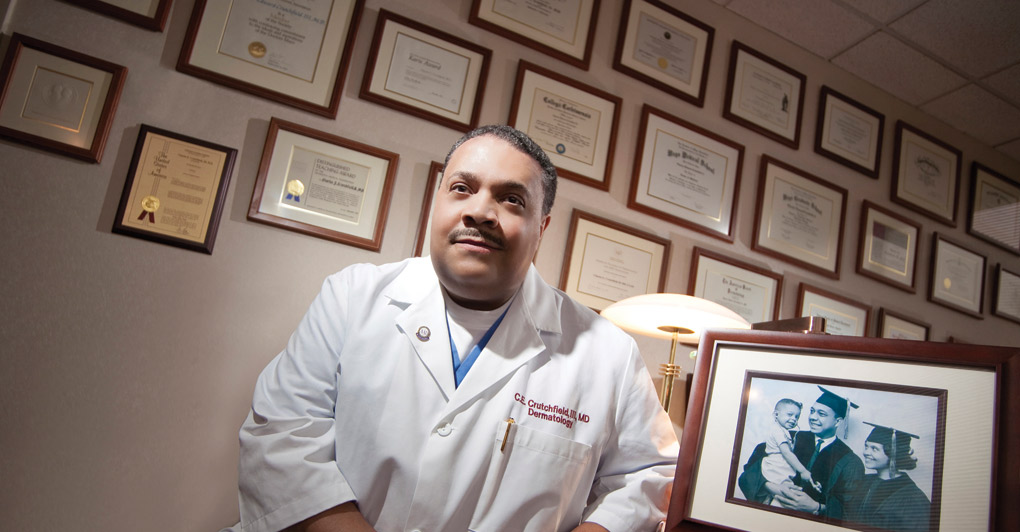 Courtesy of Crutchfield Dermatology
Charles E. Crutchfield III, M.D., (pictured at age 3 with his parents on their graduation from the University of Minnesota Medical School in 1963) has been a regular recipient of multiple  "Top Doctor" awards for the past 14 years. Additionally, he is the only dermatologist to be selected every year as a "Top Doctor for Women" by Minnesota Monthly magazine. He was recently recognized by Minnesota Physician as one of "100 Influential Healthcare Leaders" in Minnesota. Dr. Crutchfield has also been distinguished as one of the leading physicians in the United States and is among the 4 percent of physicians selected as one of the "Best Doctors in America." Crutchfield Dermatology offers over 10 years of experience treating medical and aesthetic skin issues. There are many options for skin care, "but nothing can compare to the quality, care, and expertise of an experienced, board-certified dermatologist," explains Dr. Crutchfield.
A graduate of the Mayo Clinic College of Medicine, Dr. Crutchfield is a Clinical Professor at the University of Minnesota Medical School and Carleton College. He teaches medical students, residents and other physicians, and is a recent recipient of the Minnesota Medical Association Foundation's "Minority Affairs Meritorious Service" award. He has co-authored dermatology textbook as well as a children's book on skin care, Little Charles Hits A Home Run! He has published more than 100 skin care articles and has an award-winning website, CrutchfieldDermatology.com. A regular expert contributor to many Twin Cities' newscasts, radio programs, newspapers and magazines, Dr. Crutchfield was recently recognized by The Grio.com, a division of NBC news, as one of the "Top 100 Newsmakers Making History in the United States."  Dr. Crutchfield was also selected as the first recipient of the Medica-KARE 11 Physician Health Care Heroes Award. He is a member of the University of Minnesota's President Club for establishing an annual dermatology lectureship honoring his parents, both graduates of the University of Minnesota Medical School.   His latest endeavor is to implement a new initiative to require automobile, cell phone, and insurance companies to equip cars with mandatory technology that disables texting while driving.
Awarded Mayo Clinic's "Karis Humanitarian Award," Crutchfield embraces the Mayo brothers' philosophy: "First and foremost, do what is best for the patient." Dr. Crutchfield designs a custom skin care program that incorporates treatments at the forefront of medical care. His clinic is an Acne, Psoriasis, and Aesthetic Care Center of Excellence that includes a newly expanded Skin and MediSpa.  The first "Expert Injector" in Minnesota, Dr. Crutchfield is the founding member of "Doctors For The Practice Of Safe & Ethical Aesthetic Medicine" (safeandethicaldoctors.org). Named one of Minnesota Business magazine's "100 Best Companies to Work For," Crutchfield Dermatology is fortunate to have attentive and caring staff who reflect the integrity and professionalism of a clinic where satisfaction is paramount. The reception area is graced with fresh cut flowers, a generous bowl of free skin care samples, and complimentary wireless Wi-Fi for patient productivity. When wary pediatric patients are presented with Crutchfield's huge trademark rubber ducks, apprehension dissolves into delighted smiles!
"I treat each patient personally with the highest quality care possible. If you have a skin care problem, I dedicate myself to addressing it. My staff and I treat our patients with courtesy, dignity, and respect.  We make our patients look good and feel great with beautiful skin. At Crutchfield Dermatology we truly believe that 'Experience Counts and Quality Matters'."
---
OBGYN West
Locations in Chaska, Minnetonka
(Ridgedale), and Eden Prairie
952-249-2000
obgynwest.net 

Courtesy of OBGYN West
While their patient-centered care might be considered "old school," the providers at OBGYN West specialize in the newest advancements in obstetrics and gynecology. Whether it is your teen's first annual exam, a new baby is on the way or you are facing the changes of middle age, OBGYN West is with you every step of the way.
OBGYN West offers the latest minimally invasive procedures like the da Vinci robotic surgical system for hysterectomies. For your convenience, they offer select procedures in clinic as well as in the hospital setting. Before undergoing major surgery, consider a high-tech solution that offers less pain, a quicker recovery, and faster results.
OBGYN West can offer you the very best care for all of your women's health concerns, including those during your reproductive years or questions related to infertility. Once you reach the end of your reproductive years, the providers will take you through the next stage of your life and help you address your specific needs such as permanent birth control or issues of bleeding and incontinence. They will be there to help you navigate through perimenopause and menopause, addressing hot flashes, sleeping problems, night sweats and more.
The physicians and staff at OBGYN West will work together to provide you with care that is friendly, knowledgeable and compassionate.
---
Surgical Specialists of Minnesota
2545 Chicago Avenue, Suite 601
Minneapolis, MN 55404
612-863-7770
surgicalspecialistsmn.com

Photos by Hannah Lynch
Surgical specialists of Minnesota is an independent general surgery group dedicated to serving patients throughout the Twin Cities. The practice is made up of highly trained general surgeons, surgical oncologists, and non-physician providers, with convenient satellite locations in Minneapolis and the surrounding area. The majority of surgeries are performed at Abbott Northwestern Hospital, giving the staff access to state-of-the-art laboratory and imaging facilities.
These dedicated professionals provide a full spectrum of general surgery, from routine hernia repairs to the more complicated digestive gastroesophageal reflux disease surgical procedures. Every surgeon with Surgical Specialists has experience in minimally invasive procedures, with many specializing in complex general and oncologic surgery.
"We have surgeons dedicated to robotic foregut and colorectal as well as bariatric surgery," explains Dr. Casandra Anderson. "Additionally, our practice has expert surgeons in the management of sarcoma, melanoma, and breast cancer patients."
At Surgical Specialists of Minnesota, you can expect excellent customer service, a sincere and caring staff, and top-notch medical care from physicians who are consistently named "Best Doctors" in Minnesota Monthly magazine.
---
Dry Eye Clinic, LLC
12000 Elm Creek Blvd. N., Suite L90
Maple Grove, MN 55369
763-416-0919
dryeyeclinic.net

Courtesy of Dry Eye Clinic
After watching his father go through serious dry eye problems and later experiencing those symptoms himself, Dr. Michael Dieter, O.D. dedicated his work to the research and treatment of dry eye disease.
The condition can be complex and has commanded the past 10 years of Dieter's research. The result of this work is now a clinic devoted to the exclusive treatment of patients with dry eye.
He explains that people with severe dry eye often feel they cannot escape the incessant symptoms of discomfort and pain. "I just want my life back," is a common sentiment shared by those with dry eye. According to Dr. Dieter, "Even these severe patients can be greatly helped, and that is the goal of our clinic."
Protect Your Eyesight Through the Years
1) It's only fun until someone pokes an eye out! Always wear protective goggles, helmets, and safety gear when playing sports or operating machinery that could harm your eyes.
2) Eat your vegetables! Research shows that individuals who had the highest consumption of vegetables rich in carotenoids had a 43 percent lower risk of developing eye diseases such as age related macular degeneration. Mom was right, eat your vegetables and preserve your sight!  Vegetables rich in carotenoids include carrots, dark, leafy green vegetables, especially raw spinach, kale, and collard greens.
3) Don't be blindsided! Everyone is at risk for glaucoma from babies to senior citizens. Yes, older people are at a higher risk for glaucoma but babies can be born with glaucoma (approximately 1 out of every 10,000 babies born in the United States).  Young adults can get glaucoma, too. African-Americans in particular are susceptible at an even younger age. Consult your doctor about when to begin important screenings.
4) Beauty is only skin deep! Avoid frosted, pearlized, iridescent or other glittery types of eye shadow, which may contain ground oyster shells or tinsel.
5) Get your eyes checked! Persons ages 20 to 40 should have an eye exam every five years, unless visual changes, pain, injury, or tearing occurs. Then, immediate care is necessary. Persons 40 to 64 years old should have an eye exam every two to four years, and persons age 65 and over every one to two years.
Courtesy of the Kirby Puckett Education Center/ Phillips Eye Institute alinahealth.org 
---
Tareen Dermatology
1835 W. County Road C, Suite 250
Roseville, MN 55113
651-633-6883
tareendermatology.com 

Courtesy of Tareen Dermatology
Dr. Mohiba Tareen of Tareen Dermatology offers each patient a high level of personal care, attention, and service.
"Our singular mission is to treat all of our patients like we would want our own family to be treated," says the board-certified dermatologist.
Since opening four years ago, the practice—located less than a mile from Rosedale Shopping Center in Roseville—has grown from a small clinic to a full-service medical, surgical and cosmetic practice with one of the most advanced laser centers in the area.
Dr. Tareen treats medical conditions such as skin cancer, acne, eczema, hair loss, rashes and also utilizes the most advanced lasers and phototherapy for the treatment of psoriasis and vitiligo. She also provides cosmetic procedures to rejuvenate skin, smooth wrinkles, melt chin fat and tighten skin laxity, remove unwanted hair, and decrease the appearance of veins and brown spots.
Dr. Tareen has been awarded the "Top Doctor" designation multiple times, serves as the national dermatology expert for WebMD, and has been named to Castle Connolly's guide of "America's Top Dermatologists."
Patients can schedule an appointment within a few weeks of calling, or even make a same-day appointment depending on the situation. Most insurance is accepted and referrals are often not needed.