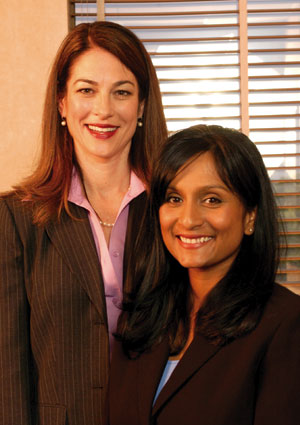 Female Urology includes health issues that, due to embarrassment, often go untreated. Female incontinence, pelvic prolapse and female sexual dysfunction are conditions that affect many women. Due to a lack of open discussion regarding these topics, many women see these conditions as problems with which they simply have to live. This is not the case. Innovative, minimally invasive treatment options are available today, which can considerably improve a woman's quality of life.
Jyothi "Jody" Kesha, MD and Suzette E. Sutherland, MD of Metro Urology are specialists who assist women with these types of conditions, and are dedicated to solving female urologic problems through thoughtful discussion and compassionate care.
Dr. Kesha joined Metro Urology in 2000 after completing a fellowship in Female Urology and Voiding Dysfunction. Dr. Kesha excels in caring for patients with complex female urologic disorders.
Dr. Sutherland joined Metro Urology in 2004 after completing her specialty training in the various domains of Female Urology and Voiding Dysfunction. This included work at the Institute for Sexual Medicine in Boston, where she explored new advancements in the area of female sexual dysfunction.
Drs. Kesha and Sutherland have authored numerous publications on female urologic disorders and are sought out for various speaking engagements, both locally and nationally. They are active participants in clinical research and take a role in training future female urologists. Serving as consultants for pharmaceutical and medical device companies, they provide their expertise and innovative ideas for the future of female urology. By staying abreast of the newest developments, they are able to offer their patients up-to-date treatment options, even for the most difficult of problems.
Metro Urology is a full-service, multi-specialty practice of 20 urologists throughout the Twin Cities. Our Centers for Female Urology and Continence Care consist of four highly-trained specialists who focus on the care and treatment of difficult urologic issues for women.
Metro Urology
Jyothi "Jody" Kesha, MD &
Suzette E. Sutherland, MD
Metro Urology
2550 University Ave. W., Suite 240 N.
St. Paul, MN 55114
651-999-6800
www.metro-urology.com
Facebook Comments