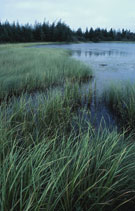 Minnesota Grown, a program of the Minnesota Department of Agriculture, supports the community, the environment and encourages healthy eating.
A product featuring a "Minnesota Grown" label is fresh from a Minnesota farm (not just produce, but also cut flowers, bedding plants and Christmas trees). A product featuring a "Minnesota Grown" label is a quality product grown with pride by Minnesota farmers.
Paul Hugunin, Minnesota Grown program coordinator, grew up on a small family farm in Jackson, Minnesota, and has worked with Minnesota Grown for the past 17 years.
"You can't beat farmers' markets for freshness," he says. "In many cases, you're buying produce that was harvested earlier that day. Another thing that makes farmers' markets special is meeting the people who produce your food. Many consumers get to know the producers, their families and how their food was grown."
Another huge benefit, he says, is that money spent at the market stays in the community, resulting in stronger businesses and schools.
The Minnesota Grown label can also be found at local grocery stores and restaurants.
"Ask for Minnesota Grown products," Hugunin says. "Most grocers are very responsive to customer requests, so it's important to let them know you'd like to buy more locally grown products. Look for restaurants that source local products; it's one way for restaurants to differentiate themselves from national chains."

For more information on where farmers' markets are located throughout the state, search the Minnesota Grown Directory online at www.minnesotagrown.com or call 1-800-657-3878 to request a free copy. In addition to featuring farmers' markets, the directory lists apple orchards, berry farms, CSA farms, garden centers, wineries, and farmers selling meat, poultry, cheese, honey, eggs and other items that are available year-round.
Eating in Season

Twin Cities co-ops offer fresh, healthy produce appropriate to the season. (In addition to supporting local farmers and the local economy):
Winter:
Root vegetables • Local cheeses • Local dairy (butter, yogurt, milk) • Fresh eggs • Local meat (chicken, lamb, pork, beef)
Spring:
Asparagus • Rhubarb
Summer:
Blueberries • Strawberries • Beans • Cucumbers • Melons • Peppers • Raspberries • Tomatoes
Fall:
Apples • Squash • Pumpkins • Gourds • Carrots • Garlic • Grapes • Onions • Potatoes • Sweet corn
Let the co-ops help you. Many local co–ops offer classes on cooking with the seasons and invite local farmers to demo their in–season products. Seward Co–op has a Community Supported Agriculture Fair each spring, and the Eastside Co–op holds a Farmer's Market. Plus, the co–ops have a wealth of resources in–store and on their websites. Each month the co–ops distribute to their members the "Mix," a collective member publication with articles centered on food. For more information about local co–ops, visit www.mwnaturalfoods.coop.
Facebook Comments