There's good reason New Ulm calls itself "the most German city in America." Settled by German immigrants in the mid-1800s, this 13,500-person town southwest of the Twin Cities has held onto its German traditions and customs—as well as the 45-foot-tall Glockenspiel that chimes throughout the day.
Among New Ulm's most beloved traditions is its annual Oktoberfest. During the first two weekends of October, this year on Oct. 4-5 and 11-12, the celebration draws from the historic fête of stein sloshing and lively music in Munich, Germany. New Ulm Oktoberfest, one of the largest in Minnesota, taps into the town's unique German resources. In recent years, it has even been ranked among the best in the U.S. by Conde Nast Traveler, USA Today, The Huffington Post, Fox News, the Travel Channel, and other media outlets.
To join in on the lederhosen-wearing, beer-guzzling, sausage-eating, grape-stomping fun, you have your pick: The fest sets up at four main locations, with related activities all over town.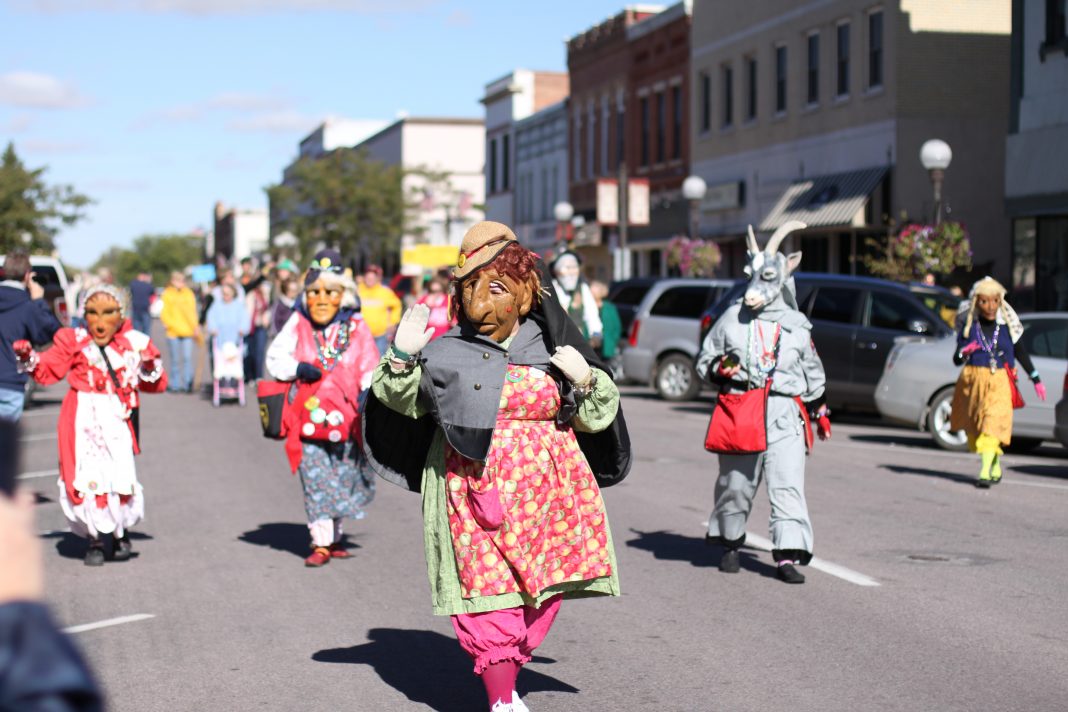 In downtown New Ulm, the Germanic-American Day Parade takes to the streets Saturday, October 5, at 11 a.m., inviting anyone to march along. At the end of the parade, the Downtown Oktoberfest erupts into polka and contemporary music, this year featuring Rock of Ages and the Bockfest Boys. Take part in games, horse-drawn trolley rides, a stein-holding contest, and more. And to pair with vendors selling German and American foods, choose among beverages produced by New Ulm institutions: beer from Schell's Brewery and wine from Morgan Creek Vineyards and Doppeleichen Vineyards.
On the southern end of town, the Best Western Plus/Green Mill features a full lineup of "oom-pah" bands setting a European mood. Meanwhile, an outdoor event, Rocktoberfest, takes a modern turn, featuring popular local acts. The music starts with a keg opening on Friday evening, Oct. 4, with food and music lasting well into the night.
Morgan Creek Vineyards and Schell's Brewery get in on the festivities, too. Morgan Creek Vineyards' Oktoberfest Annual Grape Stomp, this year on Oct. 5, was named the best fall event in southern Minnesota by Explore Southern Minnesota. The vineyards' harvest festival gets competitive as folks crush grapes underfoot, while Morris folk dancers and belly dancers perform nearby.
On Oct. 11 and 12, Schell's Brewery hosts Schell's Oktoberfest. Schell's is the oldest brewery in Minnesota, founded by German settlers in 1860, and the state's second biggest beer producer today. This year, on Oct. 12, go for live music and plentiful suds—and start celebrating early at a new pre-party on Friday, Oct. 11.
New Ulm rolls out events year-round, with dining, shopping, and activities for every season. After Oktoberfest ends, the first weekend of November kicks off with the Holiday Shopping Opener. Specialty shops, boutiques, and open houses offer giveaways and treats. More than 100 vendors post up for the Women's Expo & Craft Fair, with artisanal goods and demonstrations. Together, these shopping sprees usher in New Ulm's busy holiday season, which includes the Parade of Lights on Nov. 29, a twinkling-lights cavalcade capturing the festive community spirit of New Ulm.
Facebook Comments