Photo by Mike Reich
Warm up this winter at the Hudson Hot Air Affair, an annual winter ballooning event and festival that draws thousands of attendees each year, from day-trippers hailing from the Twin Cities and western Wisconsin to pilots and balloon enthusiasts alike from across the country.
Originally founded in 1990 through the Hudson Area Chamber of Commerce and Tourism Bureau, the event was started when chamber members began brainstorming ways to attract people to the town during the slower winter season. "We started as a community winter festival to draw tourists to town at a time when it isn't very busy in Hudson, and we succeeded. We made it busy!" says Evy Nerbonne, president of Hudson Hot Air Affair, Inc., a nonprofit volunteer community organization that now hosts the event. "Four of us who are still on the event committee helped organize the very first festival, and many of our pilots, sponsors, and volunteers have been involved with the event for 25-30 years."
This year's event, set for February 1-3 and themed "Pirates Fly'n the Croix-ribbean," celebrates the 30th annual Hot Air Affair and features an entire weekend of family-friendly activities, from a marketplace and craft fair to an evening torchlight parade. Thirty-six colorful hot air balloons, including special shaped ones such as Peg Leg Pete the Pirate Parrot, Rubber Ducky, and Uncle Sam, will launch in the morning and light up the night at the festival's Moon Glow or Field of Fire event. "We have people coming from pretty distant places this year, which is always fun," says Nerbonne. "The Fred G. Monster balloon is coming in from New Jersey, and we have a pilot flying in from Texas to meet with a balloon coming from Iowa. Plus, our first-ever balloonmeister, Rose Eakins, will be coming back for our 30th year."
The pirate-themed festivities will kick off with a geocaching session and a torchlight parade (followed by fireworks), and will culminate with the aptly-named Swashbuckler's Soiree at Madison Avenue Wine & Spirits, where Caribbean-inspired cocktails and food will be available along with rum sampling. From Captain Jack, a Jack Sparrow look-alike to steel drum bands and pirate ship ice carvings, there's bound to be something for everyone at this unique festival. "We're even going to do a treasure hunt fundraiser where we drop pirate booty from the sky," says Nerbonne.
Highlights from this year's event schedule include:
7th Annual Taste of Hot Air Affair: Jan. 26 from 7-10:30 p.m. at the Hudson House Grand Hotel
Meet & Greet with Captain Jack from Captain Jack Entertainment: Feb. 2 from 2-4 p.m. at E.P. Rock School Cafeteria
Torchlight Parade: Feb. 1 at 7 p.m. (parade route begins at the Wells Fargo Bank parking lot and travels down 2nd Street)
10th Annual Up, Up & Away 5K Run/Walk: Feb. 2 at 10 a.m. at Mt. Zion Lutheran Church
Swashbuckler's Soiree: Feb. 2 from 7-10 p.m. at Madison Avenue Wine & Spirits
For more details and a complete list of events at this year's Hot Air Affair, click here.

Photo by Jacki Bradham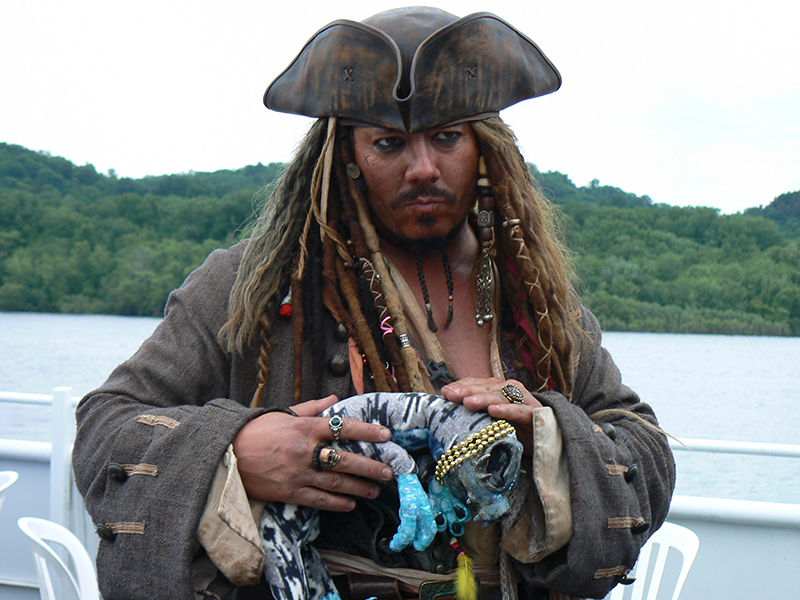 Photo courtesy hudson hot air affair, inc.
Facebook Comments