Two hours south of the Twin Cities lies Fairmont, a city that overflows with small-town charm and the beauty of the outdoors. The majority of Fairmont is nestled along the east side of a chain of five beautiful lakes. These interconnected bodies of water are the perfect place to relax on a summer day. One of the upper lakes, Lake Sisseton, boasts one of the most impressive Fourth of July fireworks displays in the state—but the lakes are enjoyed by locals and guests alike all summer long. Visitors can float along in one of the area's many rentable canoes, kayaks, and pontoons before docking at one of the lush lakeside parks for a late afternoon picnic.
The lakes are just the beginning when it comes to Fairmont's activities! Cool off in one Fairmont Aquatic Park's four pools, or float along the waterpark's lazy river for a full day of family fun. If you're hoping to stay dry, traverse Fairmont's many miles of walking and biking trails, or stop by the dog park to play with furry friends.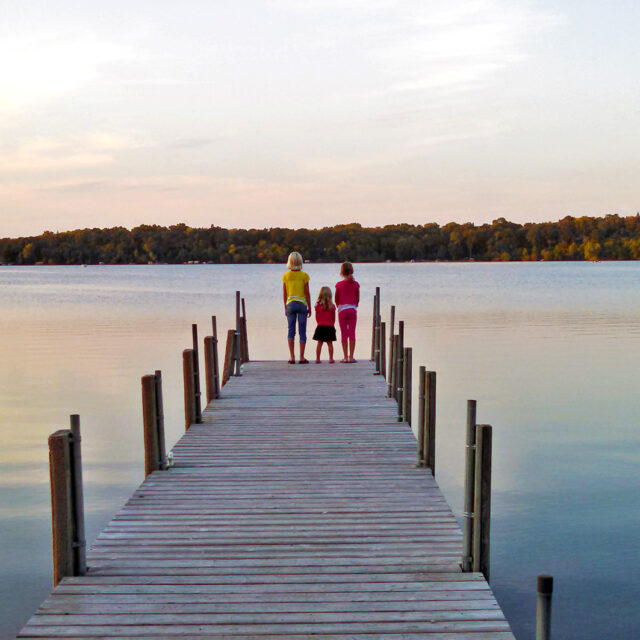 You're sure to work up an appetite while enjoying Fairmont's great outdoors. Treat yourself to some ice cream at the Graffiti Corner, fill up on authentic Mexican food at El Agave, or enjoy classic burgers on the lakeside patio at the Channel Inn. Many restaurants also feature live local musicians on weekends, so you're in for dinner and a show!
Fairmont's summer schedule is chock-full of activities for people of all ages and interests. Catch a performance at the Historic Fairmont Opera House, or view visual art at the Red Rock Center for the Arts, which also hosts a Music in the Park concert series this time of year. If you're inspired by your experiences on the lakes and jogging trails, cheer on (or join in!) participants as they swim, bike, and run the Fairmont Triathlon in mid-June. On Wednesday nights, check out the action at Fairmont Raceway where drivers compete on the fastest ½-mile track in the Midwest.
In June, Fairmont hosts Interlaken Heritage Days, a community festival with food, drinks, live music, and a parade. All are welcome to participate in the Rubber Duck Races, pontoon rides, and shared meals that bring this small town together in a summer celebration. Can't get enough of State Fair fun? Later this summer, Fairmont will host the Martin County Fair, affectionately known as Minnesota's "Other Big Fair," where local craftsman, musicians, and farmers alike will share their talents and skills for this end-of-summer jubilee.
For a no-fuss weekend getaway, Fairmont is the place to be. Access to Minnesota's beautiful lakes, classic American pub food, and folksy community events make this city an excellent place to unwind and have good old-fashioned summer fun!
Facebook Comments